Sylhet Agricultural University Admission Circular 2022-23: Sylhet Agricultural University admission circular 2022-23 has been published. The admission test will be held on **/11/2023.
The application process of Sylhet Agricultural University admission 2022-23 will start from ** May 2023 to June 2023. SAU admission-related all news is available on the notice board of Sylhet Agricultural University's website sau.ac.bd and in the newspapers and on our website too.
Admit card download is now available. The last date of uploading the Image is on October 2023. The admission test will be held on November 2023. 
About Sylhet Agricultural University
Sylhet Agricultural University is a government university of Bangladesh situated in the district of Sylhet. It was established in Sylhet in 2006. Formerly known as Sylhet Government Veterinary College.
The Agricultural University has six faculties, 47 departments, ground research centers, and advanced laboratories. There is also a veterinary teaching hospital. The main campus of this university has developed with 50 acres of land surrounded by hills about 07 km northeast of Sylhet divisional city.
In addition to the faculty buildings, administrative buildings, and residential buildings of the university, there are also more development projects. On the north side of Tamabil Bypass Street, BKSP, on the east side of Sylhet, the second campus and research grounds of the University were developed with 12.2 acres of land.
SAU Admission Circular 2022-23
In the 2022-23 ‍season, Online applications are invited from interested candidates to appear in the admission test for admission to the Level-1 Semester-1 of the Bachelor's Degree Courses offered by six faculties at Sylhet Agricultural University, Sylhet for the academic session 2022-23. For any information regarding admission please visit www.sau.ac.bd
This year Sylhet Agricultural University (SAU) Admission Test 2022-23 will be held by MCQ (Multiple Choice Questions) methods.
SAU Admission 2022-23 Details
This time in the 2022-23 academic year, the admission process of all the agricultural universities is going to be completed in a cluster system. Here I have added the circular. There is a total seat of the 7 seven universities is 3419 and 434 seats in the Sylhet Agricultural University.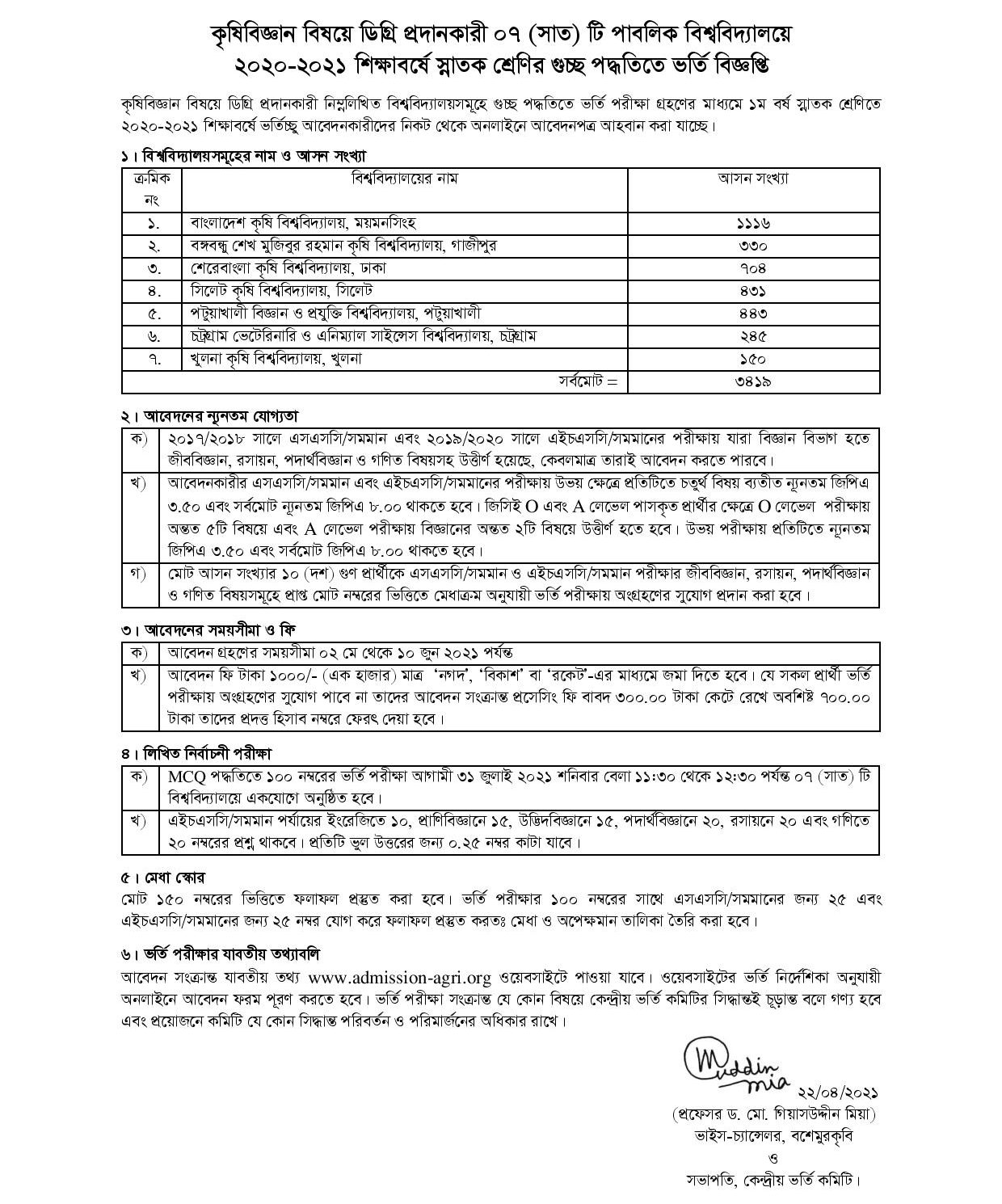 SAU Admission Requirements 
Those who have passed the Science department in HSC/equivalent 2019-20 and SSC/equivalent in 2017-18 including Geology, Chemistry, Physics, and Math are only eligible for admission.
In SSC/equivalent and HSC/equivalent examinations, candidates must have a minimum grade point of 3.0 individually in SSC/equivalent and HSC/equivalent. The students who have passed the "O" & "A" levels must pass 5 subjects at the "O" level and 2 subjects in Science at the "A" level. And must obtain a minimum of 3.50 GPA  in each level and a total of 8.00 GPA. For details, pay attention to the below image.

SAU Application Duration & Fees
SAU application duration is from 02 May to 10 June 2021.
The application fee is only 1000 TK and should be submitted via Bkash, নগদ, Rocket. For candidates who do not get a chance to sit for the application test the rest of the money, 700 TK will be sent to their account after deducting the application fee of Rs. 300.
Written Test Date and Mark Distribution
The 100 Mark MCQ Admission Test will be held on July 2023 from 11:30 to 12:30 at 7 Agricultural Universities simultaneously.
There will be questions in laughter level English – 10, Zoology – 15, Botany – 15, Physics – 20, Chemistry – 20, and Mathematics – 20. For each error, the .25 mark will be deducted.
SAU Admission Application procedure
Application-related all information will be available on the website www.admission.agri.org. According to the admission guide, you have to fill up the application form online.
You have to provide your mobile no. Then you get pin/login, password, and admission related all the information to this number.  Here is the detailed information.

SAU General & Reserved Seat
Here you will get detailed information about the general seat and reserved seats under the faculty. Three are three faculties here. The general seats of Veterinary, Animal & Biomedical Science are 92 out of 100 seats, Agriculture faculty 81 out of 88, and Fisheries 69 out of 75.

Selection of candidate and SAU admission procedure:
Merit score: The merit score will be based on a total of 200 marks: 100 marks on the written test, 40 marks on the result of the

SSC/equivalent examination, and 60 marks on the result of the HSC/equivalent examination. In the grading system, without the fourth subject, eight times of GPA score of the SSC/equivalent examination. And 12 times of GPA score of the HSC/equivalent examination will be added to the admission test score to prepare the merit list.

Pass marks in the written test are 40.

Each selected candidate must submit a birth registration certificate, admit card of the admission test, Testimonial, original grade sheets, and certificates of SSC and HSC at the time of admission.

A certificate of physical fitness obtained from the Medical Officer of this university will have to be submitted. Otherwise, the candidate will be disqualified from admission.

Due to limited residential facilities, admitted students are responsible for arranging their accommodation.

Authority reserves the right to revise, add, or change any condition/rules regarding admission.

The admission circular, admission test results, and admission-related information will be found on the notice board and website of the university.

If a candidate provides any false, wrong, or inconsistent information, his/her admission will be canceled at any stage of the admission procedure or later.

Any decision taken by the authority regarding admission will be considered final. 
How to apply for SAU any Unit 2022-23
All faculty of Sylhet Agricultural University admission will have to apply online for honors for the first year season 2022-23 from May to June 2023.
How to apply online, to apply online go to the link:  Apply Now
Payment system through SureCash:
The following steps should be followed in the mobile phone
having a SureCash account:
Dial the SureCash USSD code to go to the SureCash menu (For Banglalink, Grameen Phone Robi *495#, Airtel *257#, Teletalk *357#)
Choose the `Payment' option by pressing 2.
Enter SAU as the payment keyword.
Enter the Bill/Reference Number.
Enter the 4-digit PIN to confirm the payment. (Applicants must have BDT 808/- including service charge in their SureCash account)
Please check the confirmation SMS of successful payment having Transaction Id. Please keep it
Safe for future inquiries. SureCash Helpline 09609224488 (Sunday-Thursday, 9.00 a.m.-6.00 Pm)
Payment system through Rocket mobile banking service:
The following steps should be followed on a mobile phone
having a Rocket account:
Go to your Rocket Mobile Menu by dialing
*322#
Choose Payment
Choose Bill Pay
Choose Self or Others
Enter Biller ID number "321."
Enter Your Bill/Reference Number.
Enter the bill amount: 808
Now enter your Rocket Mobile Menu PIN to
confirm
Done! You will receive a confirmation
message from 16216
Rocket mobile banking helpline 16216
Admit Card Download
To download the admit card, visit admission-agri.org and log in providing your password and User ID. Then you will get the admit card.
Read Also: Jahangirnagar University Admission Circular 2022-23
Read Also: 7 Agricultural University Cluster Admission Test Result 2021
Stay with us to know more about admission to Sylhet Agricultural University. And please comment on your quote.