Know more information about the KUET admission circular 2020-21 from this article. The admission circular of Khulna University of Engineering & Technology is not published yet for the issue of COVID-19. The admission process has been delayed this year. When the admission circular will be published, you able to get it here. So now you can know about the admission circular 2019. KUET Admission Circular: The KUET admission test will be held on 18th October 2019. Here is the detailed information for admission in KUET. Khulna University of Engineering & Technology admission circular has published recently. I think the admission form will be released in September 2019. Apply for admission quickly.
About KUET (Khulna University of Engineering & Technology)
Khulna Unversity of Engineering & Technology was established in 1967 as Khulna Engineering COllege under the University of Rajshahi. Then this was renamed as Bangladesh Institute of Technology (BIT) on July 1, 1986. And finally renamed as Khulna University of Engineering & Technology (KUET) on September 1, 2003. There are 320 people as academic stuff and 5600+ students in this university.
Faculties And Departments
KUET has three (3) faculties and 20 departments. Here is the list of faculties.
Faculty
Department/Subject
Seat
Faculty of Civil Engineering
Civil Engineering (CE)
120
Building Engineering and Construction Management (BECM)
60
Urban and Regional Planning (URP)
60
Architecture (Arch)
40
Faculty of Electrical and Electronic Engineering
Electrical and Electronic Engineering (EEE)
120
Computer Science and Engineering (CSE)
120
Electronics and Communication Engineering (ECE)
60
Bio-Medical Engineering (BME)
30
Materials Science and Engineering (MSE)
60
Faculty of Mechanical Engineering
Mechanical Engineering (ME)
120
Industrial and Production Engineering (IPE)
60
Leather Engineering (LE)
60
Textile Engineering (TE)
60
Energy Science and Engineering (ESE)
30
Chemical Engineering (ChE)
30
Mechatronics Engineering (ME)
30
KUET Admission Circular
You will get all information about admission in KUET from this article. Read carefully. The admission circular of KUET is not published yet. We will update the information when they publish an admission circular on their own website. The first 13000 applicant will be able to seat in the admission test who fill up their application form with valid information and submit the application form by following the rule the say. Only 1065 students will be selected by their talent. This is for undergraduate candidates.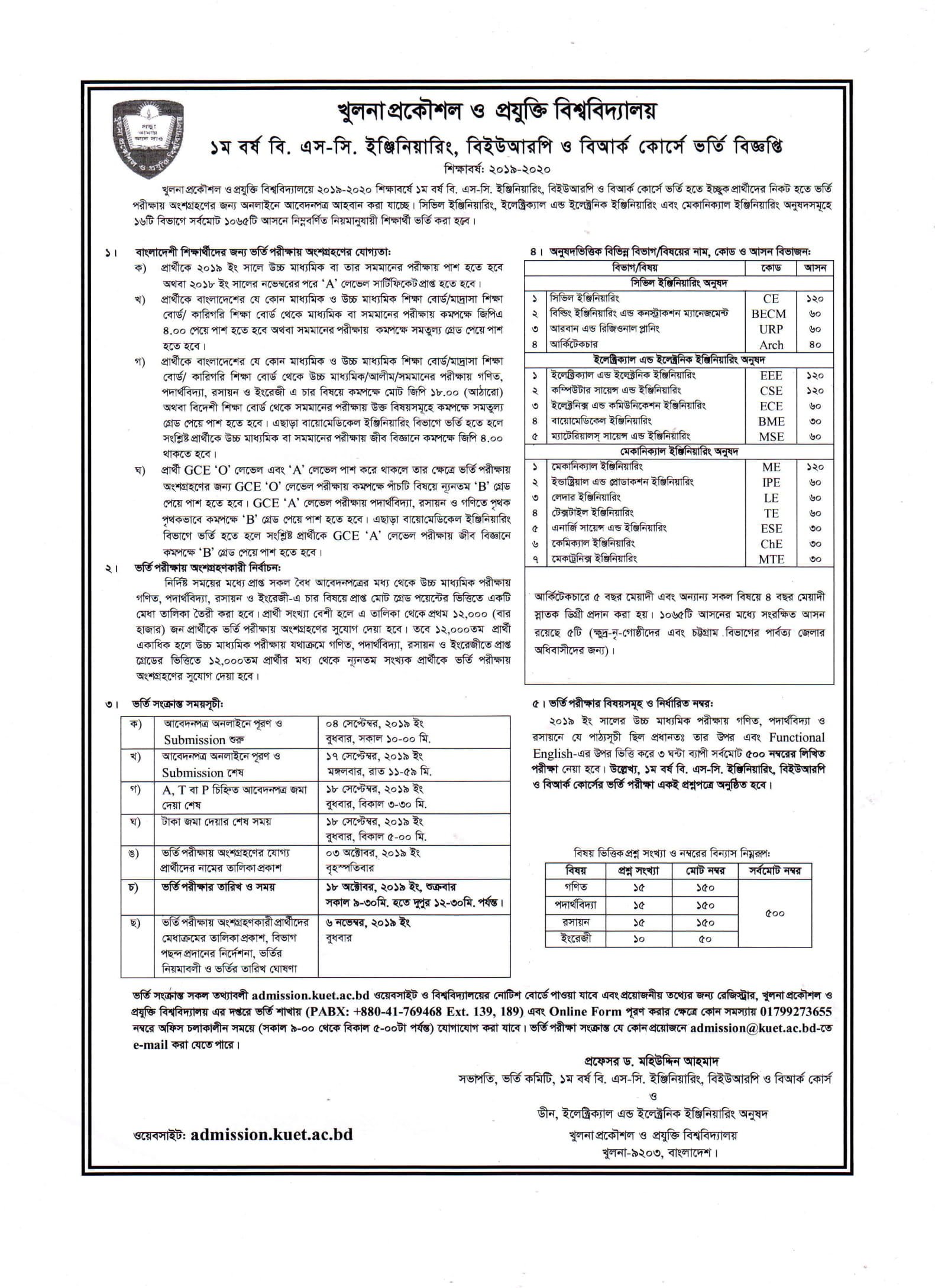 KUET Admission Requirements
Check your eligibility by their requirement. Here is detailed information about the admission requirement.
The applicant has to complete his/her HSC in 2019 or has to get "A" level certificate after November 2017.
The minimum GPA needs 4.00 in both SSC and HSC or It's equivalent.
Total GPA will have to be 18.00 from Physics, Chemistry, Mathematics, and English.
How to Apply
Visit this site: (admission.kuet.ac.bd)
Complete the application form with valid information.
Submit your color Image ( 300*350 and file size up to 75 KB) and signature of your own ( 300*20 and file size up to 20 KB).
Check the preview and if anything has a mistake then update information.
Submit your application form by clicking the "Submit" button.
In the 'Confirmation' page you will get Application NO. and Password. This will need next.
Apply Link : admission.kuet.ac.bd
Payment System
After complete your payment for admission, you have to download 'Money Receipt'. You can pay your payment in two ways. One of these is Rocket ( DBBL Mobile Banking) and the other is Sure Cash (Rupali Bank). Here is the payment system.
Rocket ( DBBL Mobile Banking)
If you have DBBL mobile banking available in your mobile SIM, dial *322# from your mobile and follow the steps given below.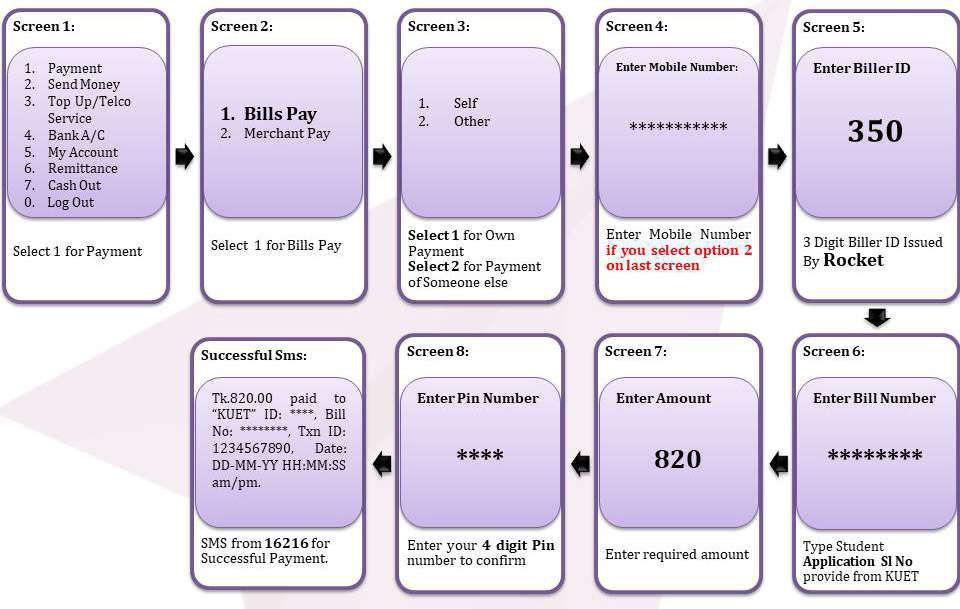 Sure Cash ( Rupali Bank)
If you want to pay your admission fee by Rupali Bank Sure Cash, here is the detailed information. Dial *375# for Teletalk, *257# for Airtel, and *495# for other operators from your mobile phone and follow the steps.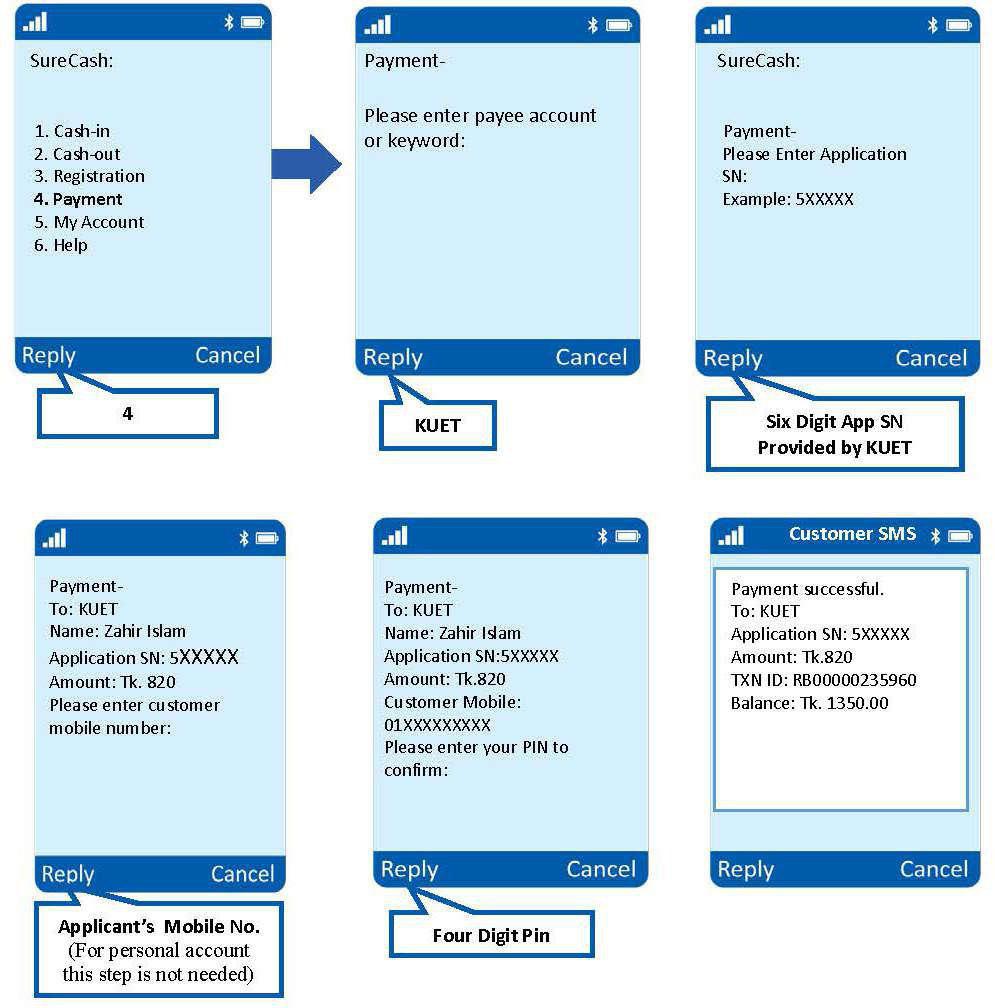 Admit Card Download
Visit this website: (admission.kuet.ac.bd). Log in your account with your Admission No. and Password and download your Admit card hard copy.
Admission Road- Map (Important Dates)
Please bear in mind constantly that these days are important for the admission test. We will add the important dates about admission when they will publish.
| | | |
| --- | --- | --- |
| No | Events | Dates |
| 01 |  Online Application Stars | – |
| 02 | Online Application Ends | – |
| 03 | Payments Last Date | – |
| 04 | Admission Test | – |
| 05 | Admission Result | – |
KUET Admission Notice
This is the Khulna University admission prospectus. You will get all kinds of information here. For your help, we add a JPG image file here. Carefully read this. Here we add prospectus of the 2018-19 session. We will add the admission notice for the 2019-20 session as soon as we get.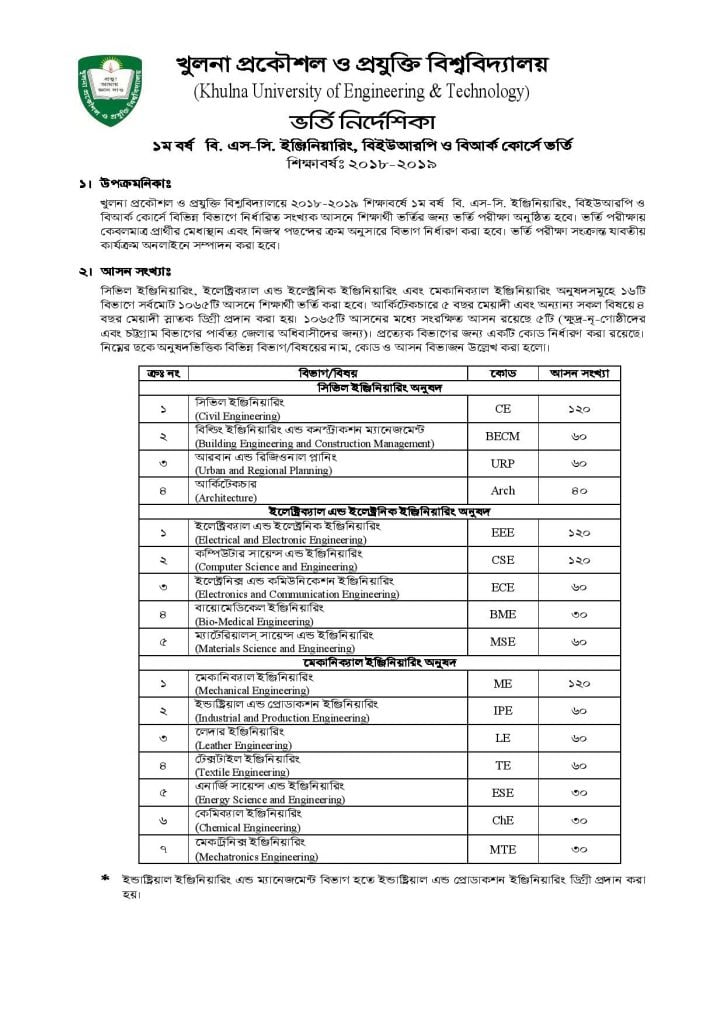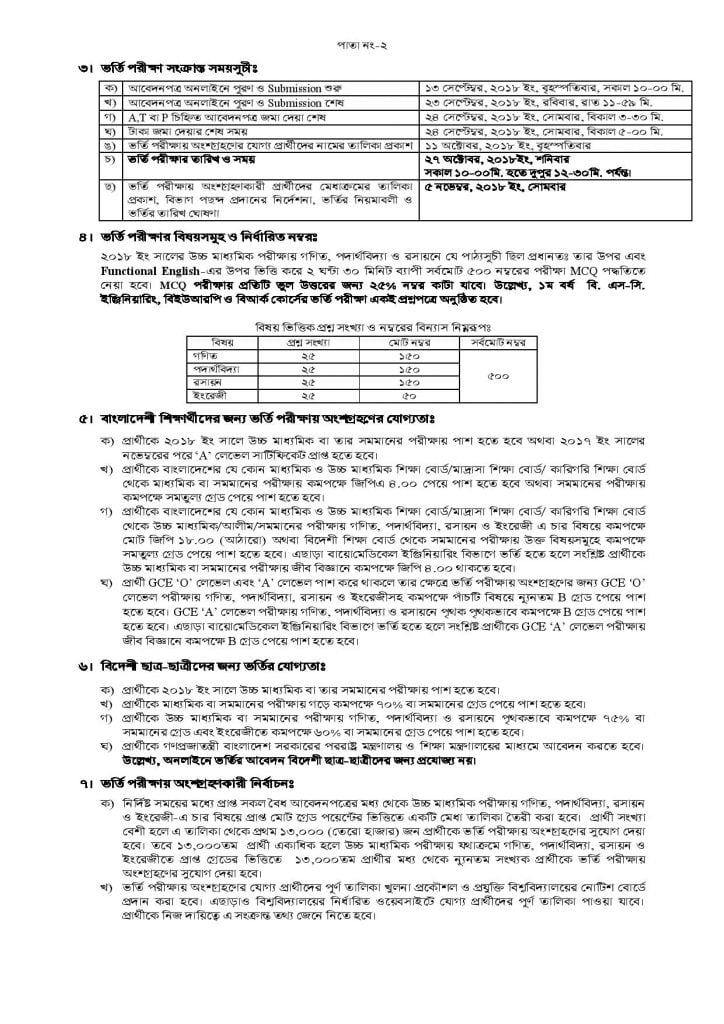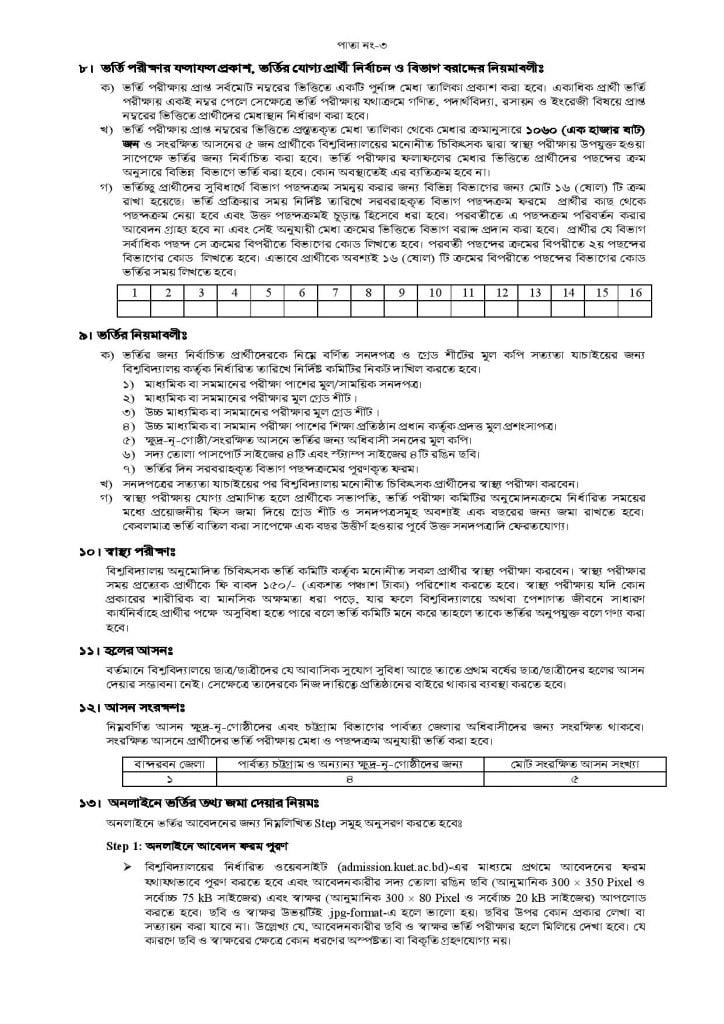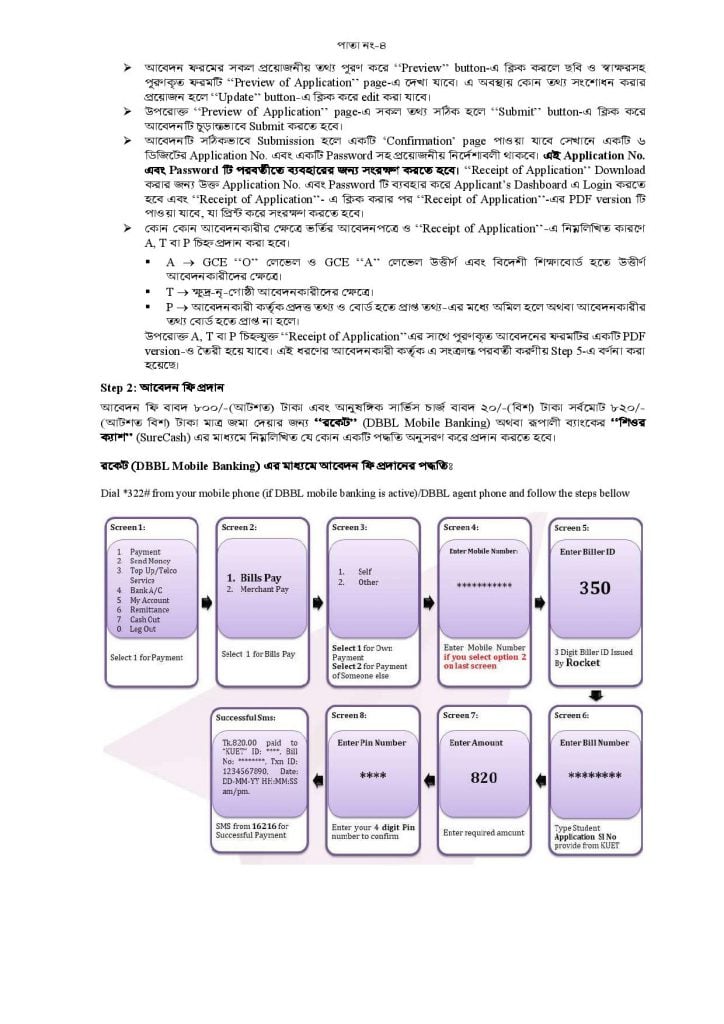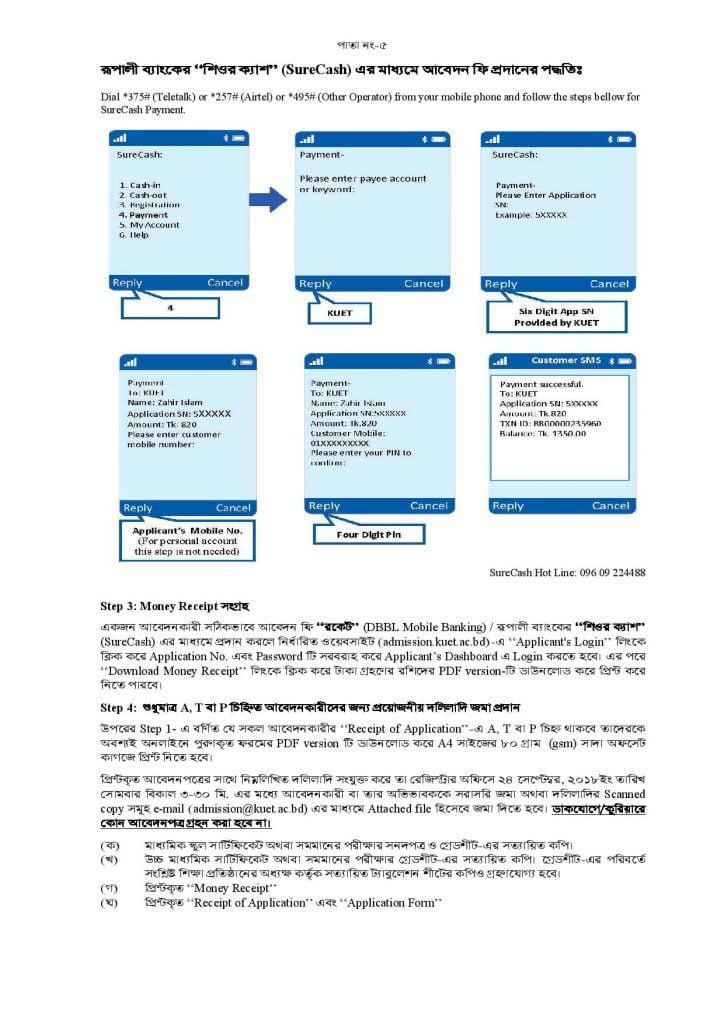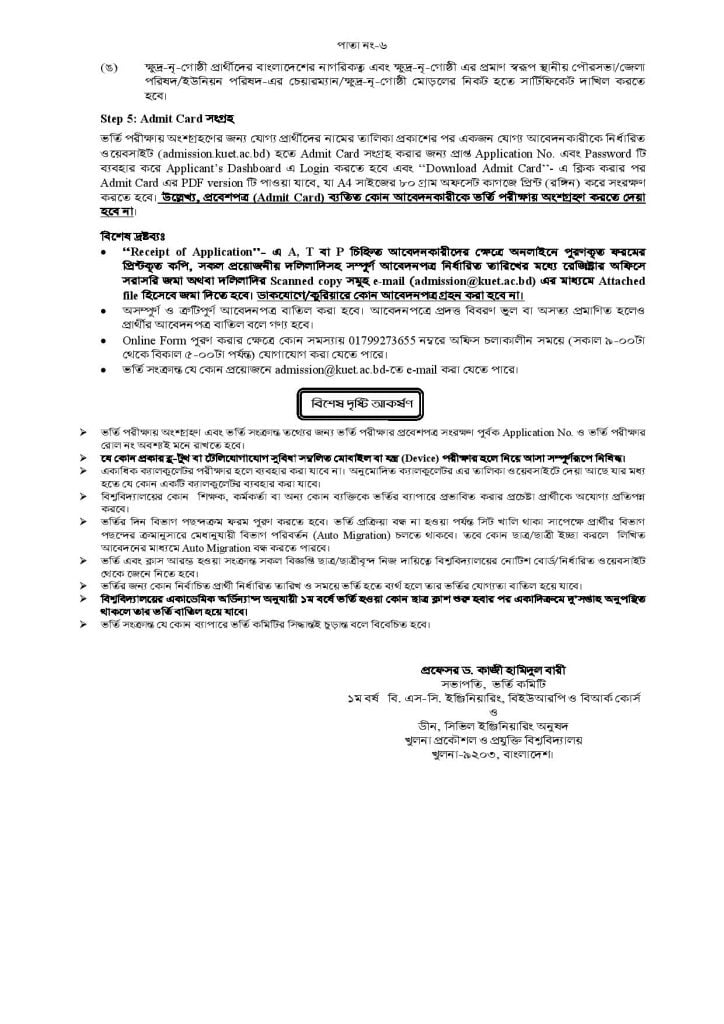 Postgraduate Admission
The information above is about undergraduate admission. If you want to admit in the postgraduate program or if are searching for information about postgraduate admission, here you will get detailed information. Click Here.
Contact Information
Registrar
Khulna University of Engineering & Technology (KUET), Khulna-9203, Bangladesh
Phone: +880 41-2870038, +880 41-774403, 01799273655
Mail: [email protected]
For more information Click Here
For more University Admission information, visit Our Site.