Rabindra University briefly RUB is a general category recently established university in Bangladesh. In 2017, Rabindra University, Bangladesh, started its journey as the 40th government university in the country. Its permanent campus will be constructed about 6 km west of Shahjadpur Upazila town of Sirajganj.
Currently, educational activities are running on temporary campuses in three colleges of Shahjadpur city. Dr. Biswajit Ghosh, Professor of Bangla Department of Dhaka University, took charge as the first Vice-Chancellor of this University.
History Rabindra University, Bangladesh
Rabindra University, Bangladesh, is a government-funded public university located at Shahzadpur, Sirajganj. It is the 40th university in Bangladesh, according to the University Grants Commission of Bangladesh.
Not much time has passed since the establishment of the university, and still, now the university has been undergoing significant challenges to become sovereign and self-sufficient.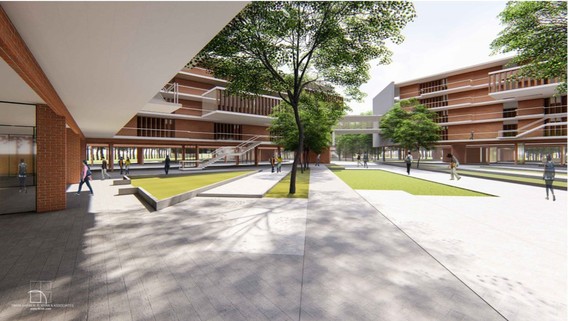 Type: Public University
Established: 2017
Chancellor: President Abdul Hamid
Vice-Chancellor: Md. Shah Azam
Location: Robindro kachori bari, Shahjadpur Upazila, Sirajganj, Bangladesh
Website: www.rub.ac.bd
Rabindra University Establishment Background
Rabindra University, Bangladesh, is the 40th public university in Bangladesh established in 2017. The university was not established in one day; after a long struggle and effort, it has come to its present stage.
There is a thinking to the people, especially the people of Robindro kachori bari, Shahjadpur, that there should be a university after the name of Rabindranath Thakur in this historical place where Bisso Kabi (World Poet) sped most of the time in his life to immortalize his memory. Today's university is based on thinking. Finally, in 2017, the university was established.
Rabindra University Location & Area
Rabindra University is in the Robindro kachori bari, Shahjadpur Upazila, Khukni Road, Sirajganj, Bangladesh. The university is next to the Robindro kachori bari and Rabindra Sriti Jado Ghar (Robindra Memorial Museum).
Rabindra University Academic Body
Rabindra University, Bangladesh, has been broadening its academic body spreading to other departments and institutions. Right now, the university has four faculties and some disciplines under the faculty.
Rabindra University Faculty
Faculty of Arts
Faculty of Social Science
Faculty of Business Studies
Faculty of Music & Dance
Rabindra University Admission
Robindro University, Bangladesh, is a public university, and so every year, the university tasks admission on Undergraduate and Graduate programs with the other public university. In the 2020-21 academic year, RUB has taken its admission with other 19 public universities under GST.
Campus Facilities
Rabindra University, Bangladesh, is a newly established university, so all the facilities and services are not available here, but most of the common facilities are under processing. RUB has already arranged some essential facilities for its students and staff. Library, Residential Halls, Medical Center, ICT cells, etc., are among them.
Library
The library is now an integral part of an educational institution. An excellent volume of books, journals, and other knowledge-based information makes the students' talents on different topics make them fit for any future competitions.
There is also a library in Rabindra University, Bangladesh, but not too long ago was established. Hence, the library is not so rich yet, and hardly any facilities are available here. But the authority has been working to make the library rich with various types of books, journals, and others.
RUB Journals & Books
Rabindra University, Bangladesh, publishes journals and books on various topics regularly. Students of the university read journals and books. Anyone can submit their article for publication in RUB Journal. Here is the journal and book published by RUB.
Mujibcorner
Mujibcorner is one of the main attractions of the RUB university, where you will get detailed information on Sheikh Mujibur Rahman. From where the students will be able to get huge information, books, journals, researches about Sheikh Mujibur Rahman and also be able to rich your memory.
That's all I have for you. As RUB is a recently established university, it is almost impossible to know enough information about it. But over time, I will add more information to enrich and inform this article. For more, you may visit www.rub.ac.bd.