Bangabandhu Sheikh Mujibur Rahman Maritime University admission circular 2021-22 has been published recently. BSMRMU admission will be held very soon. Bangabandhu Sheikh Mujibur Rahman Maritime University is one of the most popular public universities in Bangladesh, and many students are studying here.
Bangabandhu Sheikh Mujibur Rahman Maritime University is one of the GST-integrated universities. Like this university, there are also 21 universities in total 22 Universities that have agreed to publish a common circular for GST admission. The website gstadmission.ac.bd is about 22 universities integrated admission systems for the 2021-22 Session.
You will get all your information on this site like Admission Circular, Education Requirement, Application Instruction, Payment Instruction, and Combined University Admission Result of the 20 Universities.
Know About BSMRMU
Bangabandhu Sheikh Mujibur Rahman Maritime University, Dhaka, Bangladesh, is a public university in Bangladesh. It is the second maritime university in South Asia. From here, Marine Cadets will award an International Bachelor of Maritime Science degree, which is currently being given by the National University.
In this university, there will be a graduate and postgraduate level education and research on safe ship movement management and administration, naval engineering and technology, oceanography, international maritime law, etc.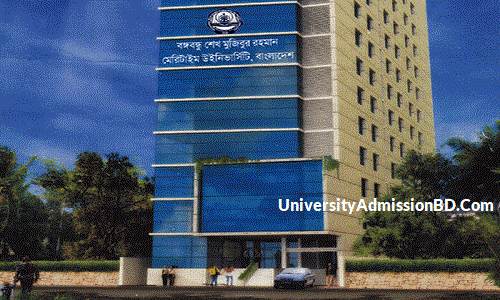 Bangabandhu Sheikh Mujibur Rahman Maritime University Admission Circular 2021-22
In the 2021-22 ‍season, the Bangabandhu Sheikh Mujibur Rahman Maritime University Admission circular was published early this year in June 2022. As it is one of the GST integrated universities, there will be an integrated admission with 20 universities. Here is the circular.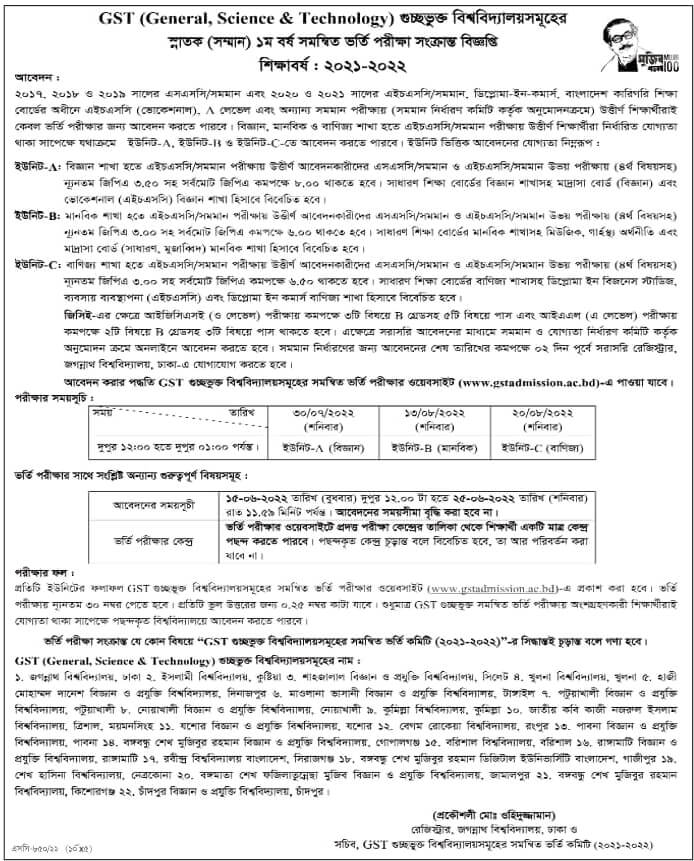 BSMRMU Admission Requirements for Apply
You should have some qualifications and requirements for undergraduate admission to GST integrated universities like BSMRMU. Here I will share all the information via images, and you will get all the information in the following images. You may download the pdf file.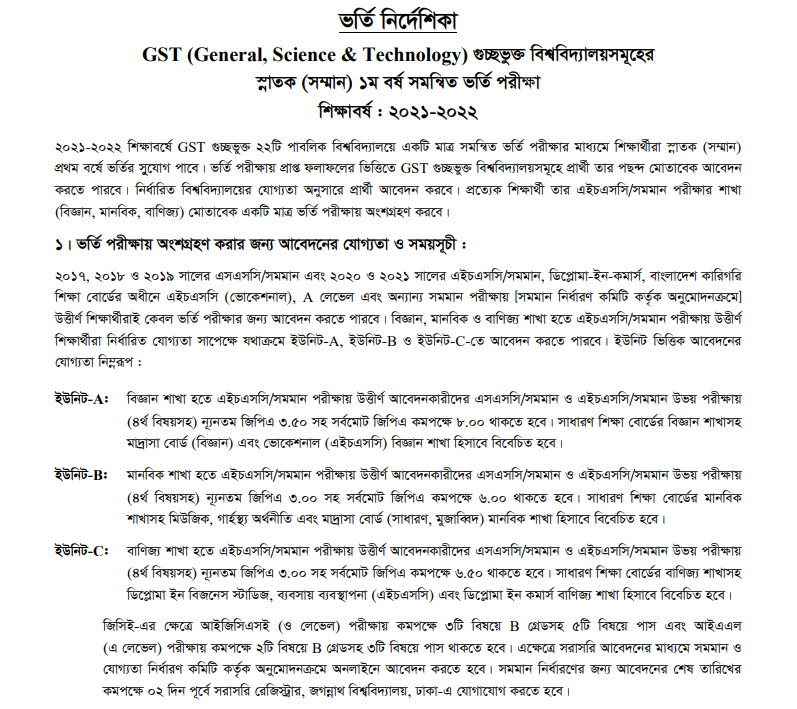 BSMRMU Admission Related Information
If you want to admit into the BSMRMU university, you have to know some essential information that will help you go ahead on the way to admission. Here is an image published by the GST that will help you get all the admission-related information.
BSMRMU Admission Circular Deadline
On this site, you will get all the admission-related information about GST Universities. There is no actual information about GST admission on their website. But here is some latest news for you to date.
| | | |
| --- | --- | --- |
| Unit Name | Date  | Time |
| Unit 1 (Science) | 30-07-2022 | 12.00 AM to 01:00 PM |
| Unit 2 (Humanities) | 13-08-2022 | 12.00 AM to 01:00 PM |
| Unit 3 (Business Studies) | 20-08-2022 | 12.00 AM to 01:00 PM |
How to apply for BSMRMU Admission 2021-22
For this 2021-22 academic year, the most popular 20 universities like BSMRMU agreed to take an integrated admission test. This is why all the admission processes are the same for these 20 universities. There are also some application processes for admission. Here are the details.
Go to the official website gstadmission.ac.bd of GST admission or other websites as directed in the circular.
Click on the Apply button to start your application.
You will need to fill up all the required information correctly to be eligible for the admission test.
Upload your image and signature as directed.
Choice 5 Center to Sit Admission test
If everything is correct, click on the submit button.
You will get an application preview along with the photograph and signature. Download and save it for further use.
To get more information visit GST Application Guideline 2022
BSMRMU Admission Application Process
To admit to the BSMRMU universities, you must visit the gstadmission.ac.bd website. Then you will get the application circular. Then visit the application page and fill it out stating all the information and complete it.
There are mainly two phases to apply. I want to inform you that recently both of the application dates have been over. So there is no way to apply.
BSMRMU Admission Fee Payment Process
The most important issue on the way of admission is to pay the fees in due time. You will get 72 hours/3 days to pay the fees after submitting your application. Otherwise, your application will be automatically canceled.
You have to recharge the sufficient amount of money in your account and visit the above website to pay the fee. Then click on the "Make Payment" and pay via your account.
BSMRMU Admit Card Download
After completing all the application processes, the candidate will download the admit card. As all the processes are being delayed to be completed, the time to download the admit card has not come yet. When the time comes, visit gstadmission.ac.bd and download the admit card.
Admit Card must be downloaded between 07-07-2022 12:00 PM to 12-07-2022 at 11:59 PM for the GST admission.
Visit the gstadmission.ac.bd/and click on Student Login/Admit Card Download
Login using the Applicant ID and Password already received through SMS.
Click on the 'Recover Applicant ID/Password' link to recover the Applicant ID or Password
BSMRMU Admission Result Final
The time to get the final result has not come yet. First of all, all the admission-related operations will be completed, and It is still too late to complete all the activities. So the final admission result has not been published yet.
For a detailed guideline, visit the link. Final Application Guidelines Online
Stay with us to know more about the Bangabandhu Sheikh Mujibur Rahman Maritime University admission. And please comment on your quote.