Sylhet Agricultural University briefly SAU is a government-financed university in Bangladesh established on 2nd November 2006 under the Sylhet Agricultural University Act 2006 (Act No. 47) passed by the National Parliament on 3 October 2006.
SAU is the second-largest Agricultural University and the 27th public university in Bangladesh. Right now, three thousand students around the country as well as from overseas are taking quality and higher education from the university.
Sylhet Agricultural University is highly promised to offer no session jam in academic activities. SAU inaugurated its official operation in 2006. The university offers Undergraduate and Postgraduate (Master of Science & Doctoral) programs for the students.
Some passionate, potential, and enthusiastic individuals are working in different disciplines to produce first-rate competent applied agriculturists to meet the need for the country's agricultural development.
Sylhet Agricultural University (SAU) Details
Sylhet Agricultural University mainly integrated on 2 December 2006 under the act "Sylhet Agricultural University Act 2006 (Act No. 47)" that Bangladesh National Parliament had passed unanimously.
Before establishing the university, Sylhet Government Veterinary College, shortly SGVC, was launched in 1965 and operated as the "School of Life Sciences" under the Shahjalal University of Science and Technology (SUST) Sylhet.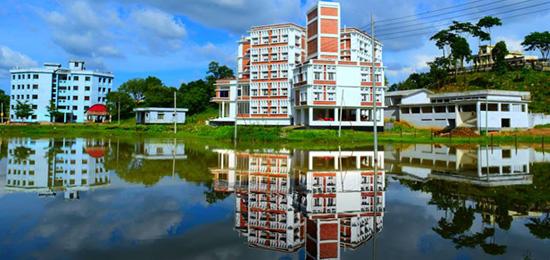 Later, the Sylhet Government Veterinary College was replaced by the CAU University, and the Veterinary College was turned into the faculty of Veterinary, Animal, and Biomedical Sciences.
Type: Public Agricultural University
Established: 1995: Sylhet Government Veterinary College (SGVC)
2006: Sylhet Agricultural University
Chancellor: President Abdul Hamid
Vice-Chancellor: Professor Dr. Md. Matiar Rahman Howlader
Academic staff: 203[citation needed]
Administrative staff: 195[citation needed]
Students: 2,000[citation needed]
Location: Sylhet, Bangladesh
24.909221°N 91.901986°ECoordinates: 24.909221°N 91.901986°E
Website: sau.ac.bd.
SAU Location & Area
Sylhet Agricultural University is in an important position in terms of location. The University campus is located 6 km east of the district town of Sylhet, beside the Alurtol road, Sylhet, Bangladesh. There are two campuses, 20.23 hectares (On-campus) and 4.97 hectares (Off-campus). The whole campus is covered with an eye-catching spectacular environment.
Academic Body
SAU consists of a large academic body, including Departments  47 (Forty-Seven) departments under 7 faculties and other institutions and offices.
SAU Faculty
Faculty of Veterinary, Animal and Biomedical Sciences
Faculty of Agriculture
Faculty of Fisheries
Faculty of Agricultural Economics and Business Studies
Faculty of Agricultural Engineering and Technology
Faculty of Biotechnology and Genetic Engineering
Faculty of Postgraduate studies
Veterinary, Animal and Biomedical Sciences
Anatomy and Histology
Physiology
Pharmacology and Toxicology
Microbiology and Immunology
Epidemiology and Public Health
Animal Nutrition
Livestock Production and Management
Dairy Science
Poultry Science
Genetics and Animal Breeding
Parasitology
Pathology
Medicine
Surgery and Theriogenology
Agriculture
Agronomy and Haor Agriculture
Soil Science
Crop Botany and Tea Production Technology
Genetics and Plant Breeding
Horticulture
Plant Pathology and Seed Science
Entomology
Agricultural Extension Education
Agroforestry and Environmental Science
Agricultural Chemistry
Basic Science and Language
Fisheries
Aquaculture
Aquatic Resource Management
Coastal and Marine Fisheries
Fish Health Management
Fish Biology and Genetics
Fisheries Technology and Quality Control
Agricultural Economics and Business Studies
Agricultural Economics and Policy
Rural Sociology and Development
Agricultural Statistics
Agricultural Marketing and Business Management
Agricultural Finance and Banking
Agricultural Engineering and Technology
Farm Power and Machinery
Irrigation and Water Management
Computer Science and Engineering
Agricultural Construction and Environmental Engineering
Food Engineering and Technology
Biotechnology and Genetic Engineering
Molecular Biology and Genetic Engineering
Plant and Environmental Biotechnology
Animal and Fish Biotechnology
Pharmaceuticals and Industrial Biotechnology
Microbial Biotechnology
Biochemistry and Chemistry
Sylhet Agricultural University Admission
SAU offers Undergraduate and Postgraduate (Master of Science & Doctoral) to broaden students' outlook and perspective. Thousands of students around the country take study here, and more like them are interested in studying here, and I have arranged admission information for them.
SAU Facilities
Sylhet Agricultural University contains a number of services & facilities. It offers the services to the students to make world-value graduates who can contribute to the improvement of Agricultural section. Here are some notable services provided by the university.
Health Care Centre, Guest House, Internet & Wifi services, Bank service, Central Mosque service, Sports & Culture, Gymnasium, cafeteria, and professor Mosleh Ahmed Chowdhury Veterinary Teaching Hospital.
SAU Library
The library is the most important and integrated part of a university where students have full access to read and acquire knowledge on different topics.
Sylhet Agricultural University also has a library with many books, magazines, journals, e-book, and IT tech services. There are 10525 books, more than 2310 journals, and others. The university library also offers TEEAL (The Essential Electronic Agricultural Library) service where Online Journals & e-books are available.
SAU Residential Hall
There are seven accommodation/ residential halls of the Sylhet Agricultural University; 5 are for males, and 2 for female students. Here all the names of the hall are enlisted.
Bangabandhu Sheikh Mujibur Rahman Hall
Abdus Samad Azad Hall
Suhasini Das Hall
Shah A. M. S. Kibria Hall
Humayun Rashid Chowdhury Hall
Sheikh Fazilatunnesa Mujib Hall
Hazrat Shah Paran (R.) Hall
SAU Research
Sylhet Agricultural University conducts many types of research sharing with other universities and individually on different topics. A research center named Sylhet Agricultural University Research System (SAURES) has been playing a great contribution to the research sector to take the country's agricultural sector to the stage that we desire.
SAU Research Centre: 
SAU Research System (SAURES)
Journal SAU (JSAU)
HEQEP
Others Research
I think this article seems to you great. I will try to make the article more informative and attractive for more information related to the SAU university visit the SAU wiki.