Primeasia University Admission Circular 2019-20 has published recently. Primeasia University Admission Test will start on 27th April 2019. Primeasia University is one of the most popular private university in Bangladesh. In this post, I will write about all information for the admission test for Primeasia University.
Let's Know About Primeasia University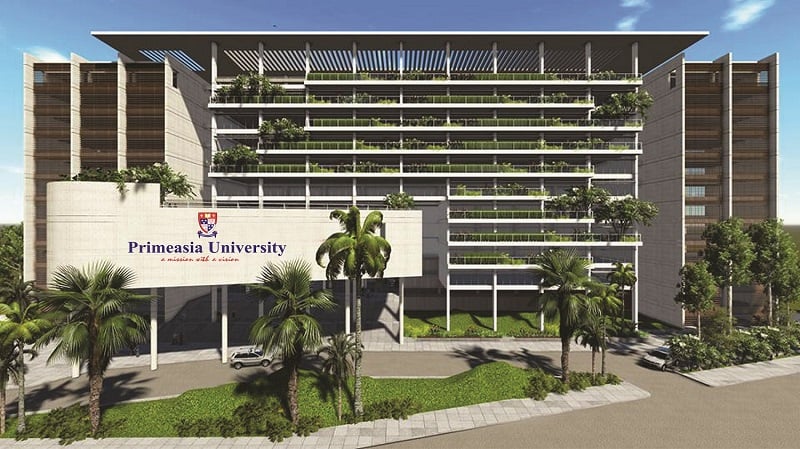 Primeasia university is a reputed private university in Bangladesh. It is located in Banani, Dhaka.
The university was established with three buildings, of which two are two-storeyed buildings and six-storeyed buildings. The university's six-story building is just for textile engineering labs and classrooms. Originally known for textile engineering, the university is well known. The university has 5 departments, 191 teachers, 4395 students, and 2837 courses.
Primeasia University ADMISSION SYSTEM
Most students are interested in study at a private university. Primeasia University is one of the most popular and biggest private university in Bangladesh. Before applying this university Read this article. In this article, we will try to provide all of the information for Primeasia University admission.
Primeasia University Programs
School of Business
Bachelor of Business Administration(BBA)
Bachelor of International Tourism and Hospitality Management (ITHM)
School of Engineering
B.Sc. In Comp. Science & Engineering(CSE)
B.Sc. In Electrical & Electronic Engineering.(EEE)
B.Sc. In Textile Engineering
Bachelor of Architecture (B. Arch)
School of Science
Pharmacy
B.Sc. (Hons.) in Microbiology
B.Sc. (Hons.) in Biochemistry\
B.Sc. (Hons.) in Public Health Nutrition(PHN)
M.S in Microbiology
Primeasia University Admission requirements: 
Candidates must have a total GPA of 6.00 in SSc/equivalent and HSC/equivalent examination with a minimum GPA of 2.00 in each of the exam
Read Also: Premier University Admission 
Primeasia University Admission Circular Notice
Primeasia University published their admission circular. Read this Circular carefully and know about Primeasia University admission.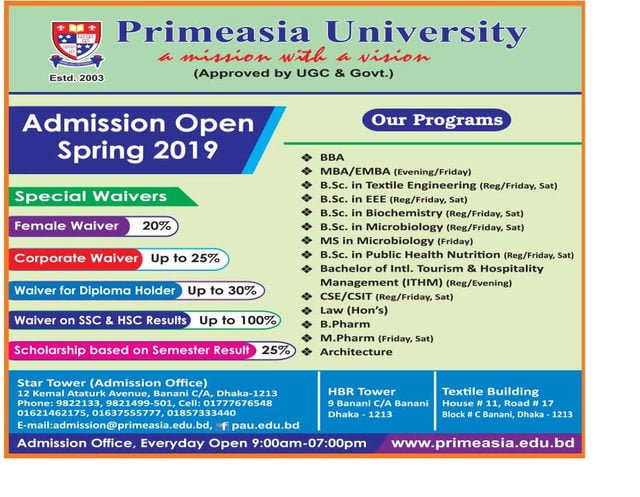 Contract Info of Primeasia University
Primeasia University

12-Kemal Ataturk Avenue, Banani, Dhaka, Bangladesh
 9822133,9821498-501 (Ext:122, 311, 324, 333)
 01958-665500, 01958-665501, 01958-665502
 

[email protected]



Stay with us to know more about the admission of Primeasia University. And please comment on your quote.