We will discuss MBBS 4th Year syllabus in this article. MBBS 4th Year is the last and final year of the MBBS course that calls the MBBS IV phase. The duration of MBBS 4th Year is a one and half year course.
So all must know the MBBS 4th Year syllabus and curriculum. There are three subjects in this course and a  number of course contents. Here we will discuss all these subjects in detail.
MBBS 4th Year Syllabus With Curriculum
Here is the overall gist of information on the MBBS Phase IV and from this following information will be able to know the generic topics of Medical humanities, integrated teaching, Medicine and allied subjects of phase 4, Surgery and allied subjects of phase 4, and finally Obstetrics & Gynecology and allied subjects of this Phase.
Generic Topics on Medical Humanities to be taught in Phase –IV
Medical professionalism
Inter-professionalism
Patient Safety & Medical Error
Integrated Teaching In MBBS 4th Year
Here are the integrated teaching areas taught in the MBBS phase IV. It is very important to know all these following courses for the studying students.
Hypertension
Tuberculosis
Thyroid Disorder
Acute Kidney Injury(AKI)
Fever
Edema
Chest pain
Acute respiratory distress
DM
Jaundice
Diarrhea and vomiting
Nutrition
Pediatric Emergency
Headache
Anxiety
Depression
Psychosis
Drug reaction
Generalized pruritus
Purpura

STI
Low Back Pain
Joint Pain
Osteoporosis
Acute abdomen
Thrombophlebitis/Phlebothrombosis
Sepsis
Infection Prevention & Control
Shock
Fluid and Electrolytes31. Burn
Per rectal bleeding33. Vertigo
Congenital anomalies
Wound infection
Urinary Tract Infection (UTI)
AUB
Convulsion
Abdominal Lump
Anemia
Unconsciousness
Delirium & Dementia
Medicine & Allied Subjects Of MBBS 4th Year
Here is the list of the Medicine and allied subjects of MBBS phase IV. Medicine is the first and one of the important subjects of the MBBS 4th Year.
Heart Failure
Congenital Heart Disease
Bronchial Asthma
Liver Abscess
Malabsorption syndrome
Irritable bowel syndrome(IBS)
Psoriasis
Leprosy
Autism spectrum disorder (ASD)
Somatoform disorder
Surgery & Allied Subjects of MBBS 4th Year
Surgery is one of the second subjects of the MBBS Phase IV. Surgery is comprised of some relevant topics. All the topic is listed below.
Malignant Bone Tumor
Inflammatory Bowel Disease
Gastric Outlet Obstruction
Subacute Intestinal obstruction
Neck Swelling
Epistaxis
Stridor in Children
Bladder Outflow Obstruction
Metabolic Bone Disease
Spinal Injury.
Proptosis
Obstetrics & Gynecology of MBBS 4th Year
Obstetrics & Gynecology is one of the fixed subjects of the MBBS phase IV, and there are also some topics for this course. If you focus below, you will get all the topics on the list.
Pelvic Inflammatory Disease (PID)
Vaginal Discharge
Ovarian Tumour
Contraceptives
Pelvic tuberculosis
Normal labor
Antenatal care
Vital statistics (maternal & perinatal mortality)
Puerperium
Puberty
Medicine Study In MBBS 4th Year
Medicine is one of the third subjects for the Medical MBBS course phase IV. After completing this course, students will acquire appropriate knowledge, attitude, and skill to become effective doctors for society. For details, keep reading the following information.
Final Professional Examination:
Marks distribution:
Total marks – 500 (Summative)
(a) Written = 200
(b) MCQ: MTF-20+SBA-20,
(c) SAQ -105+SEQ-35(SAQ-75%, SEQ-25%)
Formative assessment -20
(a) Oral and Clinical= 250
(b) Oral -150
(c) Clinical=100
(d) OSPE = 50
Medicine Time Schedule
For MBBS students, especially for the MBBS Phase IV, it is crucial to know the schedule of the Medicine subjects. With this in mind, I have accumulated all the relevant information in a single table in order.

Final Professional Examination
On the Medicine subject, there is a total of 500 marks exam. Here is the detailed information on a different topic.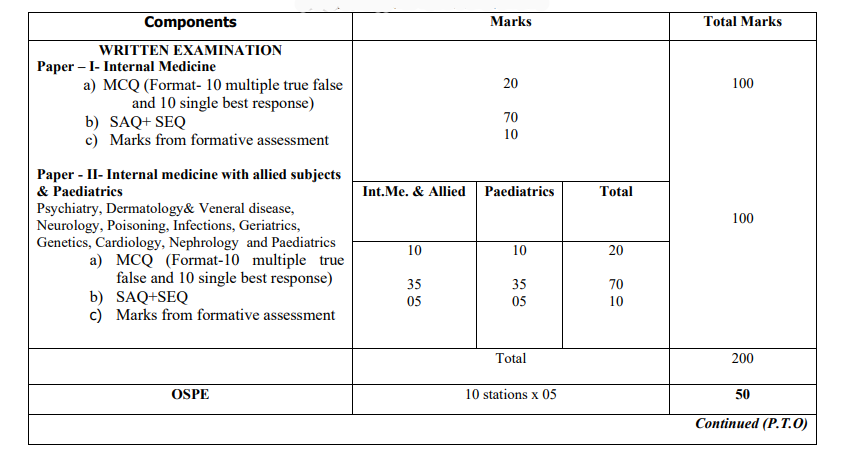 Surgery Study In MBBS 4th Year
Surgery is a subject for the MBBS Phase IV. Surgery Students are taught how to elicit a complete clinical history & physical findings and formulate a diagnosis of common surgical problems prevalent in Bangladesh and abroad. Here is all the information
Surgery Subjects:
General surgery
Orthopedic surgery
Radiology
Radiotherapy
Transfusion medicine
Anesthesia
Neurosurgery
Pediatric surgery
Urology
Burn & Plastic surgery/Emergency & Casualty
Dentistry
Ophthalmology
Otolaryngology
Final Professional Examinations
The final professional examination on the Surgery subjects on 500 marks. Among them, written on 200 marks. For details, focus on the following information.
Marks distribution for assessment of surgery:
Total marks Surgery and allied Subjects – 500
Written = 200 (Formative Assessment-20 +(MCQ- SBA & MTF) 40+ (SAQ
+SEQ) 140 =200)
Structured Oral = 100 (60+20+20)
Clinical = 100 (60+20+20)
Practical (OSPE/OSCE) = 100 (60+20+20)
Total in Surgery and allied-500.
Final Professional Examination: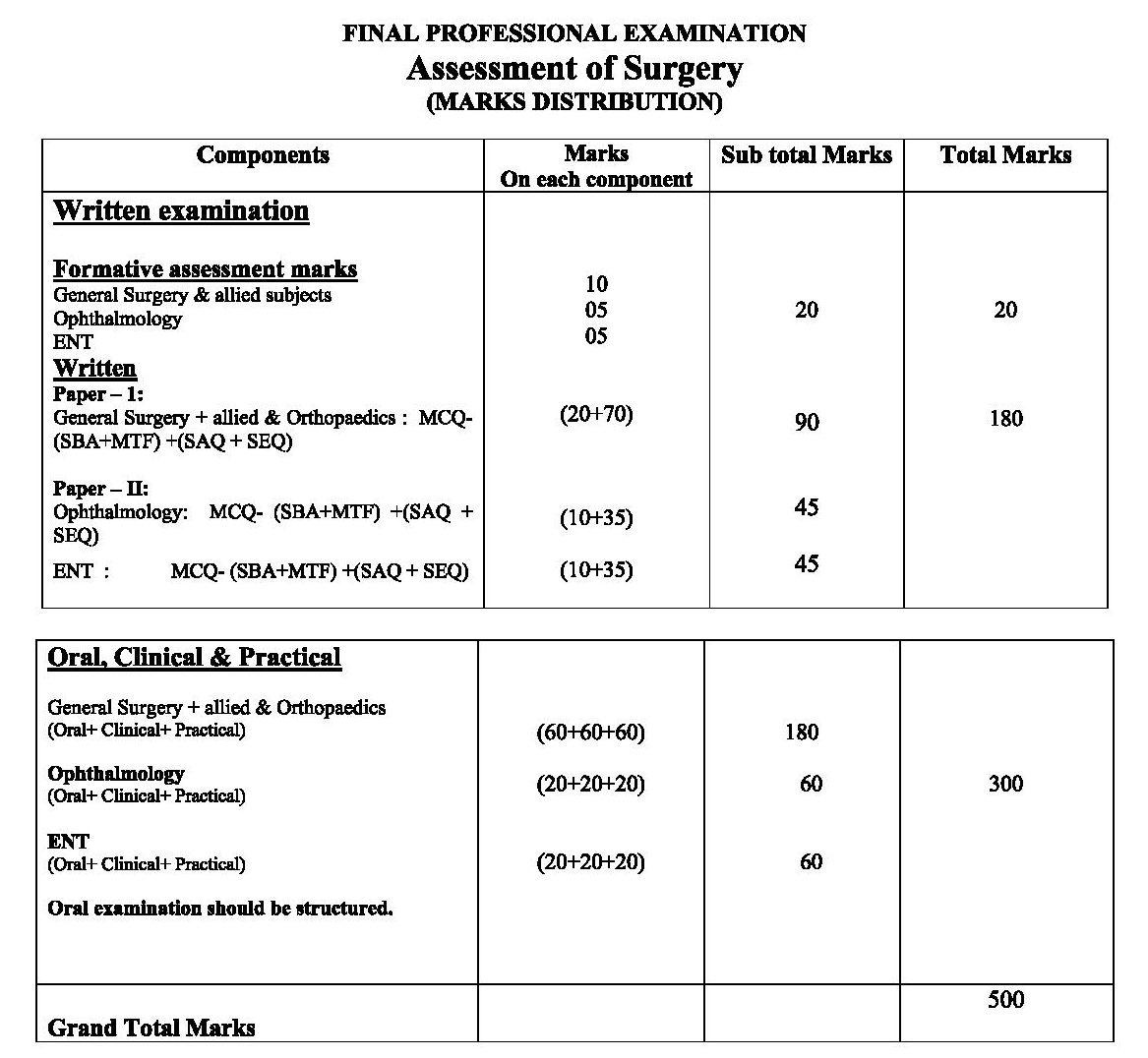 Obstetrics & Gynaecology Study In MBBS 4th Year
Obstetrics & Gynaecology is a subject for the MBBS 4th year. In this course, students learn the strategy of properly managing women's health, including pregnancy, labor, and puerperium, ensuring maternal and neonatal health and well-being, giving proper advice, and diagnosing common clinical problems skills about Episiotomy.
Final Professional Examination
On the Obstetrics & Gynaecology subjects on MBBS 4th Year, there is a total of 500 marks exam. Among them, writing is 200, and among others, SOE=100, Clinical=100, and Practical=100.
Marks distribution of Assessment of Obstetrics & Gynaecology:
Total marks – 500 (Summative)
Written =200; (Formative =(10+10)=20, MCQ=40 (SBA-20, Multilpe true false -20), SAQ & SEQ=140 (SAQ50+50=100) (SEQ-20+20=40)
SOE=100
Clinical=100
Practical=100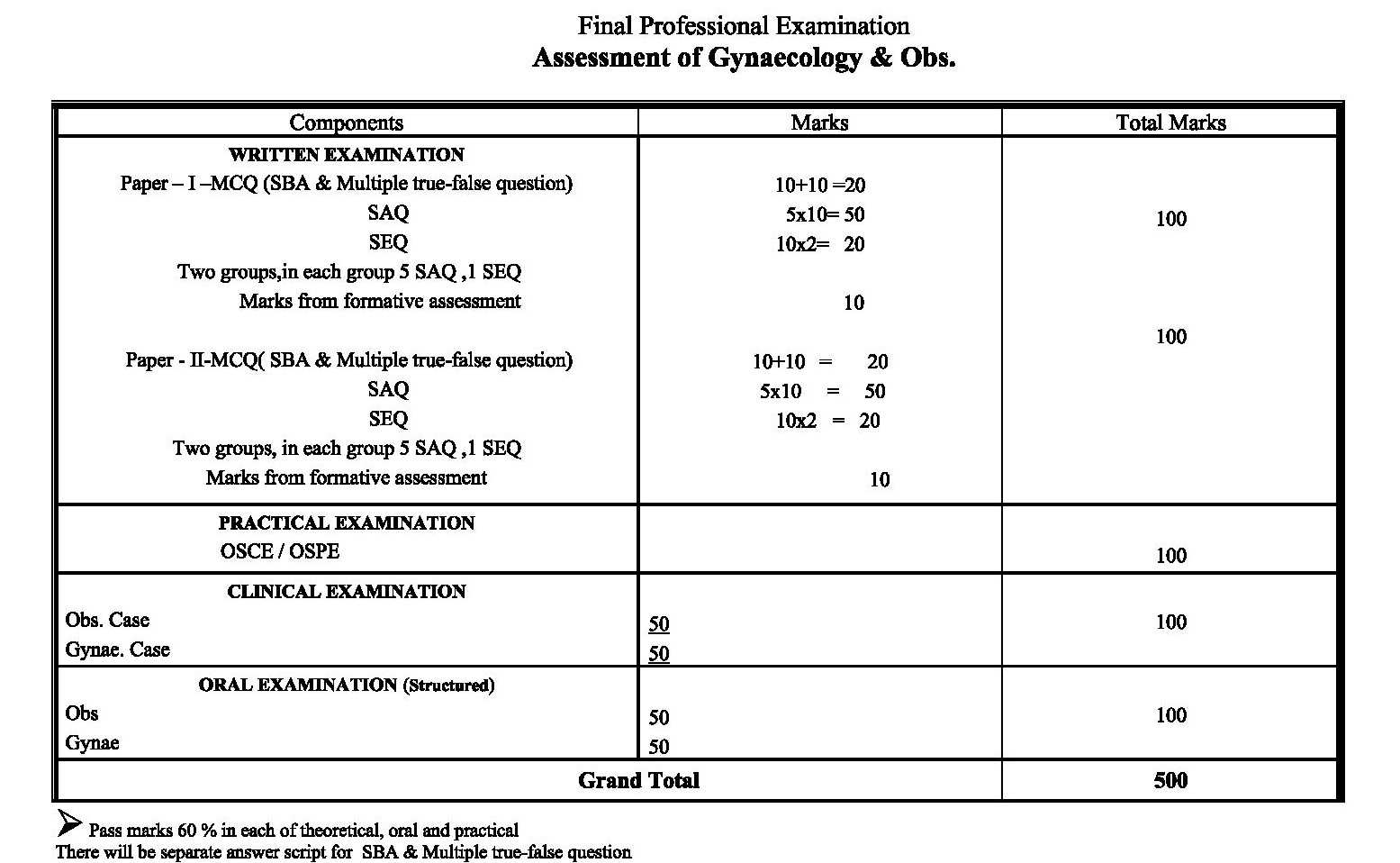 Lecture Contents in Gynaecology (5th Year)
Gynecology has fifteen lecture content students study on an immaculate conception in the Fifth Year. It increases the ability of the students to assume anything professionally.
First Term:
Genital tract infection
Urinary incontinence
Genital tract injuries
Genital prolapse
Formative Assessment
Second Term: 
Endometriosis
Neoplasia of reproductive organs
Subfertility
Formative Assessment
Third Term: 
Contraception
Menopause
Diagnostic Technique
Principle of common gynecological surgeries
Preoperative preparation & post-operative management of common gynecological surgery
Formative Assessment
That's all about the MBBS 4th Year Syllabus. I hope this article will be helpful for you. If you need more information on any topic related to the MBBS course, you may ask via a comment below.