MBBS 1st year Anatomy syllabus is here. Anatomy is one of the demandable and necessary courses of the MBBS course. Bangladesh Medical & Dental Council has already published detailed information on the Anatomy discipline.
I know thousands of students in the country seek information about Anatomy, but in most cases, they are failed. This way, I am here with detailed information about Anatomy that will give you a good sense of Anatomy. This article is good for the Anatomy MBBS 1st year.
If you read the whole article, you will know a summary of Anatomy, Exam mark distribution, Course content, Integrated teaching, and so on.
MBBS 1st Year Anatomy Syllabus Discussion
Anatomy is a 1st year subject of the MBBS course. It is a branch of science concerned with the bodily structure of humans, animals, and other living organisms, especially as revealed by dissection and the separation of parts.
Here students will be able to mention, identify, show, draw and describe the structural components of the body responsible for carrying out normal body function.
Anatomy 1st Professional Examination:
Marks distribution of Assessment of Anatomy
Total marks – 500
Written=200 (Formative 20+MCQ 40+SAQ140)
SOE=150
Practical=150
Anatomy Course Contents
Anatomy study is the master of medical education. Students study anatomy in the 1st year of MBBS. There is a lot of content in anatomy study. Here they are:
General Anatomy
Cell Biology
Human Genetics
General Histology
Systemic Histology
General Embryology
Systemic Developmental Anatomy
Neuroanatomy
Neuroanatomy
Living (surface) Anatomy
Living (surface) Anatomy
Anatomy of Radiology & Images
Clinical Anatomy
Integrated Teaching in Anatomy
Anatomy comprises different topics like Cell, Heart, Lung, Hepatobiliary system, Kidney, Pancreas, Adrenal gland, Thyroid & Parathyroid gland, Pituitary gland, Sensory system & Motor system. Here is the detail below in the below box.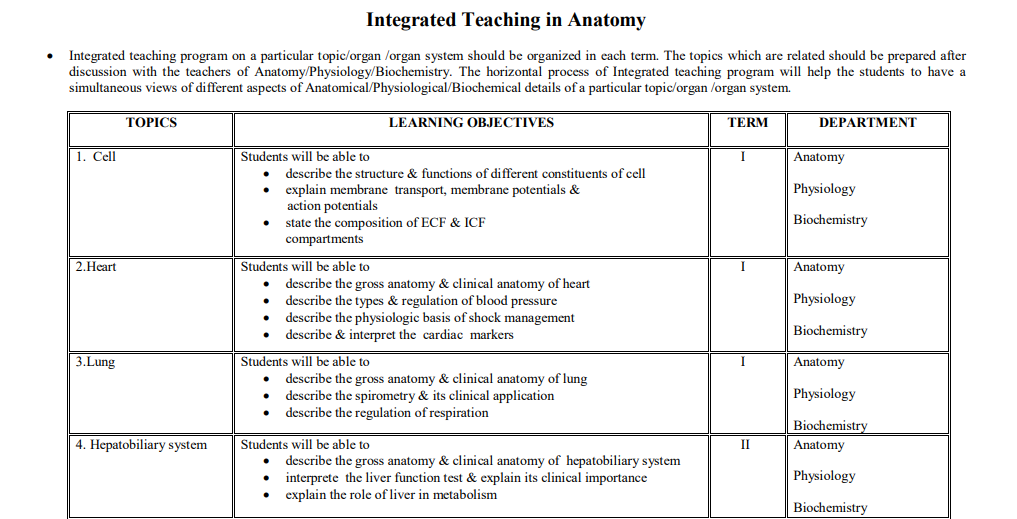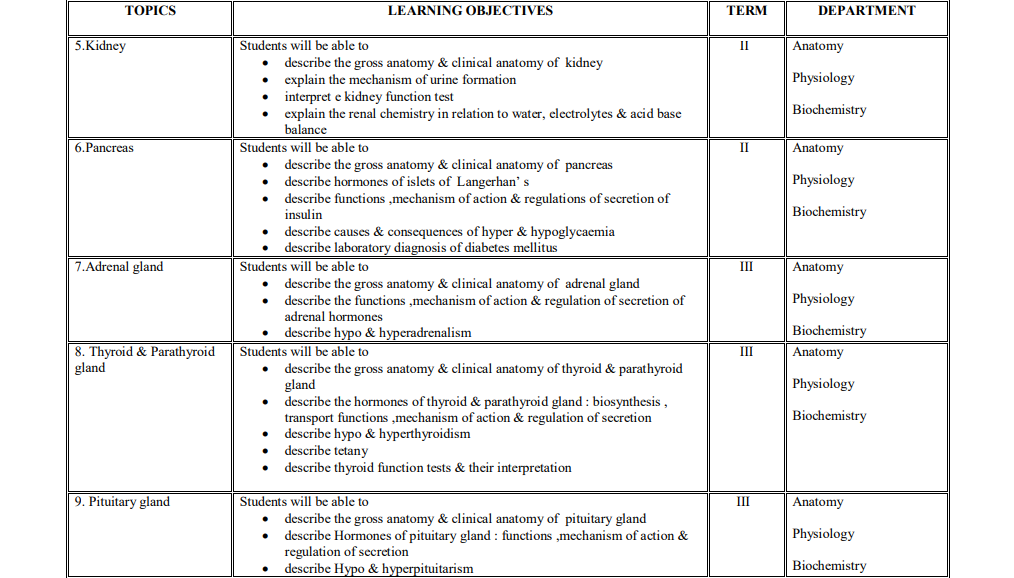 For detailed information on the Anatomy syllabus, then visit Anatomy.
I hope this article will be helpful for you. If you want to get all the subject details of MBBS 1st year, then revisit the site. You will get all the MBBS course-related information here.