MBBS, complete from Bachelor of Medicine & Bachelor of Surgery, is an Undergraduate course. It is the most demandable degree for all. So thousands of students in the country take MBBS degrees and look for MBBS course basic information, especially about MBBS courses, syllabus, and Duration. MBBS courses produce competent, compassionate, reflective, and dedicated health care professional graduates.
MBBS is a 5-year course available in all the medical colleges in the country. If you are interested in getting information about the MBBS courses & Duration, this article is for you. Here, you will get all the basic information about the MMBS course.
MBBS Courses & Duration Details
MBBS course comprises 5 Years, followed by a logbook-based rotatory internship for one year, and is accomplished in four phases. If you want to get admitted to this course, you need to read the whole article from top to bottom and know more about the MMBS course & Duration.
Phase
Duration 
Subjects
Examination 
1st Phase
1½ year

Anatomy
Physiology
Biochemistry

First Professional
2nd Phase
1 year

Community Medicine
Forensic Medicine

Second Professional
3rd Phase
1 year

Pharmacology & Therapeutics
Pathology
Microbiology

Third Professional
4th Phase
1½ year

Medicine & Allied subjects
Surgery & Allied subjects
Obstetrics and Gynaecology

Final Professional
MBBS Phase-wise Distribution of Teaching-Learning Hours
For the convenience of the MBBS students, here are the phase-wise distributions of teaching-learning hours. These tables of information will clarify the MBBS courses & Duration. You will be able to get throughout conception about all four phases from here. Here you will get lectures, tutorials, practicals, and other Duration based on Subjects.
MBBS 1st Phase (1st Year) Teaching-Learning Hours
Here is the brief information on MBBS 1st phase (1st year). There is a table below where all the 1st phase-related information like subjects of this phase, tutorial hours, lecture hours, and so much information.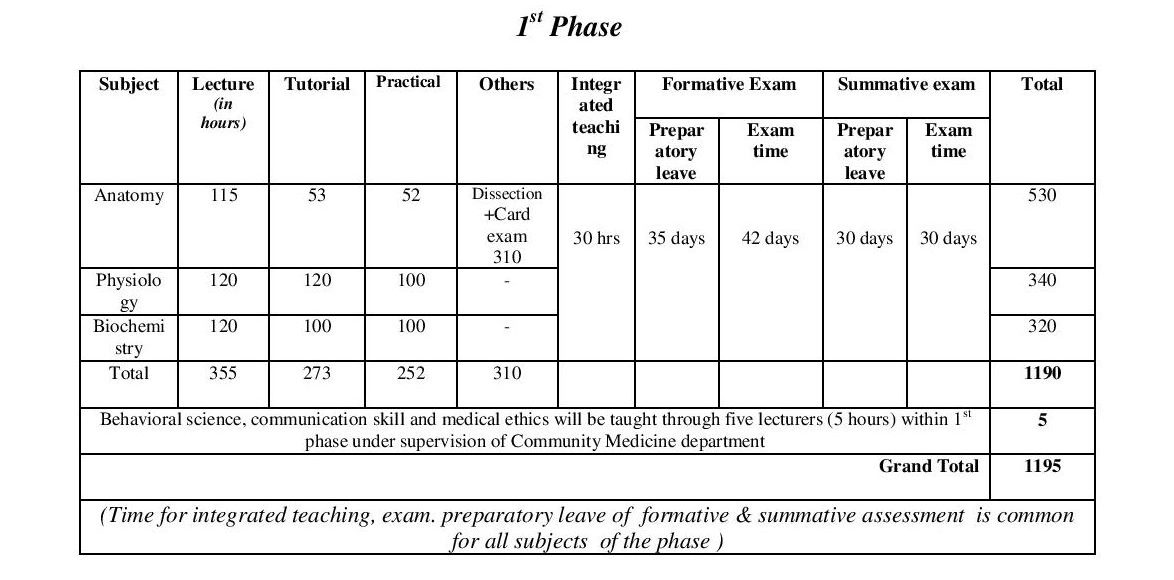 MBBS 2nd Phase (2nd Year) Teaching-Learning Hours
Here is the information on MBBS 2nd phase (2nd year). In the second phase, there are two subjects in this course Community Medicine and Forensic Medicine.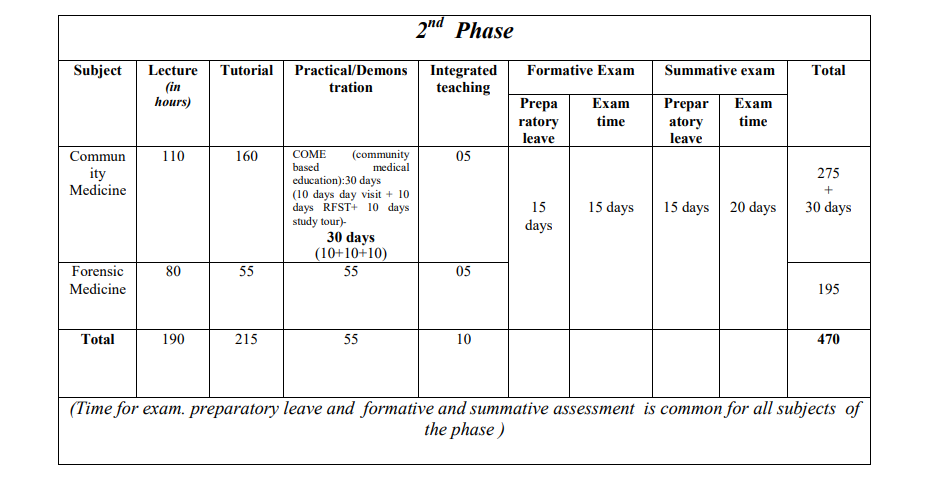 MBBS 3rd Phase (3rd Year) Teaching-Learning Hours
MBBS third phase comprises three disciplines. In this course, there is a total of 300 hrs lectures, 175 tutorials, 123 hours of practicals, and 20 hours of others. There also have exams on in a total of 618 marks.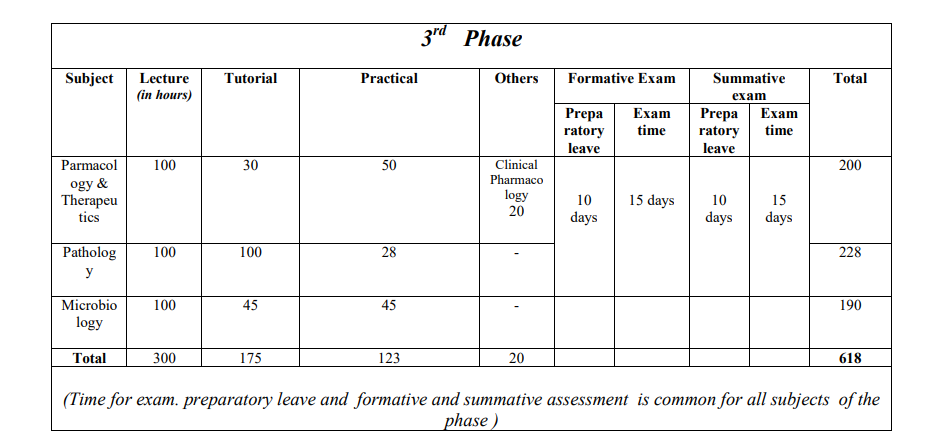 MBBS 4th Phase (4th Year) Teaching-Learning Hours
MBBS 4th course comprises six Internal medicine, Psychiatry, Dermatology, Pediatrics, Physical Medicine, Emergency. In this course, there is a total of 500 hrs lectures, 225 hrs tutorials, etc.

That's all about the MBBS course & Duration. On this site, you will get all the MBBS related information that will help you in many ways to know about MBBS.