East West University admission is going on. The East West University Admission Circular has been already announced on their website, and the last date for application has been concerned on May 16, 2023.
East West University is one of the most popular private universities in Bangladesh, and so there are thousands of students who want to get admitted to the university.
If you are one of them, it is time for you to get admitted to this university for your desired program. All the information you need on the way to admission is decorated here below. Just scroll down and look over the information.
East West University Admission Circular TimeTable
EWU hasn't announced any admission-related date outside of its application deadline. So, for now, here the application's last date is noted. But over time, all the key information will be added here.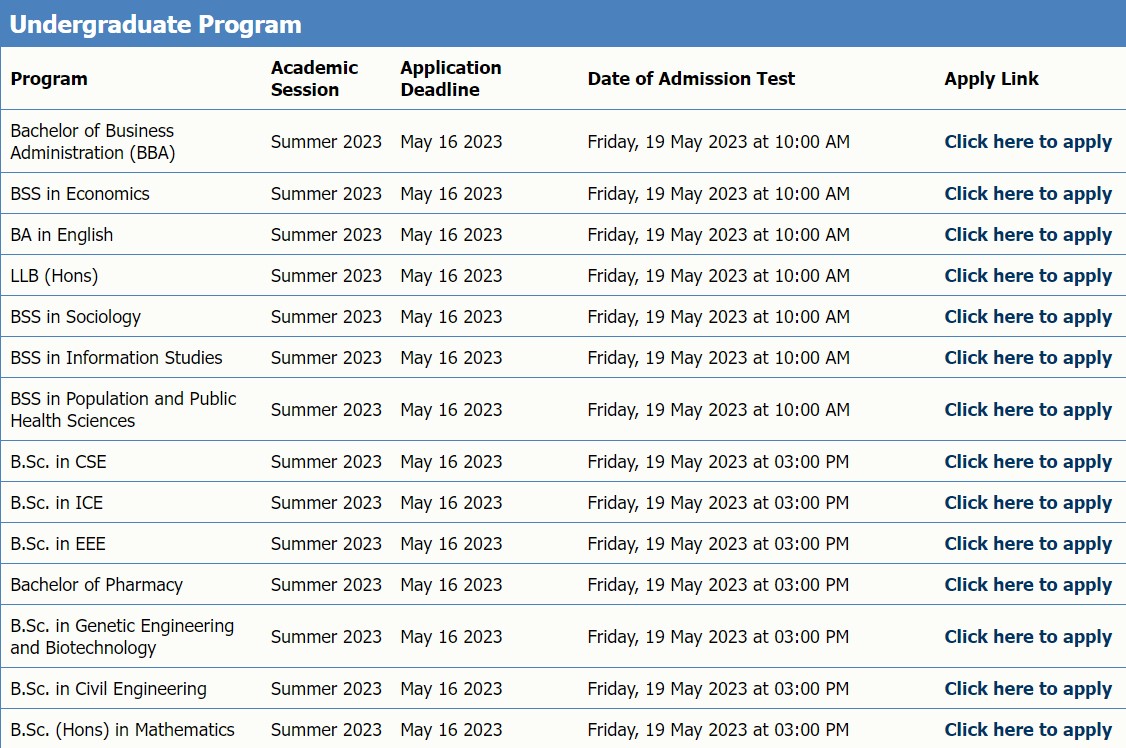 The EWU undergraduate/Postgraduate online application deadline is 16 May 2023.
East West University Admission Requirement
To get admitted to East-West University, you have to meet some requirements, and here you will get detailed information on East-West University admission eligibility.
Undergraduate Program (except B.Pharm.)
Candidates must need at least a 3.00 GPA in both SSC and HSC or equivalent and 2.50 for Diploma students from BTEB.

American High School Diploma, AND
Acceptable EWU Admission Test Score.
For the children of freedom fighters, candidates must possess a total GPA of 5.00 in both SSC and HSC/Equivalent.
EWU selects the candidates based on 75% of the admission test, 10% from the SSC result, and 15% from the HSC result.
EWU Online Application Process
EWU online application process is narrated here in order. The whole process is described on the EWU website (http://www.ewubd.edu) or (http://admission.ewubd.edu).
First, visit the EWU website (ewubd.edu) or (admission.ewubd.edu), and get the application form.
Then click on "New Application" (For New Applicant).
Then click on any of the programs on what subject you link to study.
After that, applicants have to fill up all the options asked there.
After completing all the options, applicants will get a page where they have to fill in their Name, Mobile Number, and email address (Optional).
Then an "EWU Login ID" will be displayed on the screen. Note down the code.
 The application Fee is Tk-1,200/– have to be paid in cash at the EWU Admission Office.
After a successful payment,  Applicants will put the EWU Login ID and the Mobile Number to "SIGN IN." Now the applicant is eligible to fill in and submit the Online Admission Form.
Applicants have to upload scanned passport size recently taken colored photographs (*.jpg with Max size of 100Kb) and signature (*.jpg with Max size of 60Kb) (White Background) on the online application form.
Save the application form. e.i. <Save><Submit form><Preview>.
After successful submission, applicants will get a message, "Your form has been submitted successfully. For more visit EWU Application Process.
East West University Apply Link
Required Documents During Admission
All-Academic Certificates & Mark Sheets/Transcripts in original and photocopies
(Original copies will be back/returned after verifying with photocopies)
EWU Admit Card
To get admit card click on the option "Admit Card".
You can get the admit card anytime by logging providing your EWU Login ID and Mobile Number. Without the Admit Card, applicants will not be allowed to appear in the Admission Test.
EWU Application Process Flow (Short-cut)
Visit the EWU website (ewubd.edu) or (admission.ewubd.edu)
Click New Application
Select Program & enter Name, Mobile No, Email ID & select HSC passing year.
Applicants receive an 8-digit EWU Login ID
Download Pay Slip for cash payment or Pay Online
Enter EWU Login ID, Movile No, and Sign In.
Start Online Form Fill Up.
Save | Submit | Preview
Print | Download Admit Card.
EWU Admission Fee Submission Process
There are two options to pay the admission fee; one is in the cash payment process at the EWU admission office, and another is Online payment.
For Cash payment: Use your EWU LogIn ID and Mobile No to Sign In and download/print the payslip, and make the payment (1000 Tk) in cash at the EWU admission office, Aftabnagar, Dhaka.
For Online Payment: you may pay through bKash. You can also use Dach Bangla Bank, UCash, MY Card, Visa, Masters's card, Americal Express, DBBL, and Internet Banking.
East West University Undergraduate Programs
Faculty of Business and Economics
Faculty of Liberal Arts and Social Sciences
BA in English

BSS in Sociology

BSS in Information Studies and Library Management

Bachelor of Laws (LL.B)
Faculty of Science and Engineering
Bachelor of Science in Applied Statistics

B.Sc. in Electronics & Telecommunication Engineering (ETE)

B.Sc. in Information & Communications Engineering (ICE)

B.Sc. in Computer Science & Engineering (CSE)

B.Sc. in Electrical & Electronic Engineering (EEE)

B.Sc. in Genetic Engineering & Biotechnology (GEB)

Bachelor of Pharmacy (B. Pharm.)

B.Sc. in Civil Engineering
Read Also: Daffodil International University Admission
Contact Info of East-West University
East West University
A/2, Jahurul Islam Avenue, Jahurul Islam City, Aftabnagar, Dhaka-1212, Bangladesh
88-01755587224
www.ewubd.edu
Keep an eye on this site to know the next update. If you want to know anything, you can leave a comment on the below comment box. Thanks for visiting this site.