EWU Admission Circular 2019-20 has published recently. East West University Admission Test will start on 24th Agust 2019. East West University is one of the most popular private university in Bangladesh. In this post, I will write about all information for the admission test for the EWU.
Let's Know About East West University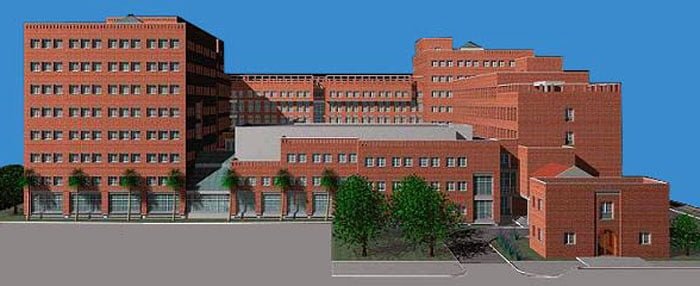 EastWest University, EWU, is a private university located in Dhaka, the capital of Bangladesh. It was founded in 1996 based on the "Private Universities Act 1992".
The university campus was made up of six modern and air-conditioned multi-storeyed buildings in Mohakhali, Dhaka. At present, the university is conducting educational activities at its campus in Aftabnagar, Rampura. The distinguished economist said. Mohammad Farashuddin is one of the leading founders of the University and the first Vice-Chancellor. Science and engineering, economics and business, and Carts masters are covered by various subjects at the undergraduate and postgraduate level. Webometrics ranked Eastwest University as the third best university in Bangladesh and the 5th best university in the Indian subcontinent in their university rankings 2007. This sequence is based on scientific research, international competition results, and the publication of research papers.
East West University ADMISSION SYSTEM
Most students are interested in study at a private university. East West University is one of the most popular and most prominent private university in Bangladesh. Before applying this university Read this article. In this post, we will try to provide all of the information for East West University admission.
East West University Undergraduate Programs
Faculty of Business and Economics
Faculty of Liberal Arts and Social Sciences
BA in English
BSS in Sociology
BSS in Information Studies and Library Management
Bachelor of Laws (LL.B)
Faculty of Science and Engineering
Bachelor of Science in Applied Statistics
B.Sc. in Electronics & Telecommunication Engineering (ETE)
B.Sc. in Information & Communications Engineering (ICE)
B.Sc. in Computer Science & Engineering (CSE)
B.Sc. in Electrical & Electronic Engineering (EEE)
B.Sc. in Genetic Engineering & Biotechnology (GEB)
Bachelor of Pharmacy (B. Pharm.)
B.Sc. in Civil Engineering
East West University Admission requirements: 
Candidate must have pass SSC and HSC both Examinations with a minimum GPA of 3.00
Candidate must have a minimum GPA of 2.40 who pass Diploma in Engineering under Bangladesh Technical Education Board.
American High School Diploma, AND
Acceptable EWU Admission Test Score.
If the candidate of children of Freedom Fighters, He must have a Total GPA of 5.00 in both SSC and HSC Examinations.
Read Also: Daffodil International University Admission
East West University Admission Detailed Time Plan
Online Application submission:

August 21, 2019.

Date of Admission Test: Saturday, 24 August 2019, 10.00 AM to 02:30 PM
East West University Admission Flow Chart
New student cant knows the process of EWU Admission. So the reason, East West University team draw an infographic. I hope this infographic will help every student.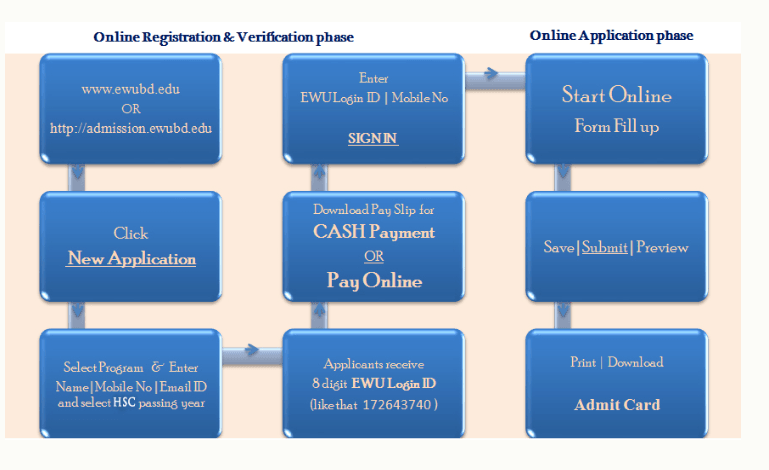 Contract Info of East West University
East West University
A/2, Jahurul Islam Avenue | Jahurul Islam City | Aftabnagar
Dhaka-1212 | Bangladesh
88-01755587224
[email protected]
www.ewubd.edu

Stay with us to know more about the admission of East West University. And please comment on your quote.