Bangabandhu Sheikh Mujibur Rahman Science and Technology University is a public category university named after Bangabandhu Sheikh Mujibur Rahman, established in 2001. The 32nd general University and 8th Science and Technology University started academic activities in 2011.
The university mainly focuses on research and innovation in the Science and Technology sectors to make the sector at the extreme point and make the best use to increase the utilize at our common use in our daily life.
The university abounds of a number of professional, efficient instructors who always try to build skilled tactful graduates who will provide a logical solution to the present and future challenges. Right now, 12,000 students are taking higher education from the university.
Bangabandhu Sheikh Mujibur Rahman Science and Technology University (BSMRSTU)
The Bangabandhu Sheikh Mujibur Rahman Science and Technology University (BSMRSTU) started in 2001 with the combined declaration of the then Prime Minister Sheikh Hasina and its cabinet. M. Khairul Alam Khan was appointed to monitor and run the project, and in his diligent efforts, the dream of forming the BSMRSTU came true.
Honorable Prime Minister Sheikh Hasina commenced its foundation on 13 July 2011, and the university was enacted on 8 July 2001. At the same time, M. Khairul Alam Khan was nominated as the BSMRSTU.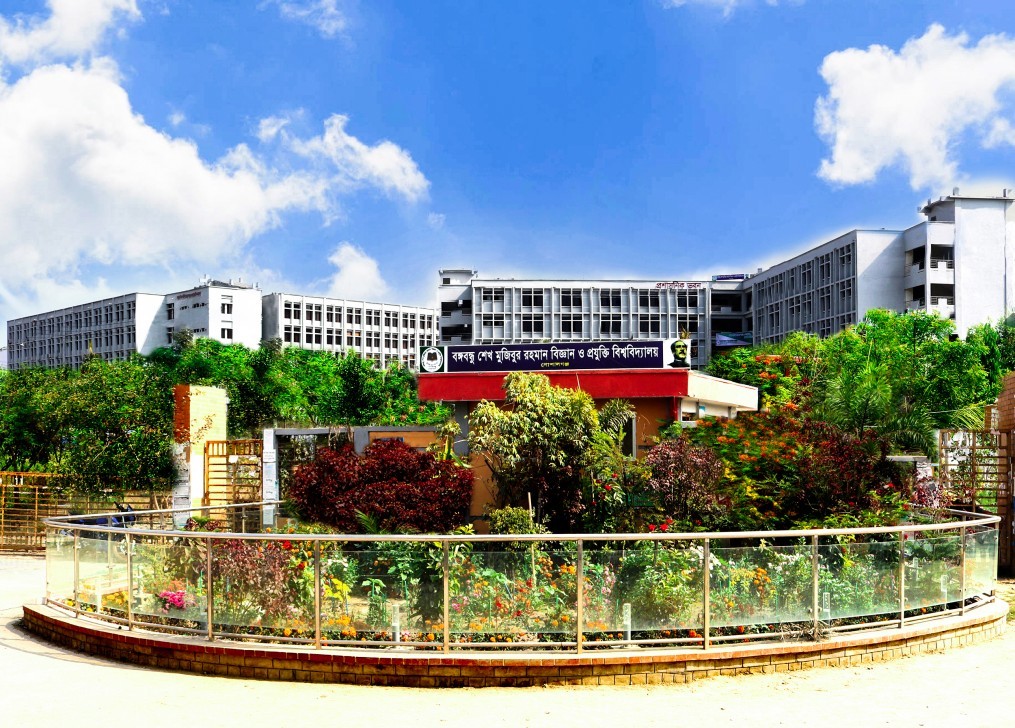 Under the government of the four-party alliance government of Jamaat-BNP in 2001, the university's advancement has been postponed. After the BNP regime, Awami League came to power to take charge on 29 December 2008 and resumed the remaining work of the university.
Another name: BSMRSTU
Motto: Learn.Think.Innovate
Type: Public Research University
Established: July 8, 2001
Academic affiliations: UGC, Bangladesh
Chancellor: President of Bangladesh
Vice-Chancellor: A. Q. M. Mahbub
Academic staff:306
Students: 11,000+
Location: Gopalganj-8100, Bangladesh
Campus: 55 acres (0.22 km2)
Language: English
Website: bsmrstu.edu.bd
BSMRSTU Location & Area
Bangabandhu Sheikh Mujibur Rahman Science & Technology University is beside the Gopalganj Town Road, Gopalganj-8100, Bangladesh 22.9661°N 89.8171°E. The entire campus of the university is spread over an area of about 55 acres.
BSMRSTU Academic Body
BSMRSTU dreams of being one of the most popular research and innovation-based universities, so it has a bast academic body. There is a total of 34 departments under 7 faculties. There are also some institutions of the university.
Name of Faculty
Department
Seat
Dean
Faculty of Engineering
Engineering
Computer Science and Engineering
40
Dr. Saleh Ahmed
Electrical and Electronic Engineering
40
Electronics and Telecommunication Engineering
40
Applied Chemistry and Chemical Engineering
40
Civil Engineering
40
Food and Agroprocess Engineering
40
Architecture
40
Science
Mathematics
40
Prof. Dr. Md. Shahjahan
Statistics
40
Chemistry
40
Physics
40
Environmental Science & Disaster Management
60
Life Science
Pharmacy
50
Prof. Dr. A. Q. M. Mahbub
Biotechnology and Genetic Engineering
40
Biochemistry and Molecular Biology
40
Psychology
40
Botany
40
Humanities
English
50
Mohammad Ashiquzzaman Bhuiyan
Bangla
50
Social Science
Sociology
60
Prof. Dr. A. Q. M. Mahbub
Public Administration
60
International Relations
60
Economics
60
Political Science
60
Business Studies
Management Studies
50
Md. Rokonuzzaman
Accounting and Information Systems
50
Marketing
50
Finance and Banking
50
Tourism and Hospitality Management
50
Law
Law
50
Dr. Md. Raziur Rahman
Sheikh Hasina Agriculture Institute
Agriculture
40
Professor Dr. Md. Mozahar Ali
Fisheries and Marine Bioscience
40
Livestock Science and Veterinary Medicine
40
BSMRSTU Institute
Bangabandhu Institute of Liberation War and Bangladesh Studies
Sheikh Hasina Agriculture Institute
-Department of Agriculture
-Department of Fisheries and Marine Bioscience
-Department of Livestock Science and Veterinary Medicine
BSMRSTU Admission
The admission committee conducts the admission process for the Bachelor's & Master's degrees. There are available programs here. Thousands of students are getting higher education here. If you are interested in getting admitted here, visit the following link below and get throughout admission information.
BSMRSTU Facility
Bangabandhu Sheikh Mujibur Rahman Science & Technology University, Gopalganj, offers various facilities for the students and staff. The students must be fit and tactful for the upcoming problems and keep peace with the modern world.
With this in mind, BSMRSTU offers available facilities like the other universities. Here are some most outstanding facilities provided by the university.
BSMRSTU Library (Ekushe February Library)
BSMRSTU has a library named Ekushe February Library that is in service to develop student's talents in the library. The library was inaugurated on 09th Falgun 1420 BS, 21 February 2014. There is an opportunity to study research books, including local and foreign journals.
There are opportunities to read daily newspapers, weekly, monthly, quarterly, bi-monthly magazines, reports, journals, magazines, etc.
There are Muktijoddha Corners: Various books and research articles written on Muktijoddha. Students can use an e-journal, and any student can partly take a photocopy of any book. The library is run from 9:00 AM to 08:00 PM.
BSMRSTU Residential Hall
Bangabandhu Sheikh Mujibur Rahman Science & Technology University, Gopalganj, offers residential halls for the students. There are five complete halls, and one is under construction for the girls.
Shadhinota Dibos Hall
Bijoy Dibos Hall
Bangamata Sheikh Fazilatunnesa Mujib Hall
New Girls Hall
Sheikh Rasel Hall
Sheikh Rehana Hall
BSMRSTU ICT Cell
Bangabandhu Sheikh Mujibur Rahman Science & Technology University also offers the ICT Cell for the students where students and the staff can get ICT-based support. Here are some ICT Cells of the Bangabandhu Sheikh Mujibur Rahman Science & Technology University.
Sheikh Hasina Institute of ICT
Department of Computer Science and Engineering
Department of Electrical and Electronic Engineering
Department of Electronics and Telecommunication Engineering
University Clubs
BSMRSTU set up a couple of clubs and societies improving the student's quality and flourishing the latent talent. Here are some clubs below.
Tourism Theater
Rainbow Cultural Club
BSMRSTU Photographic Society
BSMRSTU Journalists Association
BSMRSTU Debating Society
BSMRSTU Administrative Body
Here is the administrative body of the BSMRSTU monotone and runs the whole function.
Chancellor: Md. Abdul Hamid Hon'ble President The People's Republic of Bangladesh
Vice-Chancellor: Prof. Dr. A. Q. M. Mahbub
Section Officer:
-Md. Alamgir Hossain,
-Md. Robiul Islam,
Administrative Officer: Mehedi Hasan
I hope this article appears good to you. If you have more information, then send us. I will try to make this article information-rich.