Khulna Agricultural University (KAU) admission circular 2021 is available here. If you are interested in getting admitted to the Khulna Agricultural University (KAU) and applying here, this article is for you.
Khulna Agricultural University (KAU) will take the admission test with other 6 in total seven agricultural Universities in a combined way. The application is now open, and you can apply for it. To get more information, you may visit admission-agri.org.
Khulna Agricultural University (KAU) Admission Circular 2021
Here is the Khulna Agricultural University (KAU) admission circular 2020-21. In the 2020-21 academic year, the seven universities that provide agriculture degrees will take a cluster examination. Here you will get all the information and get all your answer.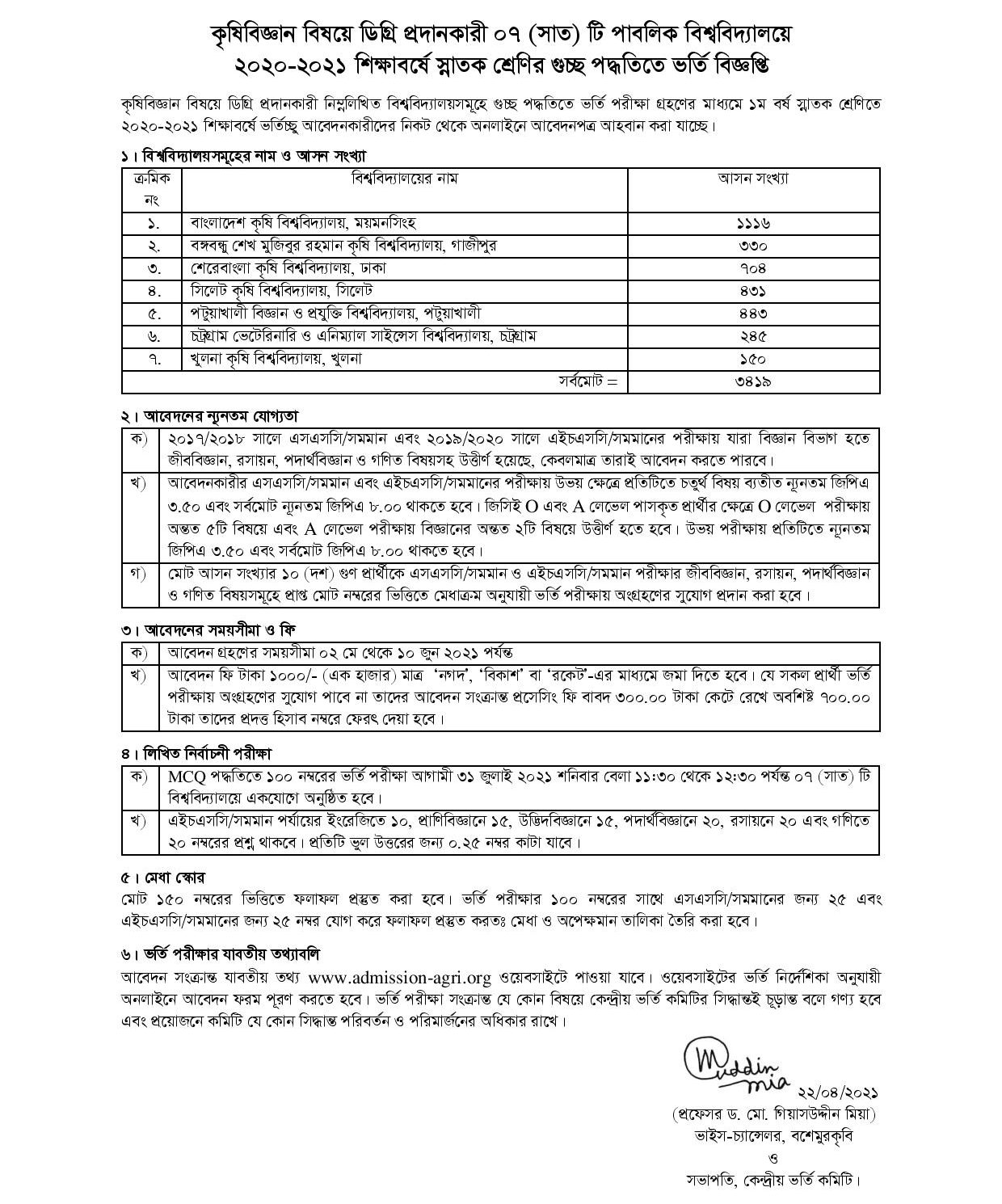 Application Requirements
Those who have passed in the Science department in HSC/equivalent 2019-20 and SSC/equivalent in 2017-18, including Geology, Chemistry, Physics, and Math, are only eligible for admission.
In SSC/equivalent and HSC/equivalent examinations, candidates must have a minimum grade point 3.0 individually in SSC/equal and HSC/equivalent. The students who have passed the "O" & "A" level must pass in 5 subjects in the "O" level and two issues in Science of the "A" level. And must obtain a minimum of 3.50 GPA  in each group and a total of 8.00 GPA. For details, pay attention to the below image.

Admission Application procedure
Application-related all information will be available on the website www.admission.agri.org. According to the admission guide, you have to fill up the application form online.
You have to provide your mobile no. Then you get a pin/login password and admission related all the information to this number.  Here is the detailed information.

Admission Detailed Time Plan
Here are the critical issues and dates of the Cluster Agricultural University for the 2020-21 academic year admission test. Look through there and get a concept about the admission test.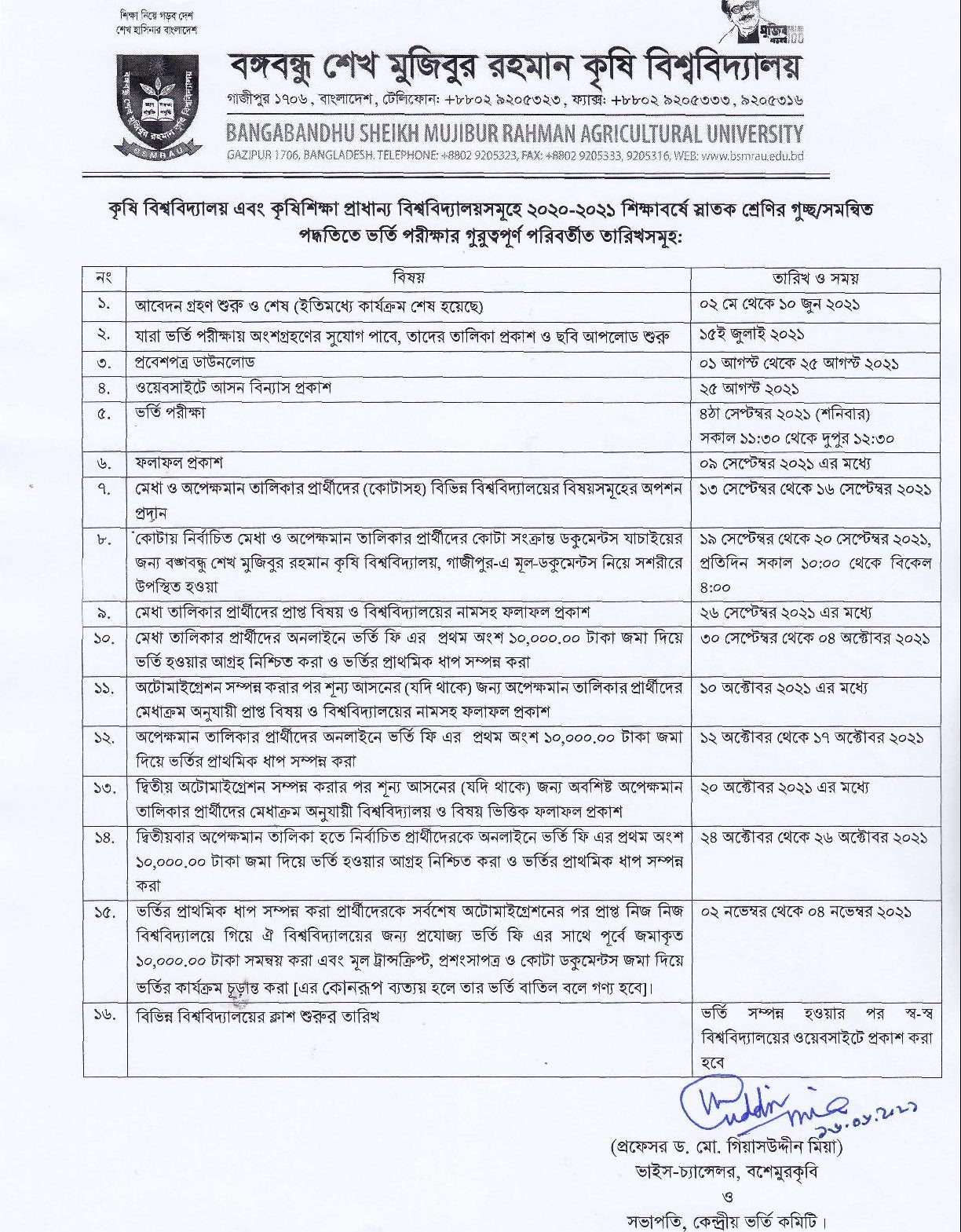 General & Reserved Seats
In Khulna University, there is a total of 150 seats in the 2020-21 academic year. Among them, 138 are common, and the remaining 12 are reserved for ethnic groups.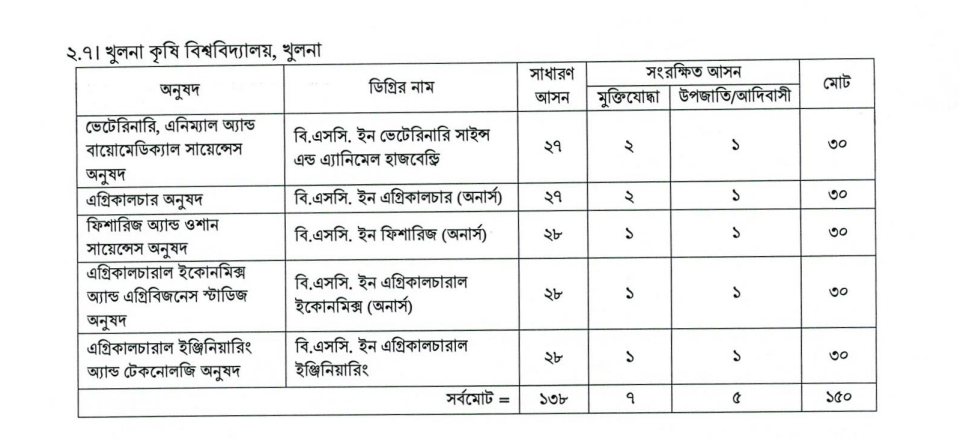 Application Duration & Fees
KAU application duration is from 02 May to 10 June 2021.
The application fee is only 1000 TK should be submitted via bkash, Nagad, rocket. For candidates who do not get a chance to sit for the application test, the rest of the money, 700 TK, will be sent to their account after deducting the application fee of Rs. 300.
Written Test Date and Mark Distribution
The 100 Mark MCQ Admission Test will be held on 31 July 2021 from 11:30 to 12:30 at 7 Agricultural Universities simultaneously.
There will be questions in laughter level English – 10, Zoology – 15, Botany – 15, Physics – 20, Chemistry – 20, Mathematics – 20. For each error, the 0.25 mark will be deducted.
Read Also: 7 Agricultural University Cluster Admission Test Result 2021