Dhaka University is the oldest and one of the biggest universities in Bangladesh. It has many institutes, faculties, and subjects. Dhaka University authority has divided all the faculty into different units. These units are also known as  A unit,  Kha unit, Ga Unit. B Unit is only for the students of the Humanities group. In this blog-post, I will tell you about the DU B Unit subject list. After reading this article you will able to know about the DU B Unit all subject. So, read this full article to know DU B Unit subject list.
DU B Unit Subject List
B Unit is only for the students of the Humanities group. Only the humanities background students will attend the DU B Unit admission test. For the admission purpose, the faculties are combinedly taking the admission test of Dhaka University of Bangladesh. Here I have tried to give you the DU B Unit subject list.
Subject Name
Faculty/Institute
Bangla
Faculty of Arts
English
Arabic
Persian Language and Literature
Urdu
Sanskrit
Pali and Buddhist Studies
History
Philosophy
Islamic Studies
Islamic History and Culture
Information technology and library management
Theatre and Performance Studies
Linguistics
Music
World Religion and Culture
Dance
Economics
Social Science Faculty
Political Science
International Relation
Sociology
Mass Communication and Journalism
Public Administration
Anthropology
Population Science
Peace and Conflict Studies
Women and Gender Studies
Development Studies
Television, Film, and Photography
Criminology
Communication Disorders
Print and Publication Studies
Japanese studies
Law
Law Faculty
Geography and Environment
Earth and Environment Science Faculty
Psychology
Biological Faculty
Social Welfare
Social Welfare Institute
Health Economics
Health Economics Institute
Education (B. Ed)
Teaching and Research Institute
Disaster Management and Vulnerability Studies
Disaster Management Institute
English for Speakers of Other Languages (ESOL)
Modern Language Institute
French Language and Culture (FLC)
Chinese Language and Culture (CLC)
Japanese Language and Culture (JLC)
DU B Unit Subject List Image
I have also uploaded the DU B Unit subject list. Now you can download this B unit subjects list as an image file. See it below and download it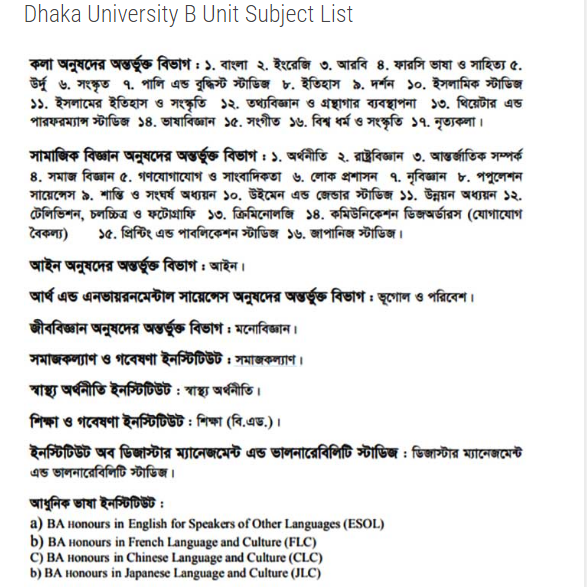 Keep looking at this website. Thank you for visiting this website.