Rajshahi University Subject List of A, B, and C Units and seats are available here. Rajshahi University is the leading University in Bangladesh that has been playing an unavoidable contribution to making skilled and professional manpower. If you want to admit to Rajshahi University, you should need to know RU and all unit subject lists of the University?
It is very important for all the students to know about the Rajshahi University subject-wise seat number.  RU has many subjects and some faculties. In this article, you will get all the A, B, and C Units subjects under their faculty below.
Rajshahi University Subject Wise Seat Number
 Are you looking for the subject lists of Rajshahi University? In this article, I have written the Rajshahi University all unit subject. After reading this article, you will know all subjects of Rajshahi University. So, read this full article to know all the subjects of Rajshahi University. To get more information, visit www.ru.ac.bd.
RU A Unit Subject List & Seat
Rajshahi University has many departments. Some departments are included in the A Unit. It is the Arts & Humanities Faculties. It is also called the Arts & Humanities unit. A huge number of students participated in the RU A Unit admission test. I have written and tried to give all subjects of Rajshahi University.
Faculty

Subjects
Seat
Arts 
Philosophy
110
History
100
English
100
Bangla
80
Islamic History & Culture
110
Arabic
100
Islamic Studies
110
Music
30
Theatre
20
Persian language and literature
40
Urdu
40
Sanskrit
56
Law
Law
110
Law & Land Administration
50
Social Science
Economics
100
Political Science
100
Social Science
80
Mass Communication & Journalism
50
Information Science & Library Management
66
Public administration
60
Social Work
70
Anthropology
50
Folklore
60
International Relation
40
Fine arts
Painting, Oriental Art & Printing
45
Pottery & Sculpture
30
Grafix Design, Crafts & History of art
45
Institute
Education & Research Institute
50
RU B Unit Subject List & Seat
B Unit called Law unit. It has only two units, Law and Law and Land Administration. It is a demandable unit. RU B Unit has good fame in Bangladesh. Many students want to appear in the RU B unit admission test. In this section, I have tried to give all subjects, and seats of the RU B Unit.
Faculty
Subjects
Seat

 Business Studies

Accounting and Information Systems
110
Management studies
100
Marketing
110
Finance
100
Banking and Insurance
60
Tourism and Hospitality Management
30

Institute 

Business Administration
50
RU C Unit Subject List & Seat
Science faculty's subjects are included in the C unit. Science background students can apply for the C unit admission test. This unit also has some subjects. To know all subjects of the C unit, you should read the full article.
Faculty



Subjects
Seat

Science

Mathematics
110
Physics
90
Chemistry
100
Statistics
90
Biochemistry & Molecular Biology
50
Pharmacy
50
Population Science & Human Resource Development
60
Applied Mathematics
80
Physical Education and Sports Sciences
30

Biology

Psychology
65
Botany
70
Zoology
80
Genetic Engineering & Biotechnology
25
Medical Psychology
30
Microbiology
30

Agriculture

Agronomy & Agricultural Extention
56
Crop Science & Technology
56

Engineering

Applied Chemistry and Chemical Engineering
70
Computer Science & Engineering
40
Information & Communication Engineering
46
Material Science & Engineering
50
Electrical & Electronic Engineering
50

Geology

Geography and ecology
70
Geology and Mining
60

Fisheries

Fisheries
50

Veterinary & Animal Sciences 

Veterinary & Animal Sciences
50
Rajshahi University Subject Wise Seat Number
Here is the subject-wise seat number of Rajshahi University. If you want to get admitted to the university then you have a clear concept of the Rajshahi University's subject-wise seat number.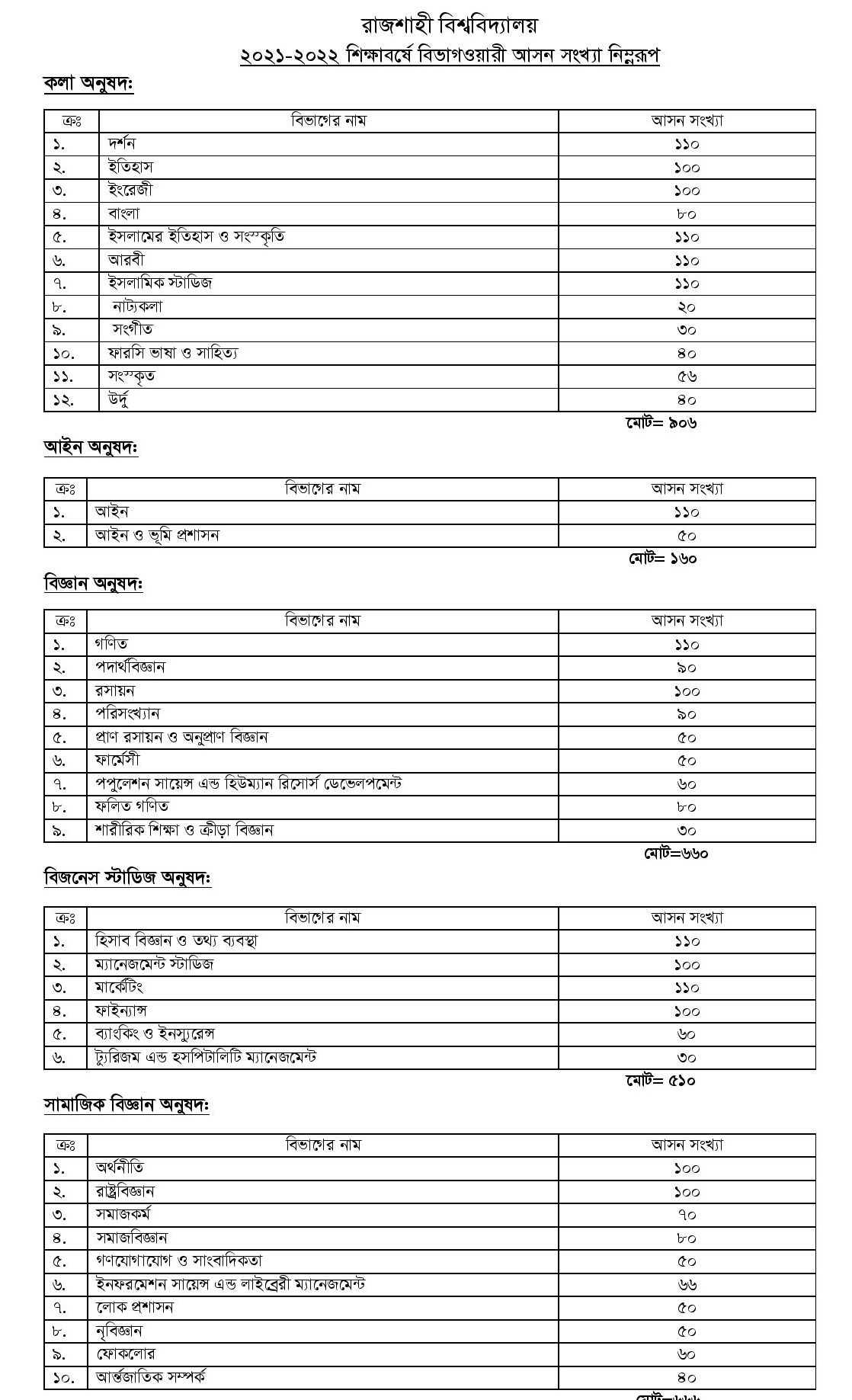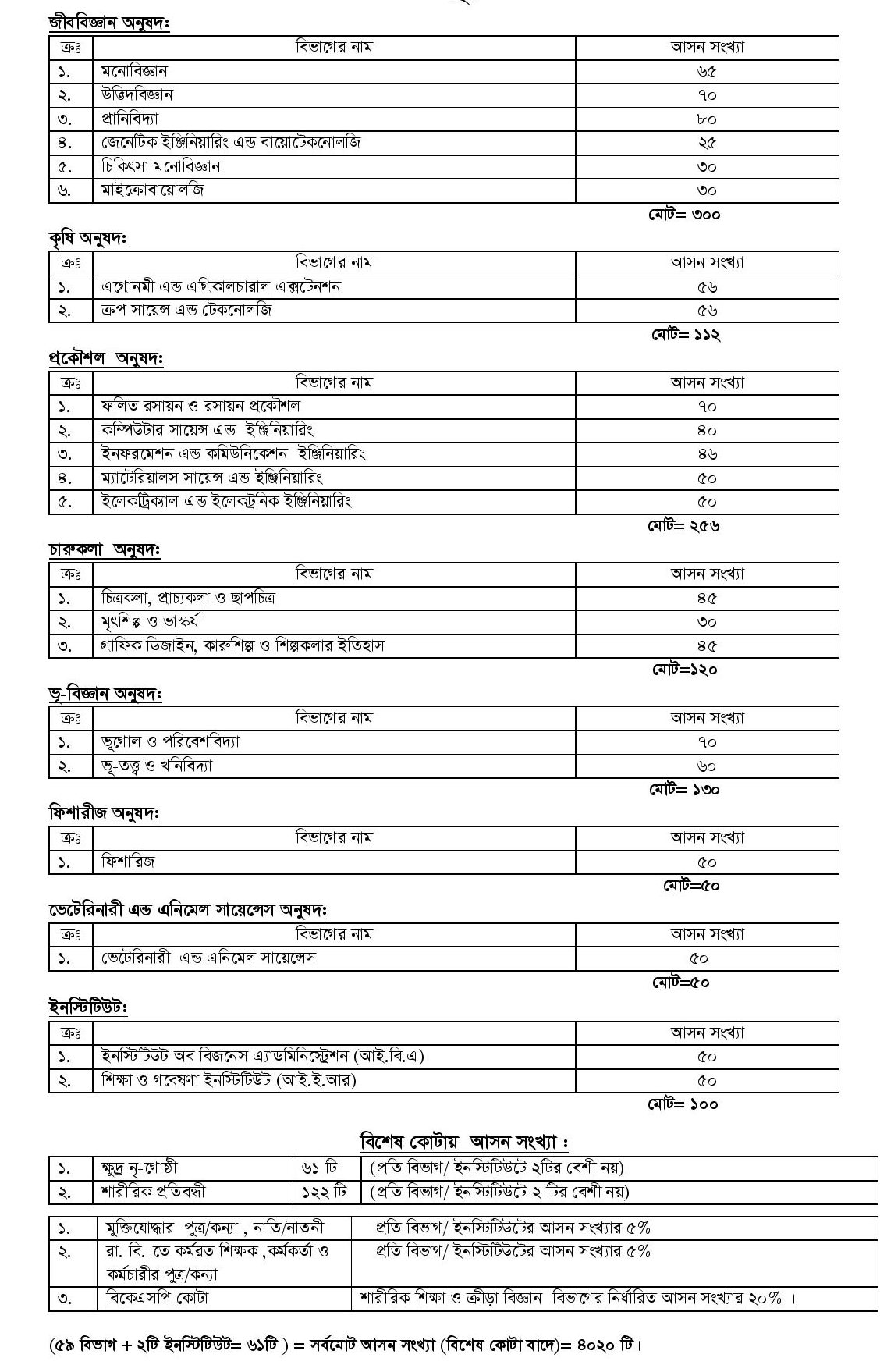 University Of Rajshahi (RU) All Information
If you want more information about any universities in Bangladesh, regularly visit our website. Thank you for visiting this site.