Islamic Arabic University Admission Circular 2022-23 was published Soon. If you are searching for information about admission to IAU (Islamic Arabic University), you are in the right place. Here you will get all info about Admission to IAU in the 2022-23 session.  
This notice is regarding the students willing to admit to the Fazil (Honors) Pass 1st Year in Islamic Arabic University for the academic year 2022-23. The notice was published on the IAU's website on **/09/2023.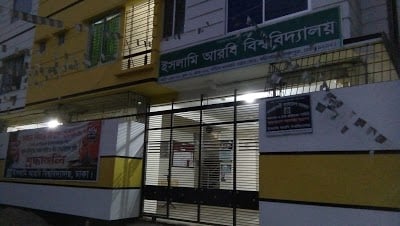 About IAU (Islamic Arabic University)
A passage authorized IAU (Islamic Arabic University) in Parliament on September 2013 of the Islamic Arabic University Bill. IAU is located at Mohammadpur, Dhaka, Bangladesh. IAU takes care of all Fazil & Kamil Madrashas over Bangladesh.
IAU Fazil Honours Admission
Islamic Arabic University under graduation admission has already been published. The notice was published on September 2023 and ask to the students apply to the university to admit to the Fazil 1st year course. Here I have arranged detailed information for you. Just have a look below.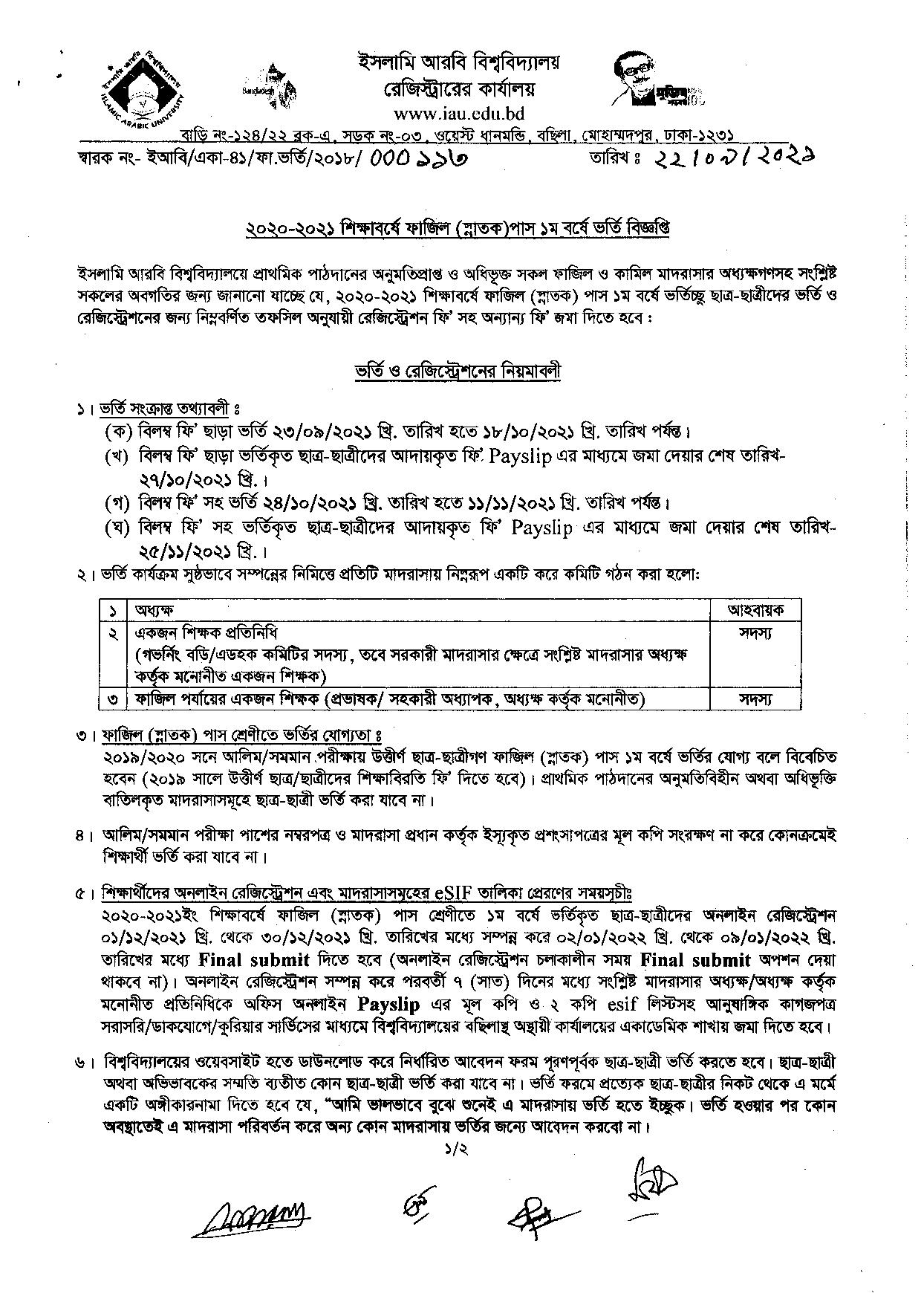 Admission Eligibility
Check your eligibility for admission to Islamic Arabic University Fazil Honours course in the 2022-23 session.
Applicant must have to pass Alim/Equivalent examination in 2019/2020.
The applicant needs Testimonial, and a Markshit of Dakhil & Alim issued from Madrasha Head for admission.
Note: Student who passes the Alim course in 2019 have to pay education breaks (seminar) fee.
Applying Process
Interested applicants can register for admission to IAU online. But for admission applicant has to submit their application form to register, Islamic Arabic University via Courier service/by post/directly. The applicant has to choose Madrasha to which he/she want to admit.
Resister via online (https://iau.edu.bd).
Collect Application form.
Fill up the application form with valid information.
Submit the application form to register your interested Madrasha.
Fazil (Honors) Pass Registration Fee
Class
Application Form Fee
Admission Fee
Registration Fee
Sports Fee

Rover Smart Fee/BNCC Fee

Tuition break fee
Without Delay Fee
Fazil (Honors) Pass
50/-
250/-
250/-
50/-
25/-
150/-
With Delay Fee
Fazil (Honors) Pass
50/-
400/-
350/-
50/-
25/-
150/-
Payment System
Here I am going to share with you the fee payment process. You will get all the information step by step.
Enter the iau.edu.bd/Payment
Then Log In providing the EIIN & Password.
Click on the Admission & Registration Fee and provide all the information you want. After that click on Save.
Then download the Pay Slip and submit taka at the bank.
Admission Road-map (Important Dates)
Note these dates. These are important for admission.
| | |
| --- | --- |
| Events | Dates |
| Application Start | Coming Soon |
| Application End | 2023 |
| Last Date Of Fee Submission Pay Slip | 2023 |
| Admission With Delay Fee | 2023 |
| Class Start | 2023 |
| Online Registration Duration | 2023 |
| Final Submit Date | 2023 |
IAU Fazil (Honors) Admission Circular PDF File
Here is the link where you will get the pdf file of the circulate. Just click on the link and get the pdf file. You may download the circular from here.
Contact Information
If you face any problem contact IAU officially. Here is the contact information for admission.
Mobile: 01817-754765, 01719-607123, 01755-485158
Email:[email protected]
Website: https://iau.edu.bd
Visit Here for All University admission information.