Begum Rokeya University Admission Circular 2022-23 has already been published. If you are so eager to study at this university, this article is for you. First of all, you have to know that Begum Rokeya University is one of the GST-integrated universities. Like this university, there are also 21 universities in total 22 Universities that have agreed to publish a common circular for GST admission.
The Website gstadmission.ac.bd is about 22 Universities' Integrated Admission System For the 2022-23 Session. You will get all your information on this site like the Admission Circular, Education Requirements, Application Instructions, Payment Instructions, and Combined University Admission Results of the 22 Universities.
About the Begum Rokeya University
Begum Rokeya University was established on October 12, 2008, in Rangpur. This university is the only full public university in the Rangpur division. Beginning with the name of Rangpur University, Begum Rokeya Sakhawat Hossain, the pioneer of women's awakening in 2009, changed her name to Begum Rokeya University.
This University has been making outstanding contributions to Rangpur Division students' higher education. Currently, about 7000 students are studying in different departments.
BRUR Admission Circular 2022-23
In the 2022-23 ‍season, honors 1st year, all Begum Rokeya University admission process will be completed by brur.teletalk.com.bd this website. Students interested in applying for Begum Rokeya University admission will complete their admission test application process via this website and mobile SMS.
The application process in these GST-integrated universities is very lengthy. Initially, the GST application process started on June 2022, and there are two phases to applying for admission.
Begum Rokeya University Admission 2022-23
In this post, I try to provide all BRUR admission requirements and the total seat, and I added this original notice of BRUR admission. So read this article carefully at the end.
BRUR Admission Requirements For Apply
As Begum Rokeya University is a GST-integrated university so this university is following the GST admission process. Here are the educational backgrounds you need to apply for this university.
Humanities Group (A Unit): A Total 6.00 GPA Will need to apply where a Minimum of 3.00 Will be For Each Board Examination of SSC and HSC
Business Group (B Unit): A Total 6.50 GPA Will need to apply where a Minimum of 3.00 Will be For Each Board Examination of SSC and HSC
Science Group (C Unit): A Total of 7.00 GPA Will need to apply where a Minimum of 3.00 Will be For Each Board Examination of SSC and HSC
Begum Rokeya University Admission Circular 2022-23
Here is the prospectus and circular for the GST-integrated 22 universities. Have a look there and get a clear conception of GST admission.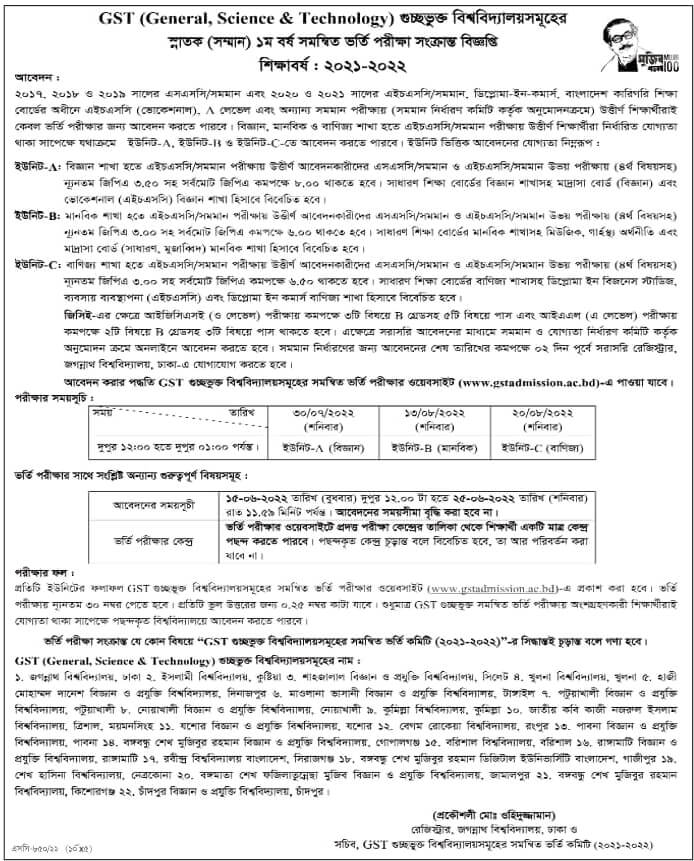 How to apply for Begum Rokeya University any Unit 2022-23
Now GST application process is straightforward and easier than the previous process. You all get all the information on a single website for all the GST-integrated universities; all the universities' activities are the same. Here is the detailed process you should follow.
Go to the official website gstadmission.ac.bd of GST admission or other websites as directed in the circular.
Click on the Apply button to start your application.
You will need to fill up all the required information correctly to be eligible for the admission test.
Upload your image and signature as directed.
Choice 5 Center to Sit Admission test
If everything is correct, click on the submit button.
You will get an application preview along with the photograph and signature. Download and save it for further use.
For detailed GUIDELINES visit the link. GST Application Guideline 2022
GST Admission Admit Card Download
The time to download admit has already come. There is no complexity to download the admit card for GST admission. The duration of downloading Admit Card will be informed later.
Visit www.gstadmission.ac.bd website.
Then provide your User ID and Password
GST Admission Test Date
On this site, you will get[ all the admission-related information about GST Universities. There is no actual information about GST admission on their website. But here is some latest information for you to date.
| | |
| --- | --- |
| Unit Name | Date |
| Unit- A (Science) |  July 2023 |
| Unit- B (Humanities) |  August 2023 |
| Unit- C (Business Studies) |  August 2023 |
GST Admission Result Final
I want to inform you that recently the application processes have been completed, and gradually the admission date has been publishing on the www.gstadmission.ac.bd website. At first, all the admission will be taken, and after that, the candidates will be selected according to their combined score comprised of their admission test score and GPA score of SSC and HSC exams.
After that, a merit list will be hung on the website. To get the admission result, you should do,
Visit the website www.gstadmission.ac.bd
Then look through the recently circular on the site
Then match your information (Roll, registration no)
To get the primary result, visit the website www.gstadmission.com, and you will get a form you have to fill out.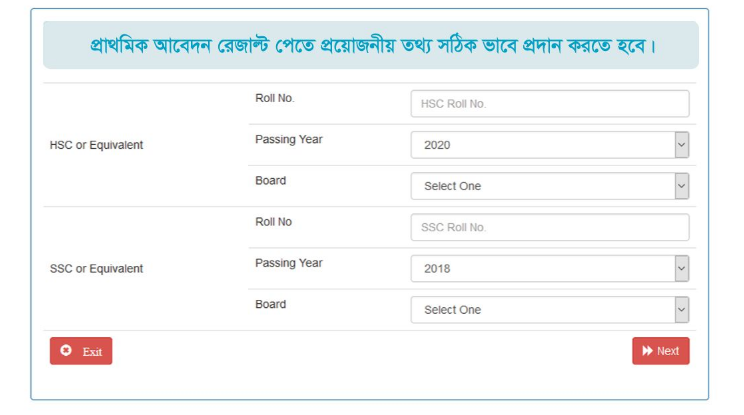 How To Pay Application Fee: Payment Instruction
Students often face problems paying the application fees, so they need an easy guideline. With this in mind, I have gathered here an easy method that will help you to pay the fees.
You should know that whenever the application is submitted online, you will get only 72 hours to pay the admission fees unless the application form is void. So be careful and pay fees within three days after submitting your application online.
First, you have to recharge a sufficient balance in your account and refer to the following image to get the payment instructions. By following these steps, you can easily pay the application fee and complete your online application process from the comfort of your home.
Admission Process: How is The Admission Process Will Complete?
The GST-integrated test will have 100 MCQ questions for the candidates on different subjects based on their HSC syllabus, including ICT.
Begum Rokeya University Admission & Subject Choice
Here is the detailed information on Begum Rokeya Univesity admission and subject choice. I hope in this article; you will get all the information
Registration Timetable, Fees, & Address
| | | | |
| --- | --- | --- | --- |
| Unit  | Application Duration  | Fees | Weg Address |
| GST Integrated All UNits | From **/11/2023 to **/12/2023 | 600/- (Application Fee)  + 50 (Payment Fee) + Online Charge 1 % | admission.brur.ac.bd |
Registration Process
For online registration, students have to provide HSC/Equivalent Roll No, GST roll No,  HSC/Equivalent Registration No (If yes).
After clicking on the Registration option, you will get a pin via mobile no. Using the PIN, you can complete your registration.
After login, students will choose subjects and then click on the Payment option to pay the fee.
Begum Rokeya University  Total Seat:
in Begum Rokeya University has 1315 seats for All units.
A total unit seats- 195
B unit total seats- 375
C unit total seats- 245
D unit total seats- 280
E unit total seats- 100
F unit total seats- 122
Begum Rokeya University Subject List:
Unit
Faculty
Department / Subject
A
Faculty of Arts

Bangla
English
History and Archaeology

B
Faculty of Social Science

Economics
Sociology
Political Science
Gender and Development Studies
Mass Communication and Journalism
Public Administration

C
Faculty of Business Studies

Accounting and Information Systems
Management Studies
Marketing
Finance and Banking

D

Faculty of Science

Physics
Chemistry
Mathematics
Statistics

E
Faculty of Engineering & Technology

Electrical & Electronic Engineering
Computer Science and Engineering

F
Faculty of Life and Earth Sciences

Geography and Environmental Science
Disaster Management
Finally, I want to advise you as the maximum number of students have passed the HSC this year so that the competitive exam will be complex. So make you fit for the exam and advance. And must stay connected with us for the next update.