Armed Forces Medical College admission circular 2020-21 has been published recently. If you want to apply for admission online in AFMC, you have to go to this website (www.afmc.teletalk.com.bd). You have to pay the application fee of Tk. 1000(One Thousand). Only 4000 students will select for the admission test. The number of seats in AFMC-125 (Army Medical Corps Cadet (AMC-25), AFMC cadet- 100).  Result of AFMC category-90. If these candidates are medically fit, all these 90 cadets will get a chance—ten reserved for foreign cadets. If anyone is unfit, then a waiting list will publish. The selected applicant can download the admit card from this website by visiting 'here.' Apply for admission in AFMC.
AFMC Admission Deadline 2020-21 Session
Online Application will start from February 23, 2021, at 10:00 AM.
The online application will end on March 12, 2021, at 4:00 PM.
The admission test will be held on April 09, 2021, at 10:00 AM.
About AMFC (Armed Forces Medical College):
AFMC is affiliated with the Bangladesh University of Professionals and is recognized by Bangladesh Medical & Dental Council (BMDC). It is the only politics-free Medical College. AFMC (Armed Forces Medical College) is a single medical college under the defense ministry. Others are Army Medical College. This is a military medical college in Dhaka Cantonment, Dhaka, Bangladesh. AFMC has two types of students: Medical Cadets (AFMC cadets) and Army Medical Corps Cadets (AMC cadets).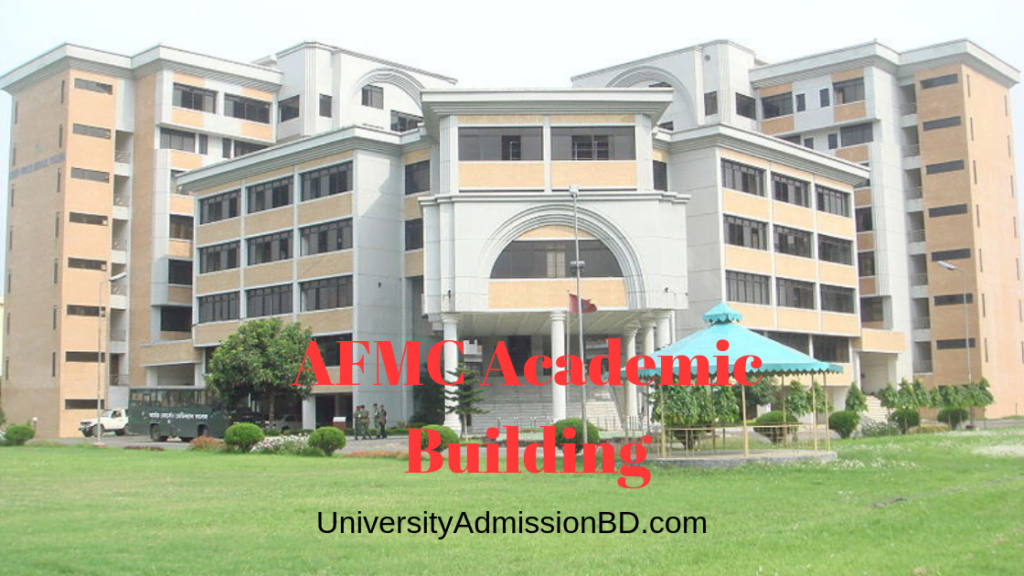 How to apply for Admission To AFMC
Follow the instructions below. You will get all the information here. Read the photos of the notice for admission to Armed Forces Medical College. Here is the notice of Armed Forces Medical College admission circular 2020-21. Carefully follow this notice.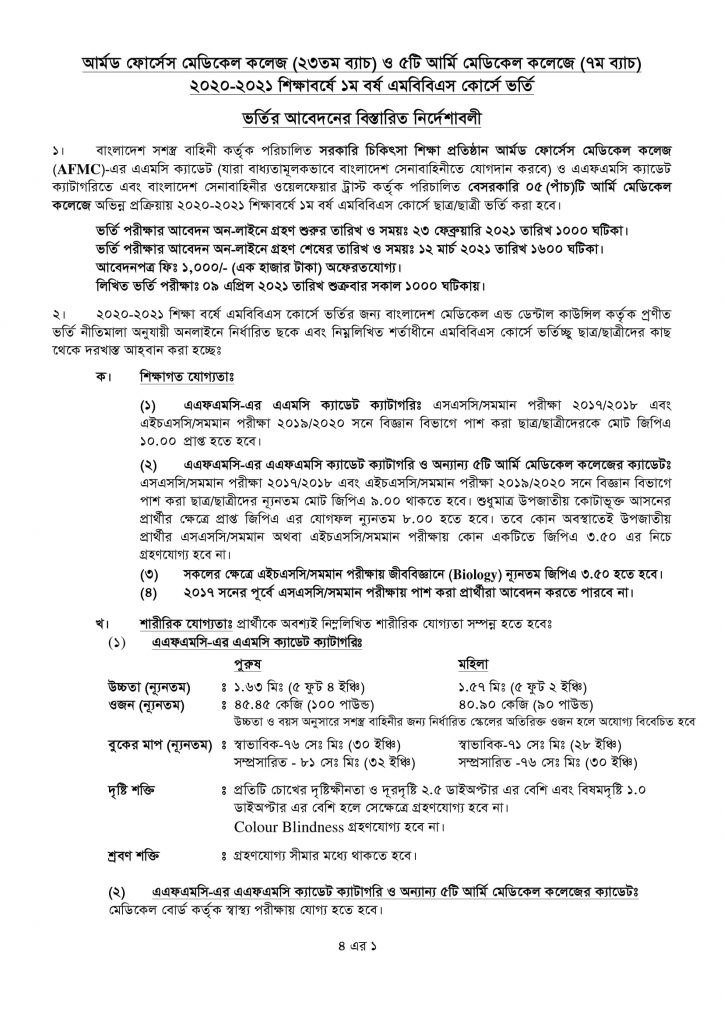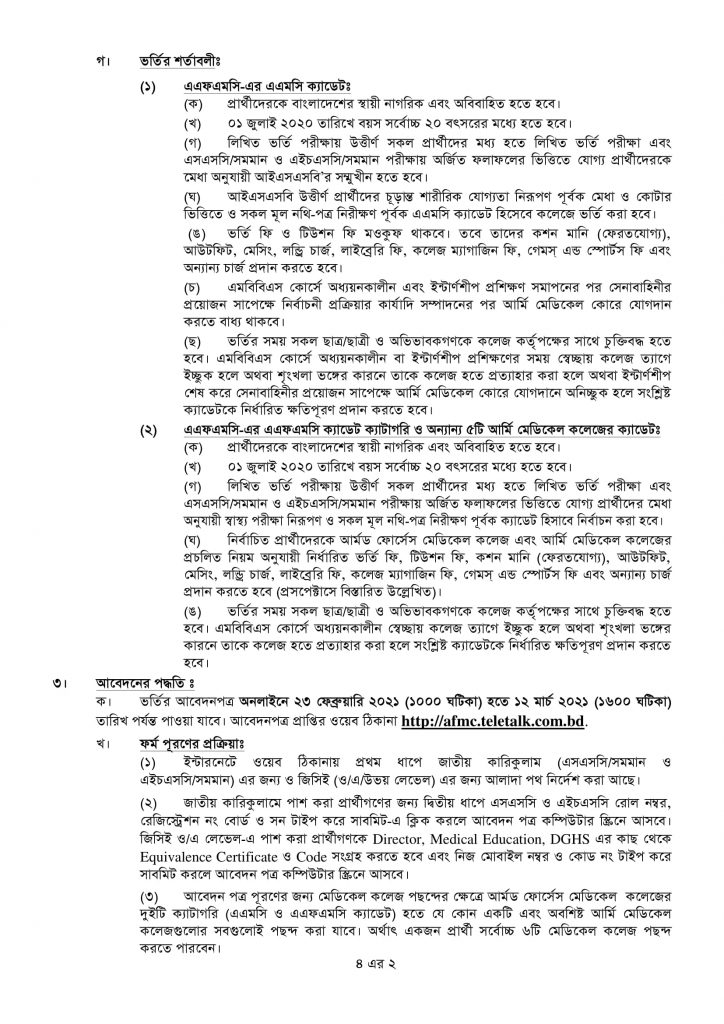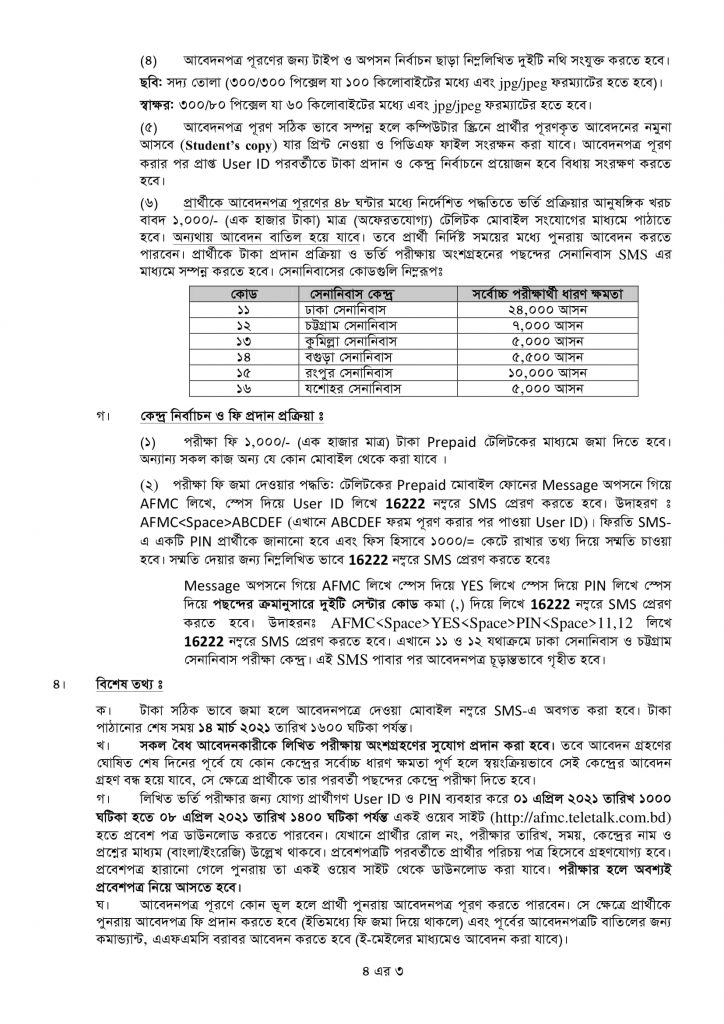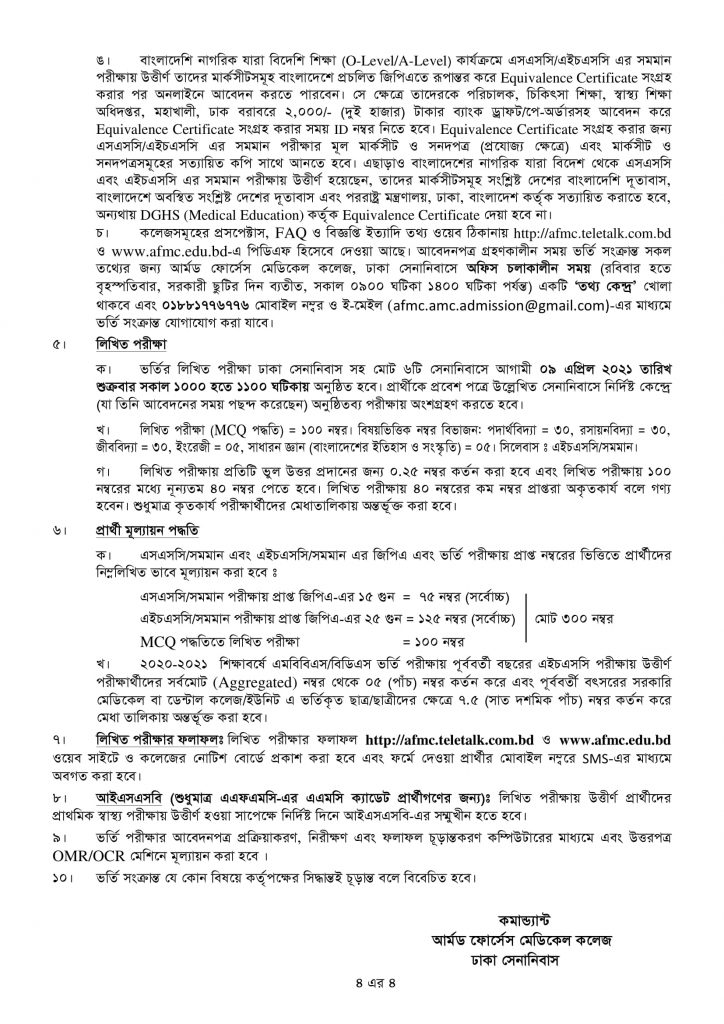 AFMC Admission Written Exam Notice 2020-21
Finally, Armed Force Medical College has published the AFMC admission written exam-related notice. The notice is for the 5 Armed Force Medical Colleges where it has been cleared that the 1st year MBBS written exam that was already postponed will be held on 14 August 2021 at 4:00 pm. Here highly ordered to download the new admit card from the site HTTP://afmc.teletalk.com.bd. within 09 August 2021.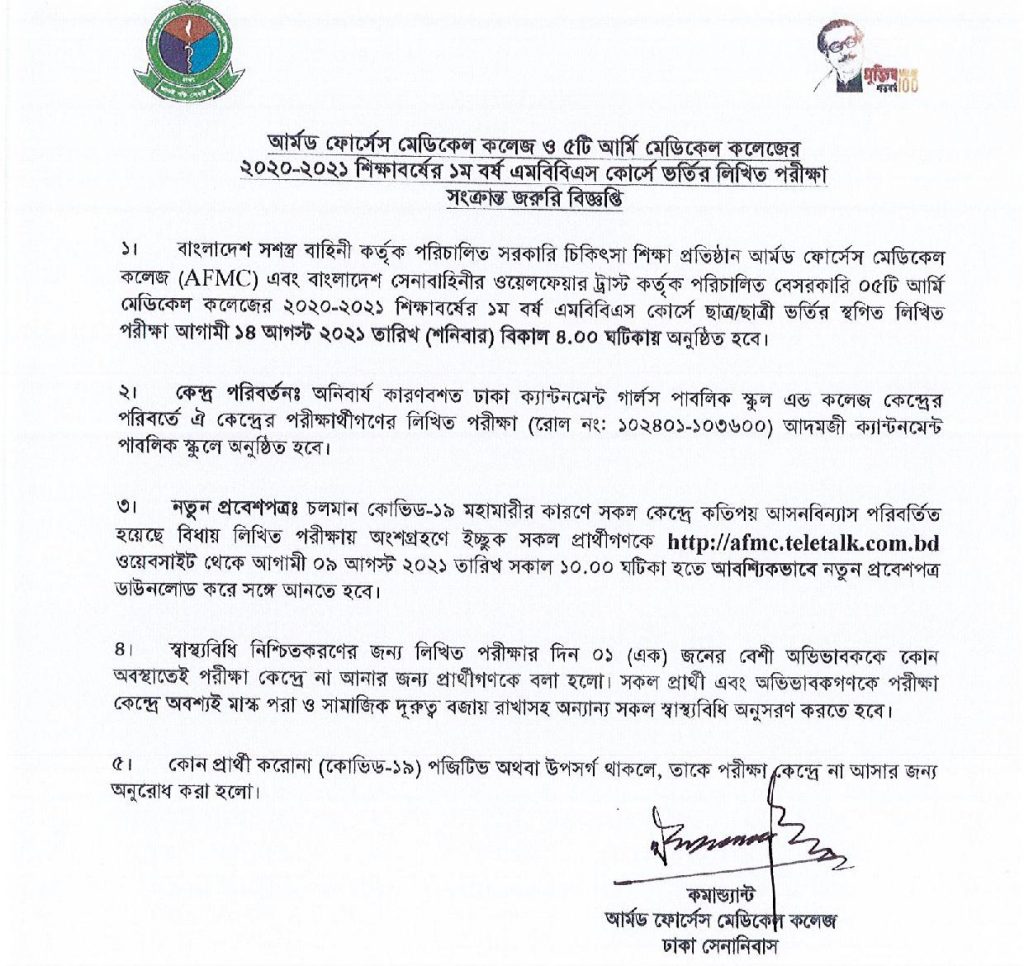 Expenses of Study
We get a list of costs of study in AFMC.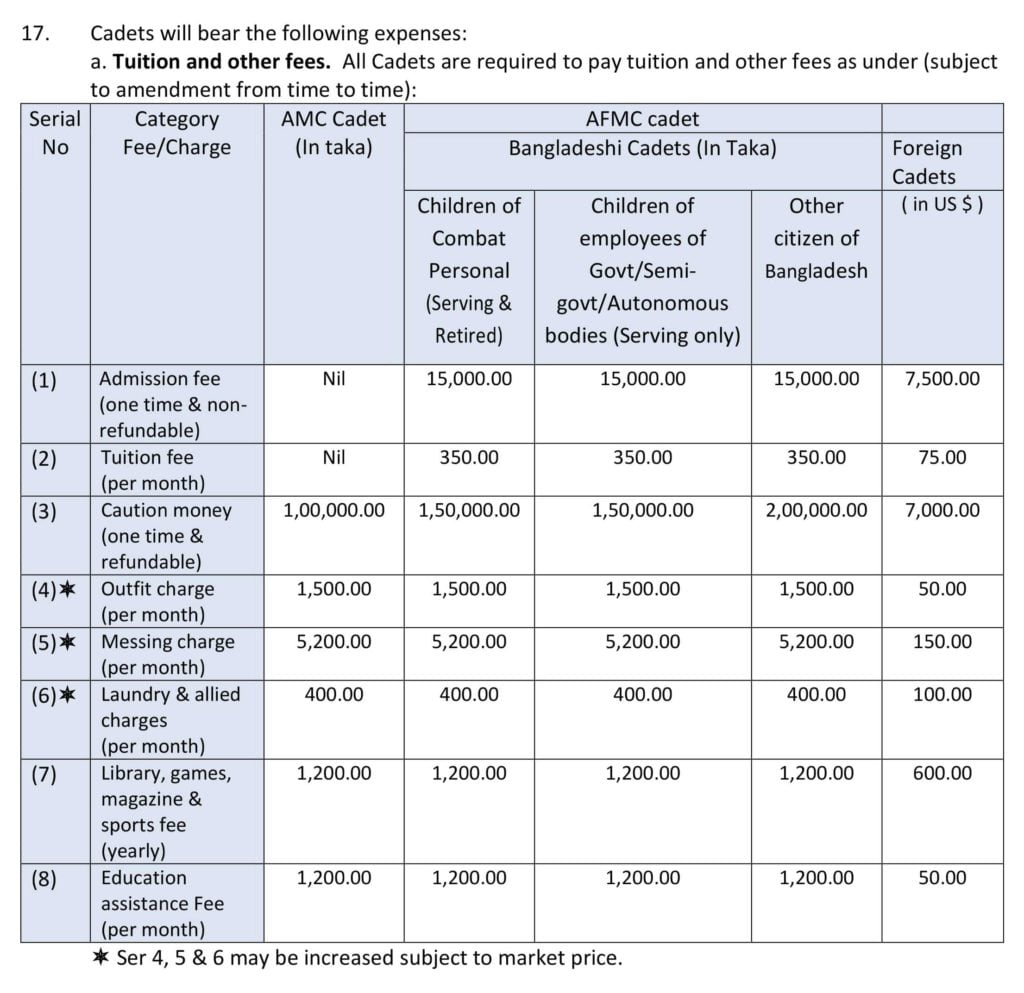 Admission Eligibility
Here is the information about your eligibility for admission to AFMC. Check your eligibility.
For Bangladeshi Cadets
If you are a Bangladeshi candidate for admission, you must follow this before applying for admission carefully.
Eligibility:
Age must be minimum of 20 years.
Male/Females will get a chance for admission.
Unmarried
The candidate must be Bangladeshi by birth.
Physical Standard:
To be fit by a medical board. The candidates must be physically fit and conform to the minimum.
Educational qualification:
Applicant must have passed their SSC/equivalent examinations in 2016/2017 and HSC/equivalent examinations in 2018/2019 with Biology, Physics, and Chemistry. Need a minimum GPA total of 9.00 of SSC & HSC or its equivalent examinations.
NOTE: Minimum 3.50 Grade points need in Biology.
For Foreign Cadets
Only ten foreign candidates will be able for admission to AFMC. International cadet also needs to obey all the rules and regulations for Armed Forces Medical College cadets.
Requirements
Security clearance by the concerned authority.
Educational qualification must be as that of Bangladeshi students.
Age must be maximum of 22 years.
Unmarried
The candidates must be physically fit by a medical board.
Click here for All University Admission Information.
AFMC Admission Written Exam Result 2021
Bangladesh Armed Forces Medical College admission written exam result has already been published. When the result is published, I have uploaded the circular in this article for you.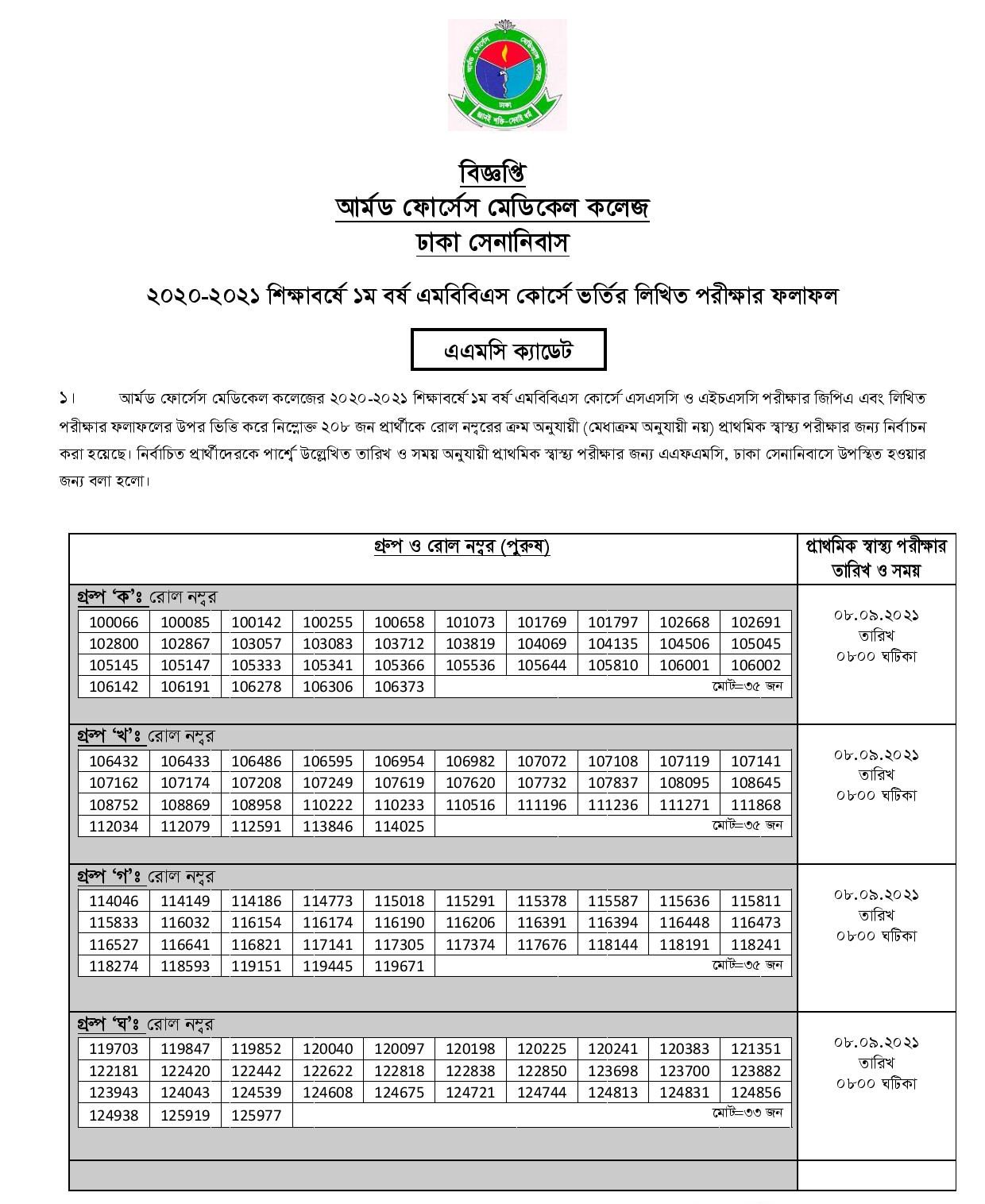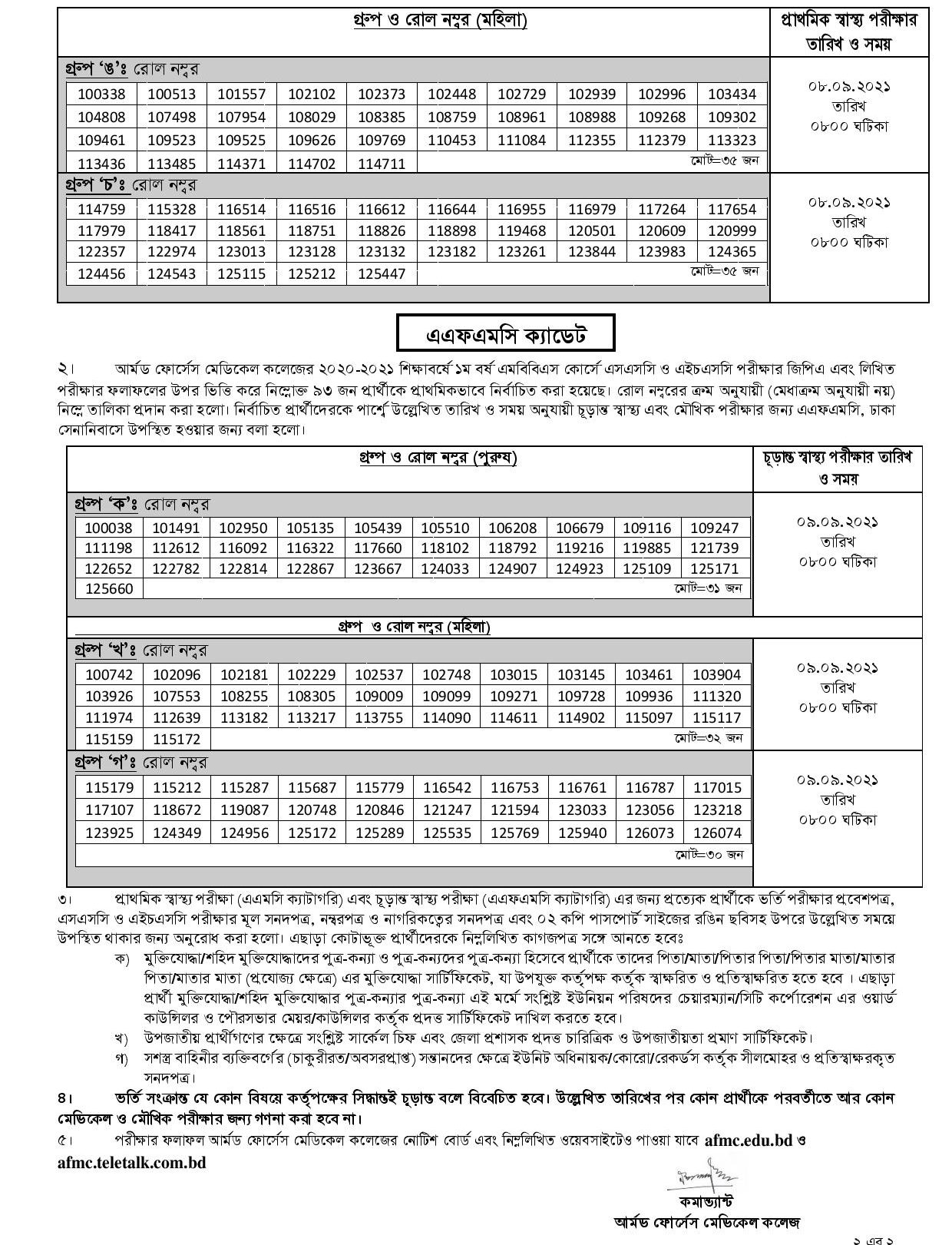 I hope this article was informative to you; share this article with your closest people, and allow them to know more. Thank you. If you have any questions, ask us freely by commenting on the below comment box.