Dental Admission Circular 2023 Will be published very soon. Do you want to know all information about BDS Admission Circular 2023? Bangladesh Medical & Dental Council published the dental admission circular on their website on 23 March 2023. Thousands of students in this country have been taking B.D.S. courses from Dental colleges.
Many students in this country are eager to study Dental courses, and right now, a number of students are preparing to admit to B.D.S. courses.
As you are here, you want to get admitted to the upcoming B.D.S. course. Don't worry; you'll get all the dental admission-related information with a great explanation in this article.
Dental Admission Circular 2023
Here is the admission policy for MBBS / BDS Course in Medical / Dental College – 2023. The waiting day for students who want to study B.D.S. courses from Dental colleges is over. Recently, the B.D.S. admission circular or Dental admission circular has been published. Keep reading the whole article from top to bottom to get all the information.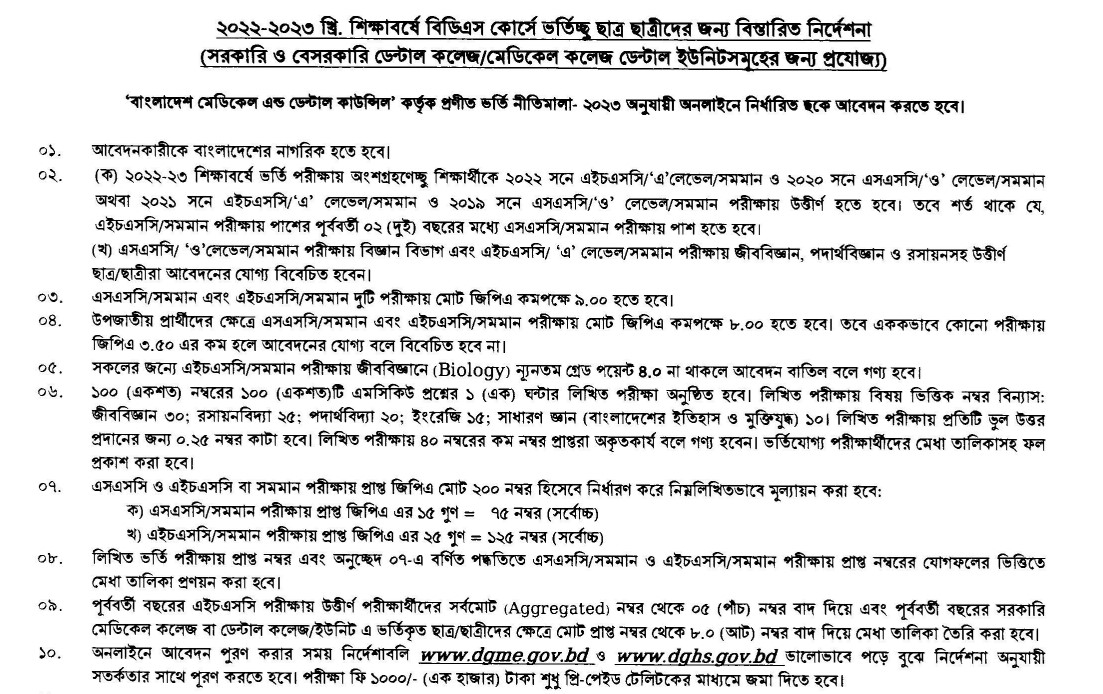 BDS Admission Key Information
The following table below gathers all the B.D.S. admission key information. This information is very important if you are interested in getting admitted to this course. Focus on all this information and note it down carefully.
| | |
| --- | --- |
| Online Application Start | 15/03/2023 |
| Online Application Deadline | 13/04/2023 |
| Application Fee | 1000/- (Payment through only Prepaid Teletalk) |
| Online Application Fee Submission Date | 15/04/2023 |
| Admit Card Distribution | 09/05/2023 |
| Admission Test Date | 19/05/2023 |
| Website | www.dgme.gov.bd |

B.D.S. Applicants Requirements
Applicants must be Bangladeshi. But foreigner also gets admitted to reserved seats by Government.
Candidates must possess a minimum G.P.A. of 9 in S.S.C. and H.S.C. and 8.00 for the tribes with a minimum of 3.50 in S.S.C. & H.S.C. exams separately.
Applicants must possess Physics, Chemistry, and Biology in both S.S.C. and H.S.C., and they must possess a minimum of 4.00 in Biology.
For details, focus on the following image.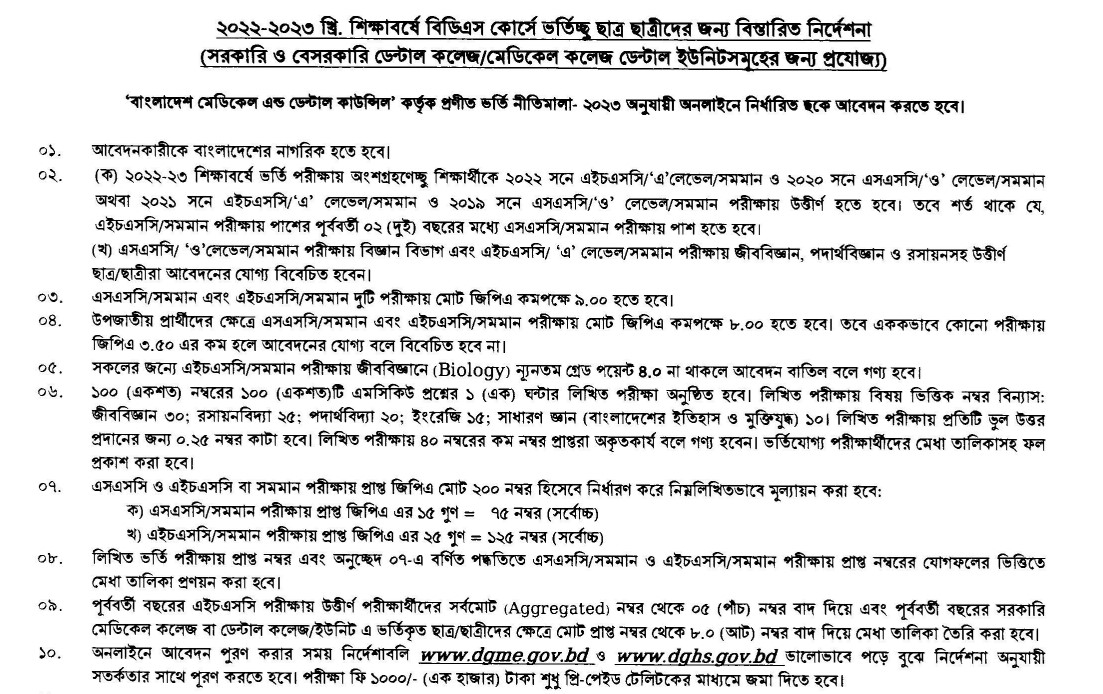 B.D.S. Admission Test Mark Distribution
100 MCQ Test for 100 Marks within an hour.
Written Test:
➼ Biology- 30
➼ Physics- 20
➼ Chemistry- 25
➼ English- 15
➼ General Knowledge- 10
For each wrong answer in the written test, 0.25 marks will be deducted.
The passing mark on the Written examination is 40.
Necessary Documents for the B.D.S. Admission
The original copy of all the information and documents mentioned in the application form must be kept at the time of Admission.
Academic Transcript of S.S.C. & H.S.C. Equivalent exam
Certificate or Testimonial of S.S.C. & H.S.C. Equivalent exam
Two copies of Passport size photographs.
College Name & Code
College names and codes are mentioned in the table below. These codes and college names are very important, especially during the application and fee payment time.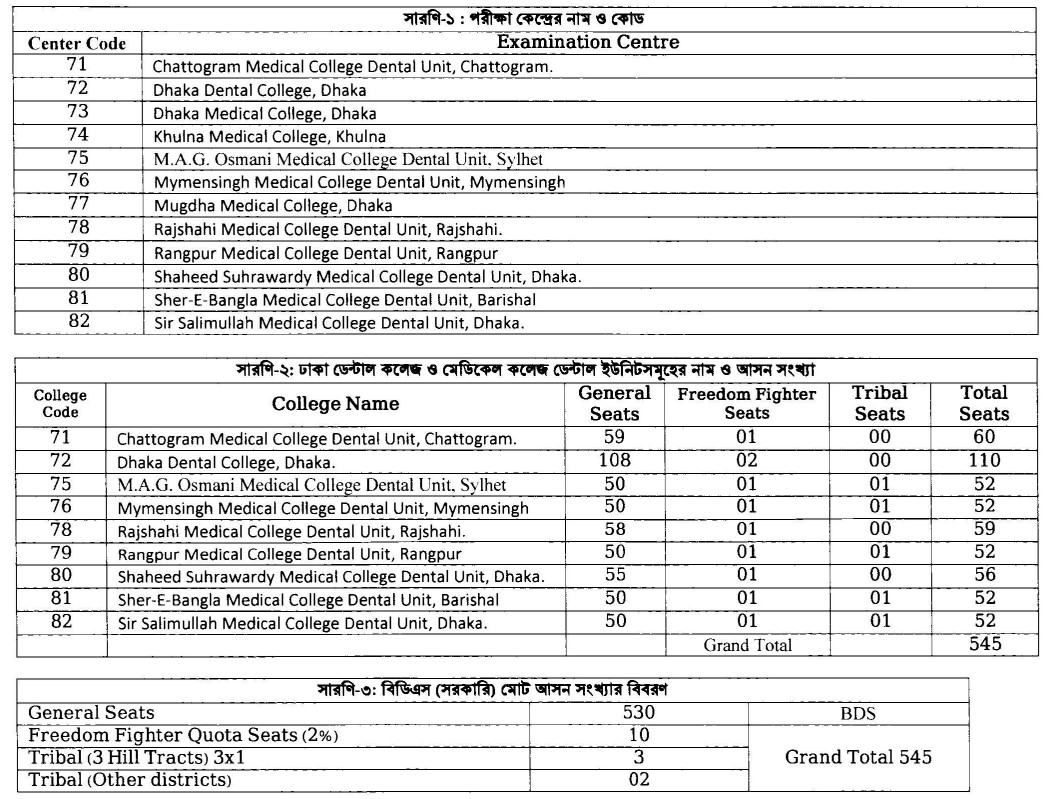 Dental Admission Apply Process
Online Dental admission applications are very easy for everyone. Do you want to apply for dental admission online? Don't worry we can help you with every single process for the application. So let's start the process step by step and you follow my instruction.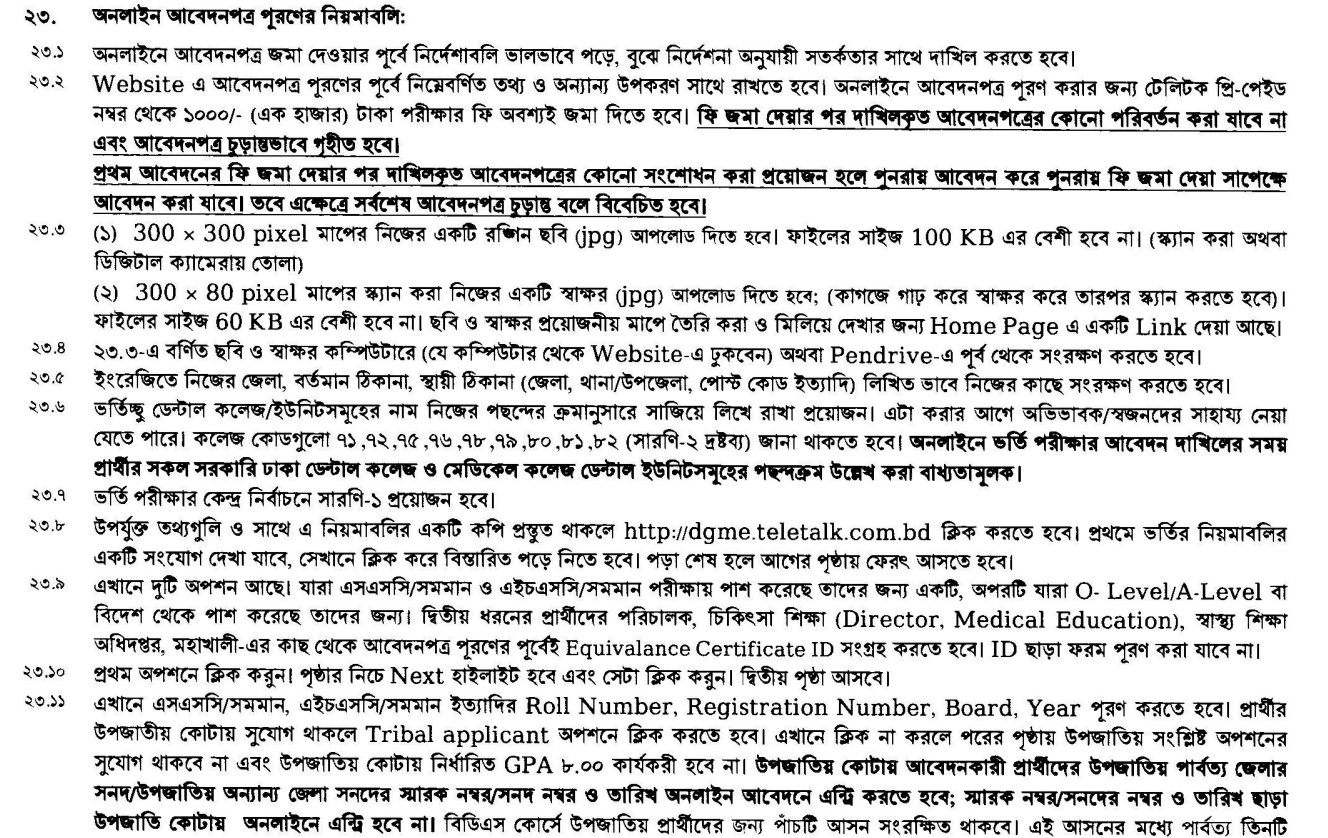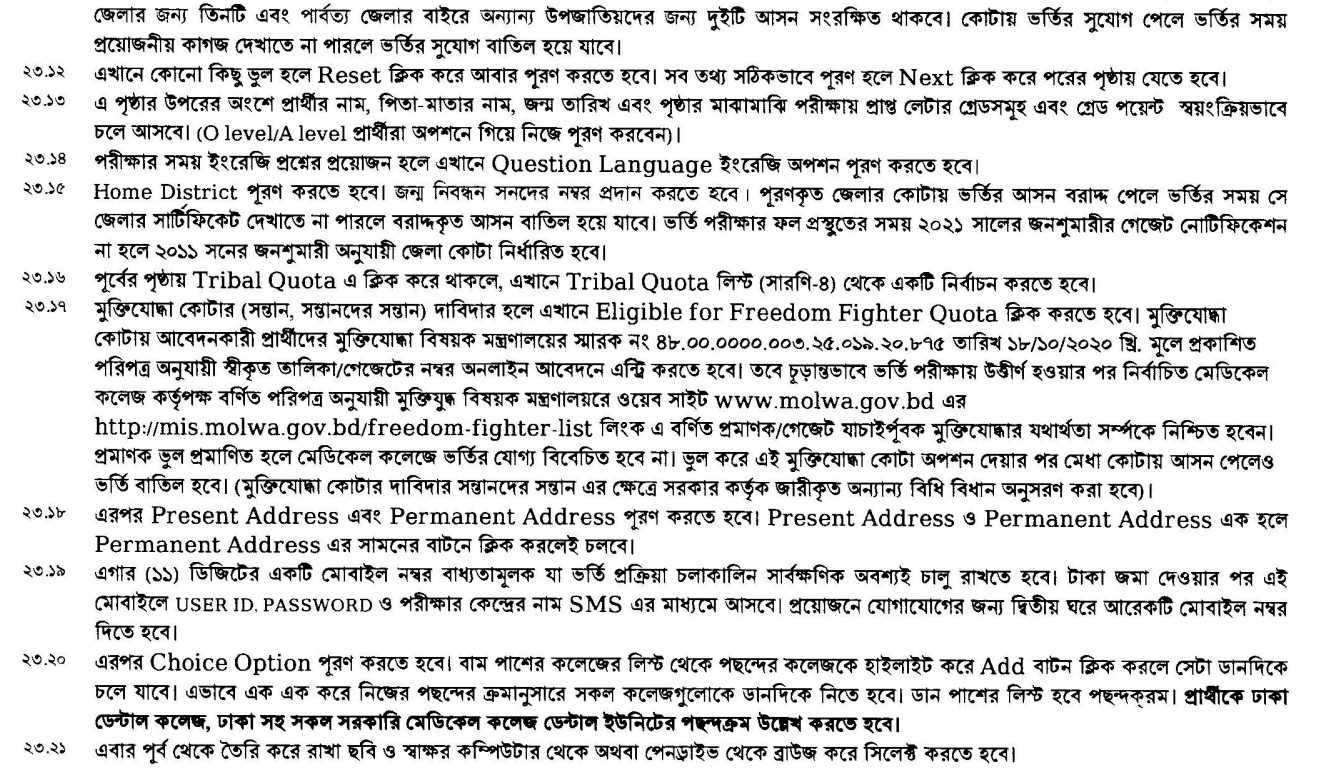 B.D.S. Admission Fee Payment Process
Only the Admission Fee will be paid through Teletalk Prepaid. Go to the Teletalk Prepaid message option and write BDS <space> FRLGCT and send to 16222 [FRLGCT is the user I.D. obtained by filling out the form].
Then, you will get an SMS along with the P.I.N. Now send a confirmation SMS. Write- BDS <space>YES<space> P.I.N. <>EXAM Center Code and Send 16222.
Example: DGHS YES 456581 72,73,80,82.
BDS Total Seats
B.D.S. offers a total of 545 seats in all categories.
General Seats
530
BDS
Grand Total: 545
Freedom Fighter Seats
1
Tribal (3Hill Tracks)
3
Tribal (Other Districts)
2
B.D.S. Admission Circular 2023 PDF File
Here is the B.D.S. admission pdf file and the B.D.S. admission guideline notice pdf file. If you are looking for these PDF files, click the links below B.D.S.BDS Admission Circular B.D.S. BDS Admission Guideline.
BDS Admission For Selected Candidates 2022-23
Department of Health Education has recently published a circular related to BDS admission for selected candidates for 2022-23. There is a duration for admission, and selected candidates must take some documents. Here is the list of the documents.
BDS Admission Test Result 2022-23
Admission Circular of Selected Students in BDS course
Department of Health Education recently published an admission circular for the selected students in the BDS course. The circular was published on **/06/2022. The admission process will be accomplished while the office is open.
Admission of the selected candidate students in the BDS course will go from **/06/2022 to **/06/2022. If you are a selected candidate, you must take some documents. Here is the list of documents below.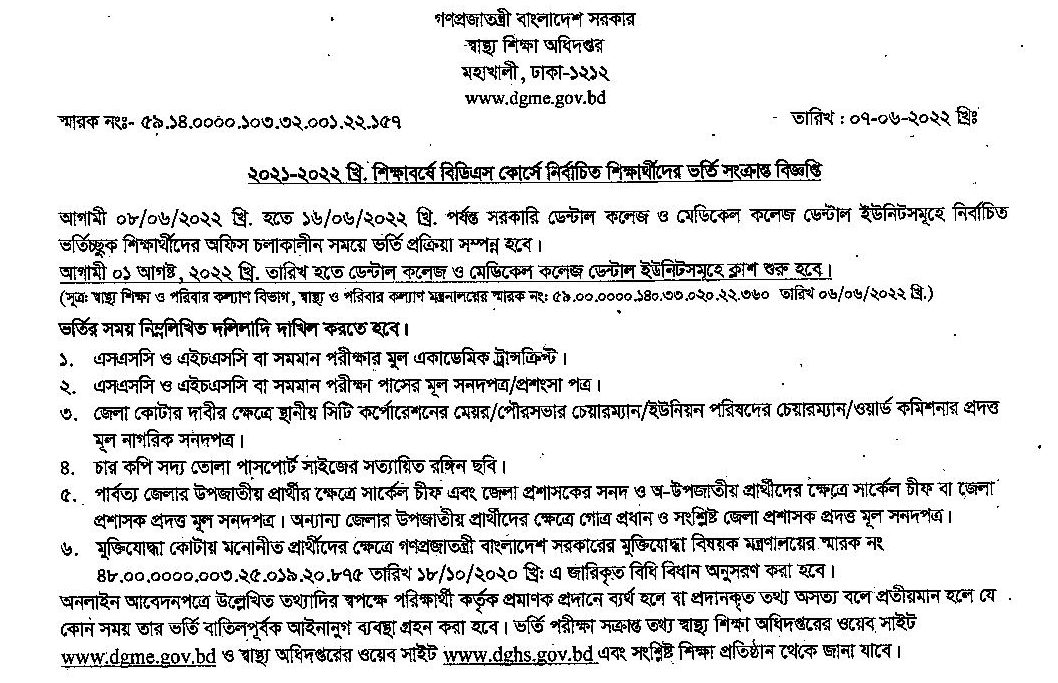 That's all about the notice. I hope this article will be enough for you on the way to B.D.S.BDS admission. All the information related to B.D.S.BDS admission is accumulated here serially. If you need more information, then visit dgme.gov.bd.