I think you are looking for the North South University Admission 2020-21, you are in the right place. I have brought the updated information about the North South University admission circular 2020-21 session. This year the admission circular date has been delayed for the COVID-19 issue. It is very tough to say when the circular will publish. You can keep an eye on this site, after publishing the circular I will add it as soon as possible. Until then read about the 2019-20 session admission circular.
NSU Admission Circular 2019-20 has published recently. North-South University Admission Test will start on 27th April 2020. Ahsanullah University of Science and Technology is one of the most popular private universities in Bangladesh. In this post, I will write about all information for the admission test for the NSU.
Let's Know About NSU
North-South University is a private level higher education institution in Bangladesh. Established in 1992, the university is the first government-affiliated private university in the country.
Currently, the university has ten departments under four faculties. It offers graduate and postgraduate education in business administration, electrical and telecommunications, computer science and engineering, architecture, pharmacy, microbiology, economics, English, and environmental science.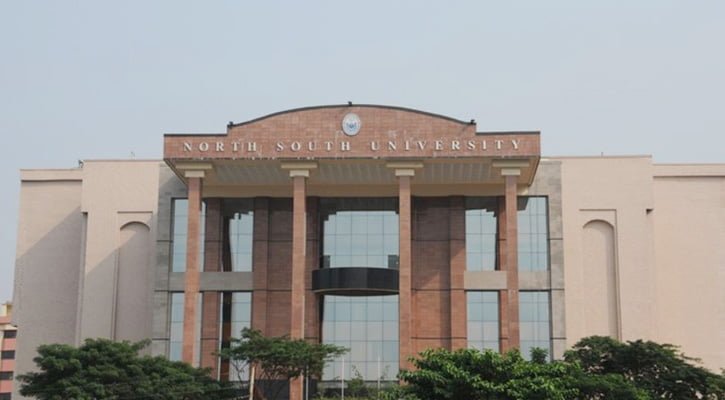 North South University ADMISSION SYSTEM
Most students are interested in study at a private university. North South University is one of the most popular and most prominent private universities in Bangladesh. Before applying this university Read this article. In this article, we will try to provide all of the information for NSU admission.
NSU Undergraduate Programs
School of Engineering & Physical Sciences
Bachelor of Architecture
BS in Civil & Environmental Engineering (CEE)
BS in Computer Science & Engineering (CSE)
BS in Electrical & Electronic Engineering (EEE)
BS in Electronics & Telecom Engineering (ETE)
School of Health and Life Sciences
BS in Biochemistry and Biotechnology
BS in Environmental Science & Management
BS in Microbiology
BPharm Professional
School of Business & Economics
BBA in Accounting
BBA in Economics
BBA in Entrepreneurship
BBA in Finance
BBA in Human Resource Management
BBA in International Business
BBA in Management
BBA in Management Information Systems
BBA in Marketing
BBA in Supply Chain Management
BBA General
BS in Economics
School of Humanities & Social Sciences
BA in English
Bachelor of Laws (LLB Hons)
NSU Admission requirements
Most of the students don't know about North South University admission requirements, so in the section, I write down about this NSU admission requirements. Please read this post carefully before apply for the Noth South University admission.
Minimum requirements for Programs:
For all programs of the School of Engineering & Physical Sciences, applicants must have Math or Physics, with a minimum B grade in HSC or C grade in A-levels.
For Biochemistry and Microbiology, candidates must have Biology and Chemistry at SSC/HSC or O/A-levels.
For BPharm Professional, students must have Biology & Chemistry, with, minimum B grade in HSC and C grade in A-levels and should have done Physics in HSC/A-levels.
Minimum Qualifications for admission test:
Academic Qualifications:
Candidate must pass the SSC and HSC Both Examination with a minimum GPA of 8.0 in both and 3.5 in each exam.
Acceptable scores in the NSU admission test.
Read Also: East West University Admission 
NSU Admission Detailed Time Plan
Online Application submission: 19-July-2019.
Date of Admission Test: 20-July-2019.
Time:

10:00 AM.
North South University Admission Circular Notice
North South University (NSU) published their admission circular. Read this Circular carefully and know about NSU admission.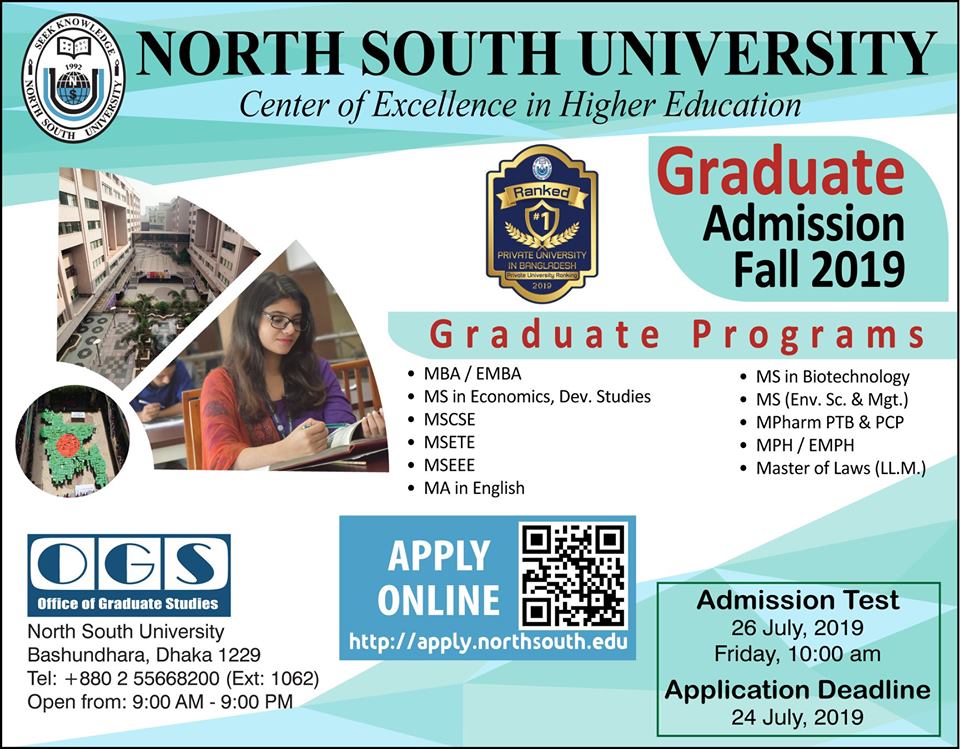 Contract Info of North South University
North South University
Contact: 880-2-55668200, Ext: 5000,5002,5004,4001
Mob: +88 01732 903003 (Undergraduate), 
+88 01614 271717 (Graduate)
Email: [email protected] (Undergraduate) ,
[email protected] (Graduate)
Stay with us to know more about the admission of North South University. And please comment on your quote. Stay with me to know all the updated information.