I think you are looking for the North-South University admission 2022; you are in the right place. I have brought the updated information about the North South University admission circular 2022 session. North South University offers three programs access in a year: Summer, Spring, and Fall.
On their website, North South University has already published an admission circular for 2022. It provides world-class education, and many students desire to study. This is why I am here with all the admission information.
North South University Admission Circular (Fall 2022)
Most students are interested in studying at a private university. North South University is one of the most popular and most prominent private universities in Bangladesh. Before applying to this university, Read this article. In this article, we will try to provide all of the information for NSU admission.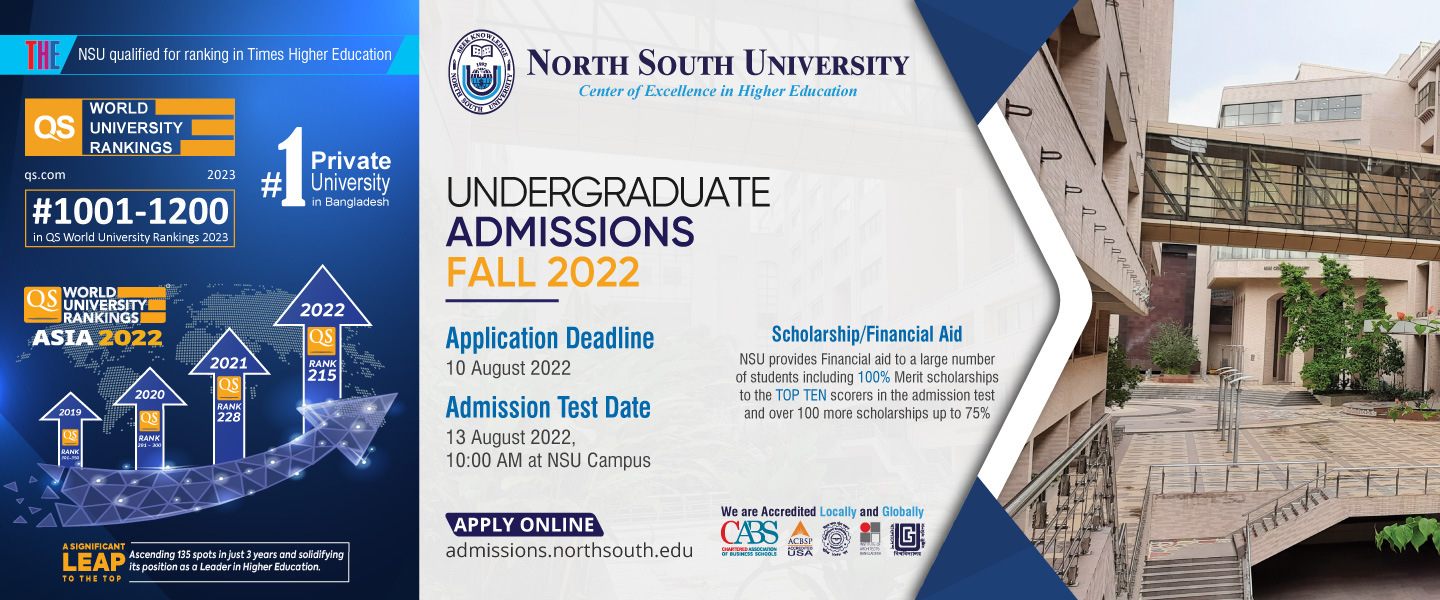 NSU Admission Date & Fee
For the convenience of the students what to get admitted to the North South University, I have accumulated here all the date and fees related information. Roll your eyes over the table below.
| | |
| --- | --- |
| Information  | Date/ Fees  |
| Online Application deadline | August 10, 2022 |
| Admission Test | August 13, 2022, 10:00 AM |
| Admission Fee | 25,000/- |
| Caution Money | 10,000/- |
| RFID | 1,000/- |
| Tuition fee | 6,500/- |
| Campus Lab Fee | 2,500/- |
| Student Activity Fee | 3,000/- |
| Library Fee | 1,500/- |
| Science Lab  Fee | 2,500/- |
| Studio Lab Fee | 2,500/- |
NSU Admission Requirements
Here is the detailed information about the North South University admission requirements. Here you will get Undergraduate admission requirements that will serve you huge information and also make you clear about the admission eligibility.
Undergraduate Admission Requirements
Minimum Requirements: 
Candidates must have a total of GPA 8.00 in both SSC and HSC and a minimum of 3.50 in any exam.
Special Program Requirements: 
For the Engineering programs, candidates must have Math and Physics with a minimum B grade in HSC
For B.Arch. (Bachelor of Architecture) the program, candidates must have Math or Physics with a minimum B grade in HSC or C grade in A-Levels.
For Biochemistry and Microbiology, candidates must have Biology and Chemistry in SSC/HSC.
For BPharm Professional, applicants must have a 'B' grade in Biology and Chemistry separately, a 'C' grade in Math, and a PASS in Physics in HSC/A-Levels to be eligible to apply. For details click here. 
NSU Admission Online Application Process
North South University's online application process is very easy and anyone can easily apply online. For a successful online application, I have arranged here step by step application process. Just follow as it is written.
Foremost visit admissions.northsouth.edu/ or direct visit apply.northsouth.edu/ and complete your registration by clicking on New Applicant. 
After a full fill registration, you will get an application form. Then complete your application form carefully.
Then you have to pay. The payment process is given detailed below.
After completing the whole process, print and bring your printed Admit Card with you on Admission exam day.
NSU Application Fee Payment
In this case, you must pay the application fee. There are three options to pay the application fee; bKash, DBBL Rocket, and Bank Payment.
Bkash: Tk. 1,523
DBBL Mobile: Tk. 1,510
Bank: Tk. 1,500
NSU Online Fee Payment Process
We all know that there are three options to pay the application fee; bKash, DBBL Rocket, and Bank Payment for the NSU. After a successful application, you will get a Fee payment option. Click on the option and all the gateways will appear there. Chose any of the options Bkash, DBBL Nexus, DBBL Master, Bkash Visa, Visa, or Master Card. Also, you can pay through the bank, too. In this case, you may choose
Southeast Bank (Any Branch)
One Bank (Any Branch)
Mutual Trust Bank (Any Branch)
UCBL (Any Branch)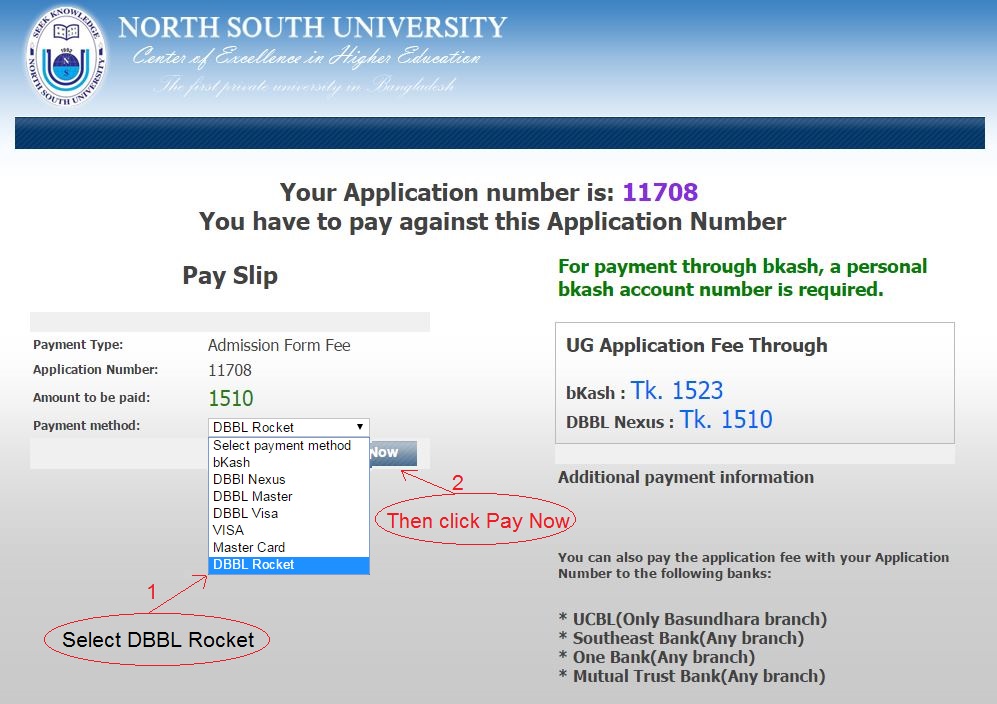 NSU Undergraduate Programs
NSU Undergraduate program faculties and subjects are here:
Faculties
Subjects
Credit
School Of Engineering & Physical Science
 
 
 
 
Bachelor of Architecture

170
BS in Civil & Environmental Engineering (CEE)
149
BS in Computer Science & Engineering (CSE)
130
BS in Electrical & Electronic Engineering (EEE)
130
BS in Electronics & Telecom Engineering (ETE)
130
School of Health and Life Sciences




BS in Biochemistry and Biotechnology
120
BS in Environmental Science & Management
120
BS in Microbiology
130
BPharm Professional
199
School of Business & Economics

BBA In Economics
 
BBA (Bachelor of Business Administration)
120
School of Humanities & Social Sciences
BA in English
Bachelor of Laws (LLB Hons)
120
School Of Humanities & Social Science
BBA In English
123
 
Bachelor Of Law
130
Read Also: East West University Admission
Contact Info of North South University
North-South University
Contact: 880-2-55668200, Ext: 5000,5002,5004,4001
Mob: +88 01732 903003 (Undergraduate), +88 01614 271717 (Graduate)
Email: [email protected] (Undergraduate), [email protected] (Graduate).
Stay with us to know more about admission to North South University. And please comment on your quote. Stay with me to know all the updated information.