Uttara University Admission Circular 2019-20 has published recently. Uttara University Admission will start soon. Uttara University is one of the most popular private university in Bangladesh. In this post, I will write about all information for the admission test for Uttara University.
Uttara University ADMISSION SYSTEM
Most students are interested in study at a private university. Uttara University is one of the most popular and biggest private university in Bangladesh. Before applying this university Read this article. In this article, we will try to provide all of the information for Uttara University admission.
Uttara University Programs
Department of Business Administration
Department of LAW
Department of Electrical & Electronic Engineering
Department of Civil Engineering
Department of Fashion Design and Technology
Department of Computer Science & Engineering
Department of Textile Engineering
Department of English
Department of Education
Department of Physical Education
Department of Islamic Studies
Department of Bengali
Department of mathematics
Department of Physics
Uttara University Admission requirements: 
Candidate must have passed SSC and HSC with a total GPA of 6.00 and a minimum GPA of 2.50 in SSC and HSC both examination separately.
Read Also: UIU Admission: United International University Admission
Uttara University Admission Circular Notice
Uttara University published their admission circular. Read this Circular carefully and know about Uttara University admission.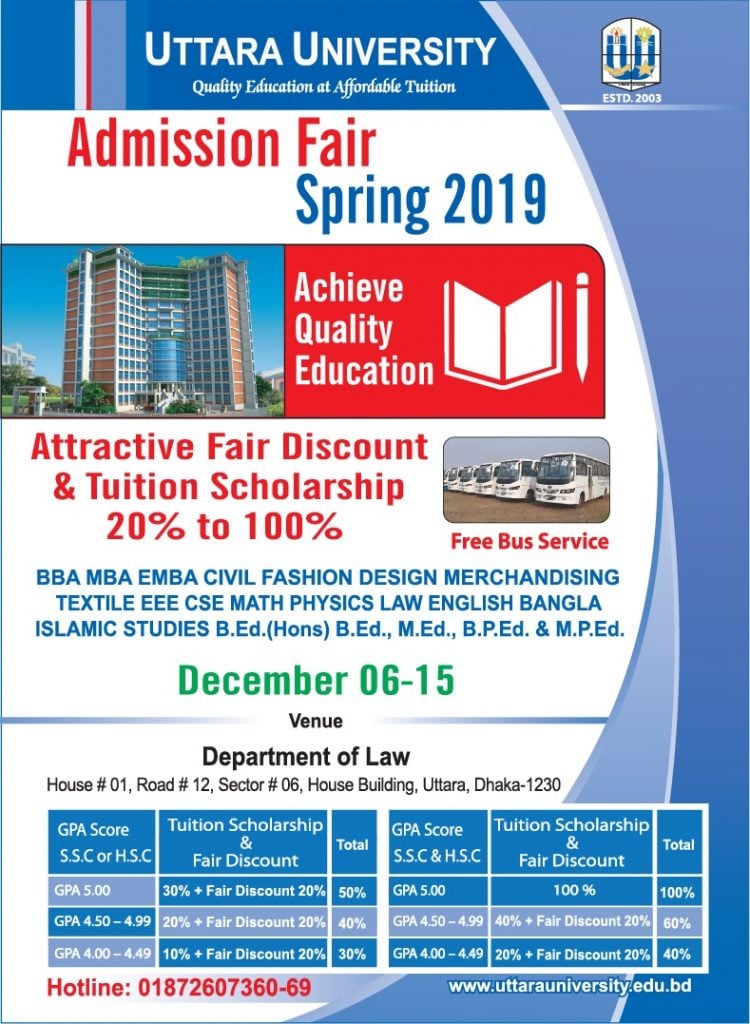 Contract Info of Uttara University
Uttara University
House-4 , Road- 15, Sector-6, Uttara Model town, Dhaka-1230, Bangladesh
Phone: 02-8919116, 8919794, 8912280, Fax: 880-2-8918047

Stay with us to know more about the admission of Uttara University. And please comment on your quote.