Uttara University is a private university in Bangladesh. Do you look for the Uttara University Admission circular 2022-23 session? Here I have brought the updated information on the admission circular for the 2022-23 session.
It can be said all types of educational activities in Bangladesh have been stopped. In this problem, the admission circular of Uttara University has not been announced yet. After publishing the circular, I will inform you. Keep an eye on this site. Till then, you can read about the admission circular for the 2022-23 session.
Uttara University admission circular 2022-23 has been published recently. Uttara University admission will start soon. Uttara University is one of the most popular private universities in Bangladesh. In this post, I will write about all information for the admission test for Uttara University.
Uttara University Admission System
Most students are interested in studying at a private university. Uttara University is one of the most popular and biggest private universities in Bangladesh. Before applying to this university, Read this article. In this article, we will try to provide all of the information for Uttara University admission.
Uttara University Subject List
Uttara University is one of the popular universities in Bangladesh. Specially Uttara university is the most popular university in Dhaka city. It has some faculty and many disciplines. We have tried to give in here all disciplines of Uttara University. Take a look below to see all departments of Uttara University.
Department of Business Administration
Department of LAW
Department of Electrical & Electronic Engineering
Department of Civil Engineering
Department of Fashion Design and Technology
Department of Computer Science & Engineering
Department of Textile Engineering
Department of English
Department of Education
Department of Physical Education
Department of Islamic Studies
Department of Bengali
Department of mathematics
Department of Physics
Uttara University Admission requirements: 
The candidate must have passed SSC and HSC with a total GPA of 6.00 and a minimum GPA of 2.50 in SSC and HSC examinations separately.
Read Also: UIU Admission: United International University Admission
Uttara University Admission Circular Notice
Uttara University published its admission circular. Read this Circular carefully and know about Uttara University's admission.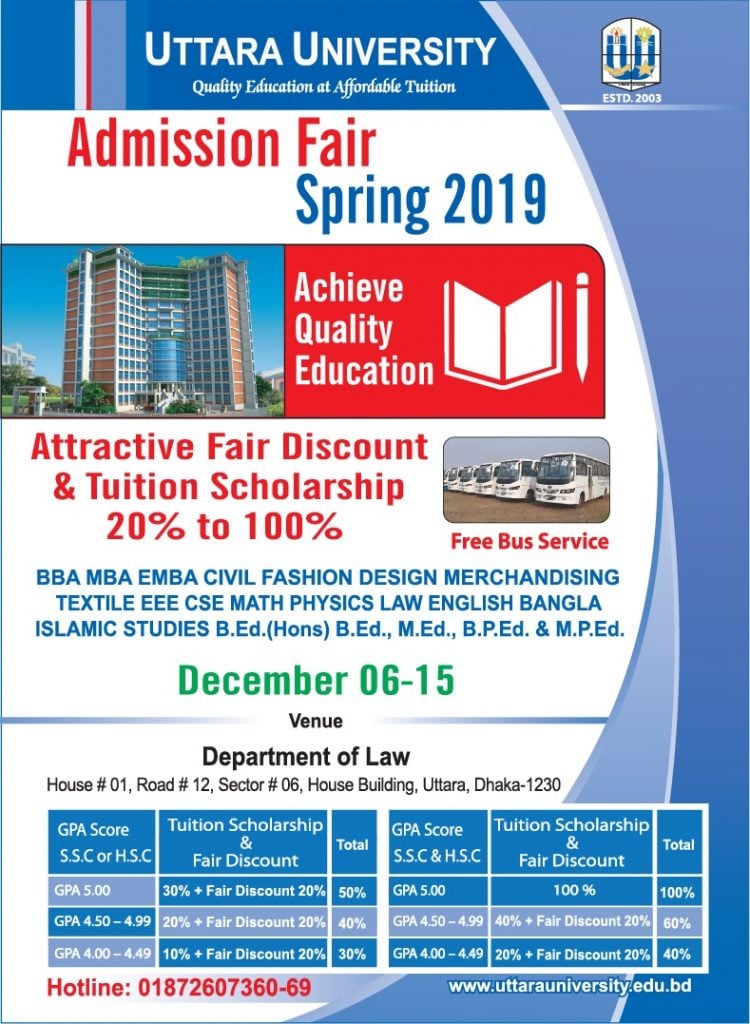 Uttara University Ranking in 2023
According to the Edurank website, Uttara university's position is 30th in Dhaka city and 64th in Bangladesh. It has a good rumor for its services. You can admit to Uttara University.
Uttara University Tuition Fees 2023
There are smart tuition fees at Uttara University. They provide a discount for the heavy meritorious students with good academy records and poor students. If you want to admit to Uttara University, you can easily admit it by seeing their tuition fees. I have uploaded it. See the image below.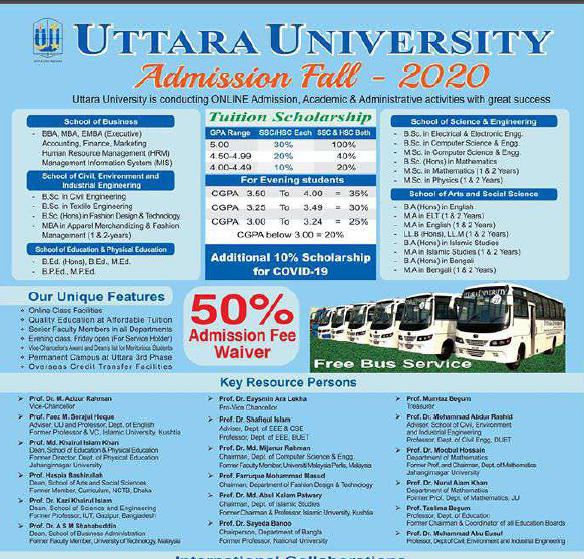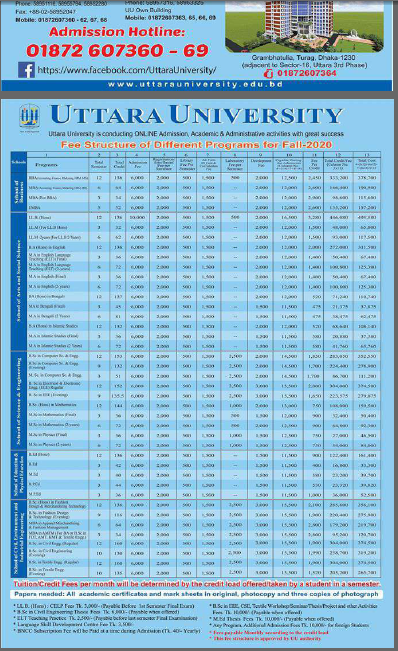 Contact Info of Uttara University
If you want to contact Uttara University, the contact details are here:
Uttara University
House-4 , Road- 15, Sector-6, Uttara Model Town, Dhaka-1230, Bangladesh
Phone: 02-8919116, 8919794, 8912280
Fax: 880-2-8918047
Stay with us to know more about admission to Uttara University. And please comment on your quote.