MBBS Medical Admission Result in 2021-22 is now available here. The result of the MBBS admission test for 2021-22 has been published. Getting a chance in a government college is the dream of students. It will be great news for the students if they get a chance in medical college. In this article, I will tell you about the MBBS admission result 2021-22.
If you read this full article, you will be able to know how you may get your MBBS admission test result. So read this full article to know your MBBS admission result.
MBBS Medical Admission Test Result 2021-22
This is very awaiting news for the students who appeared in the MBBS admission test.  DGHS authority has been published the MBBS admission test result 2021-22 on their official website. You can check your admission result on their official website as well as our website.  You must follow some steps to see your result. I have given these steps below. See these steps below.
You can find your result by visiting the Directorate of Health's Official Website. For Quick Access your result. You can search for it directly from below.
Firstly, go to the Medical Admission Result official website result.dghs.gov.bd.
Now you can select your medium as an "MBBS Result 2021-22
On this page, you will get the "Roll Number" Field.
Type your Medial admission Roll number in this box.
Make sure your Roll is absolutely correct.
Now click on the" Result " button.
At this stage, you can see your result with other exam-related information.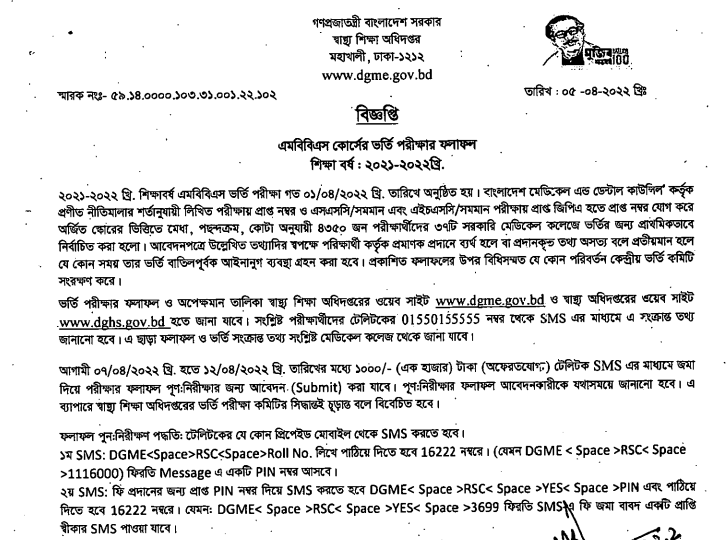 MBBS Admission Result Challenge Through SMS
If you are not satisfied with your MBBS Result then you can Challenge or Rescrutiny your result. If you need to recheck your result.dghs.gov.bd result 2021-22 then you can follow the below format. Follow the steps.
Go to the message option
Type DGHS <SPACE> RSC <SPACE> ROLL NO. AND SEND IT TO 16222
FOR EXAMPLE DGHS RSC 125489
After sending this SMS successfully then you will get a confirmation SMS.\
MBBS Admission Test Result 2021-2022
Finally, the MBBS admission test result has been published. The medical admission result is published on 05/04/2022. After once the result is published, I have uploaded the result on this site. If you are an examinee then this article is for you. Keep reading the following information carefully and find out your roll no from the list below.
To get a quick MBBS admission result Just click here and provide your Roll No.
MBBS Course Admission From 2nd Phase Migration & From Waiting list
Bangladesh Directorate of Health Education has published a circular regarding the 2nd phase migration and admission from the waiting list in the MBBS course in Government Medical Colleges for the academic year 2021-22. There are thousands of examinees around the country who didn't get a place on this merit list. For them, the Bangladesh Directorate of Health Education published the 2nd phase migration as well as declared to admit the students from the waiting list.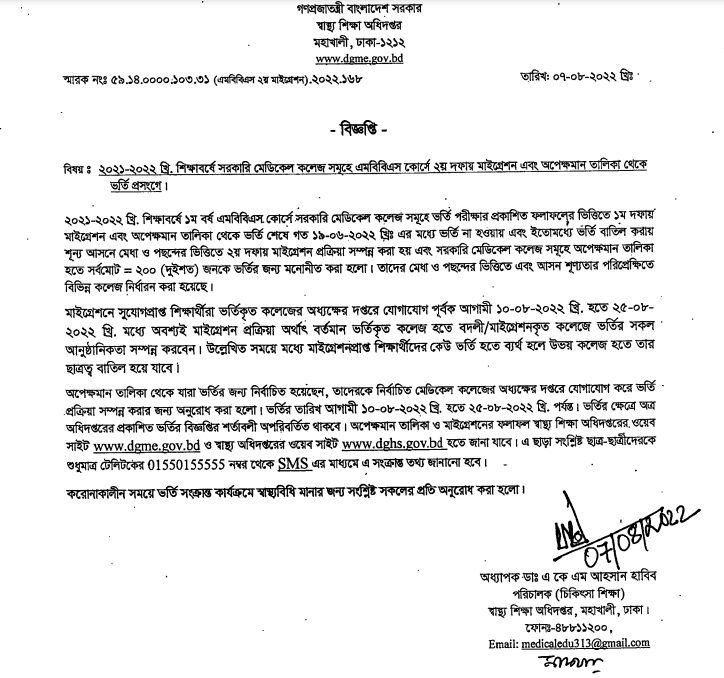 As the list is very long, I only added here the pdf file. Just click on it.
Keep your eyes on our website for knowing the latest information on any university and medical college in Bangladesh. Thank you for visiting this site.