Cluster admission test is being conducted in 8 public universities of Bangladesh offering degrees in agriculture in the 2021-22 academic year. The admission test will be completed in this batch consisting of eight agricultural universities. The whole process will be accomplished by the leadership of Sher-E- Bangla Agricultural University and all the information will be available on the acas.edu.bd/ website. 
There is a total of 3,539 seats in 8 agricultural universities and students will be able to apply for these seats. If you are interested to get admitted to any of these agricultural universities then this article will be perfect for you. Here you will get the overall information form to apply to the admission test result. So keep reading and proceed properly.
Agricultural University Admission Circular 2022
Agricultural University admission 2022 is going on and it is officially announced by the acas.edu.bd/ and available on this site too. The whole process will be computed online. The online application will go from 17/07/2022 to 16/08/2022 for the agricultural universities.
The whole Agricultural Cluster Admission System, 2022 will be accomplished within six steps.
Preliminary Eligibility Verification
Registration: Sign up Sign in form fill out the payment fee
Admit Card Download
Admission Test
result
admission
Agricultural University Names & Seats
You already know that 8 Agricultural Universities are going to take the admission tests in the cluster system. So the students who are interested to study in the agricultural university should know about the 8 agricultural universities and the seats reserved for the students that will be admitted after the upcoming honors 1st-year admission test.
| | |
| --- | --- |
| University Name | Seats |
| Bangladesh Agricultural University | 1,116 |
| Bangabandhu Sheikh Mujibur Rahman Agricultural University (BSMRAU) | 360 |
| Sher-E- Bangla Agricultural University | 704 |
| Patuakhali Science & Technological University | 443 |
| Chittagong Veterinary and Animal Science University | 245 |
| Sylhet Agricultural University | 431 |
| Khulna Agricultural University | 150 |
| Habiganj Agricultural University | 90 |
| Total Seat | 3,539 |
Minimum Requirements for Admission to Agricultural University
There are some minimum requirements that the applicants must have to apply to these agricultural universities. Focus on the requirements and confirm that you have all.
Applicants must be qualified in the Science department including Biology, Physics, Chemistry, and math in SSC (2017, 2018, 2019), and HSC (2020, 2021).
Applicants should have GPAs of 4.00 in SSC/Equivalent and HSC/Equivalent examinations separately and 8.50 in aggregate.
In the case of GCE O and A level pass, students must pass at least 5 subjects in the O level examination and at least 2 subjects in science in the A level examination.
Both exams must have a minimum GPA of 4.00 each and an overall GPA of 8.50. In this case, 5 and 4 GPAs will be calculated for A and B graders respectively.
Agricultural University application Process 2021-22
For most, visit acas.edu.bd/ and complete the whole process carefully up to the instruction given on the website. You have some documents while applying. Here are the documents:
You need a mobile no and email ID.
You have to select the language.
Present address
Admission test center preference should be determined
Passport size colored photo (300×350 jpg).
The application fee Rs 1,200 should be deposited in the account
To get any support visit [email protected]
ACAS Admission Schedule 2022
It is very important for all the applicants to know the admission schedule of the agricultural university. The application will go from 17/07/2022 to 16/08/2022 but the whole admission will take a long time. So here is the ACAS admission schedule for 2022.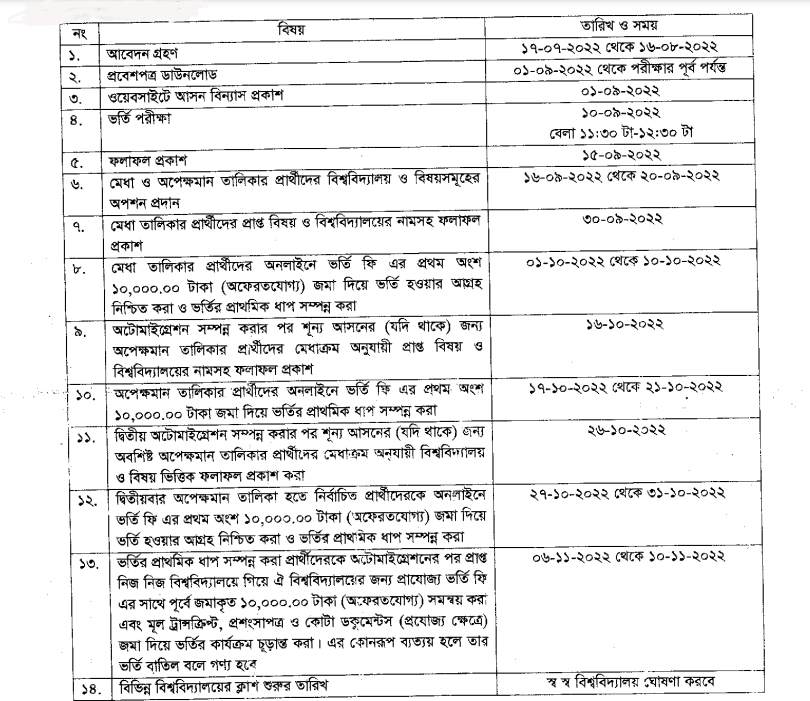 That's all I have for you. I hope all the information will be helpful for you to get information. To get any admission test result or admission circular, come to the site. Thank you.